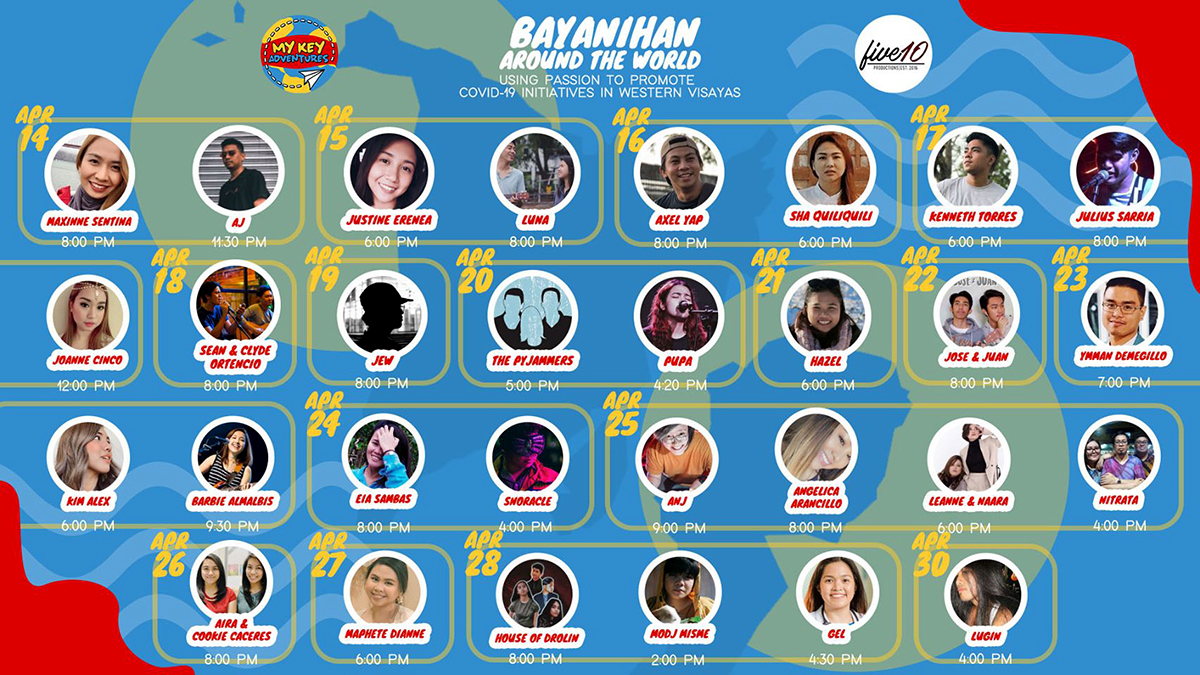 By Angelica Arancillo and Noelle Gancero
It was supposed to be the year of new goals, experiences, and fresh starts. However, the world thought differently as we are currently facing the COVID-19 pandemic, threatening lives across the globe, regardless of race, age, and status.
Normalcy is gone. Some countries are affected more than others, struggling in combating this pandemic. There is an eminent rise in fear and anxiety and it is important to keep in mind that we must also pay attention to our mental health. Angelica explained, "I worried a lot about my friends and family, especially in the Philippines. The fear, anxiety and stress came rushing in. I acknowledged my feelings and took a step back. This was out of my control and I should put my energy elsewhere."
One night, we were messaging each other and expressed our want to help our hometown in a proactive way. We reached out to our friends in Iloilo City for ideas. Music has always been something we kept close in our hearts. We wanted to utilize that during this crisis not only as a way to cope but also to promote a call for action. Thus, we have gathered Filipino musicians all over the world, from Europe, America, Australia, Middle East, and the Philippines, to perform live for our initiative, "Bayanihan Around the World: Using Passion to Help" or BATW.
Our country is known for its "Bayanihan"—a core factor of the Filipino culture. It means to come together as a community to help each other in times of need. The idea of Bayanihan is prominent in the region of Western Visayas, where they have taken aggressive responses to this pandemic. Some examples of what people have done include making homemade masks and other personal protective equipment (PPE) for frontliners, setting up fundraisers to make donations for those affected, and providing food to those that need it.
The mayor of Iloilo has been applauded for his impressive approach in "working with the community to produce PPEs, establishing community kitchens around the city, gaining financial support from affluent businessmen to aid in mass testing, and much more" (Albay, R.L.V. 2020). Iloilo has shown great collaboration between government and private sectors. From business owners to academe, civic and youth organizations, friends and family, there are various initiatives with the prime goal of aiding in this pandemic.
BATW aims to present Filipino talents around the world to amplify fundraising campaigns in Western Visayas through a series of Facebook live performances. In addition, BATW is partnering with My Key Adventures, Five10 and Order of Asclepius. Live performances will be hosted on those Facebook pages starting April 14th at 8:00pm PHT. To have a more focused impact, performers are natives of Iloilo, Capiz, Antique, Aklan, Guimaras, and Negros. Although they come from different professional backgrounds including medical, technology, education, and art, they have the same passion—music.
Through these performances, BATW will promote campaigns in Western Visayas including Tabang sa Frontliners, Bulig, Donation Drive for Community Health Workers, PPE DRIVErs, and CinCares from Iloilo, Antique Medical Society Fundraising Project for PPE from Antique, Magbueoligan Para sa Akean from Aklan, Yanda! from Capiz, Fighting Covid19 from Bacolod, A Call for Donations For Guimaras, and BulAk: Bulig Aklan.
We invite you to tune in and enjoy the live performances presented by BATW with your friends and family all over the world, and extend your support by donating to your chosen fundraising campaigns. Together, we can make an impact in the fight against COVID-19.
Noelle Frances Gancero and Angelica Arancillo were raised in Iloilo, Philippines, now US citizens and are currently working as a registered nurse in Chicago, Illinois and a Digital Accelerator to the largest professional services firm network in the world, respectively.
BATW is an initiative of a group of friends from Assumption Iloilo Gradeschool Batch 2005 including Angelica Arancillo, Noelle Frances Gancero, Mikee Canaman, Louise Cecille Del Rosario, Kate Trabado, Princess Diesto, Precious Ara Bulilan, and Jhoven Cabundocan. BATW will go live in partnership with My Key Adventures, Five10 Productions and Order of Asclepius.
Singers and their schedules are found here: https://www.facebook.com/mykeyadventures/photos/a.175085889504809/1124103947936327/?type=3&theater
Our official announcement video is found here: https://www.facebook.com/mykeyadventures/videos/216814646318400/
Our Partner Pages
www.facebook.com/mykeyadventures
www.facebook.com/OrderofAsclepius/