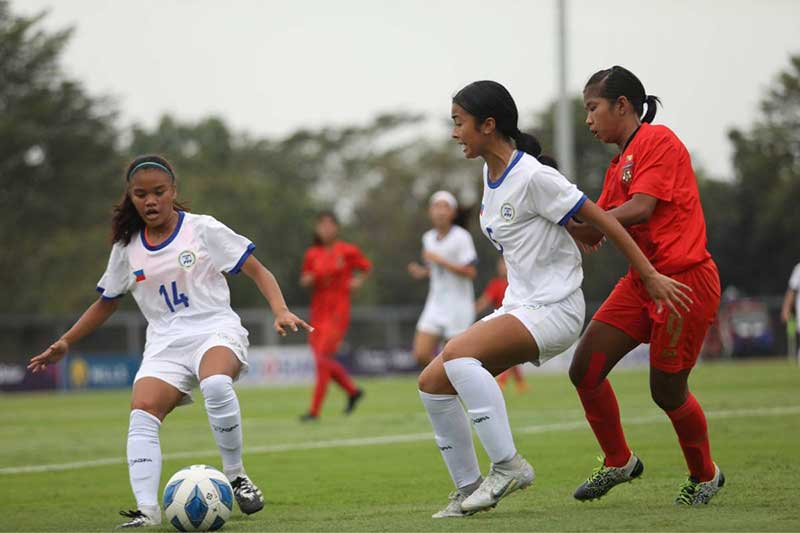 By Leobert Julian A. de la Peña
The Philippine Women's national U-18 football squad lost its opportunity of qualifying in the semifinals of the 2022 AFF Women's Under-18 Championship after falling to Myanmar, 3-1.
After receiving a crushing defeat from the Australian national team during their opening match, 4-0, the Filipinas were put into a must-win game against Myanmar but failed to gain their offensive groove in the match.
It was a back-and-forth affair in the first 20 minutes of action as both nations traded offensive sets with the PHL close to tapping in a short kick in the 18th minute but was deflected by a defender from Myanmar.
The Filipinas tried to play a faster pace in pushing the ball but Myanmar was quick to counter with its strong midfield defense that caused several possession switches.
Myanmar immediately frustrated the Filipinas after scoring two early goals in the first half courtesy of Hnin Myint Aye and Su Myat Noe.
Aye drew first blood during the 33rd-minute mark of the clash while Noe only needed four minutes after the first conversion to double Myanmar's lead.
However, the Filipinas got a glimmer of hope with only three minutes remaining in the do-or-die match after Jonalyn Lucban found the back of the net that trimmed Myanmar's lead to just one, 2-1.
With the extra time starting to tick, Myanmar's Aye officially ended the Filipinas' bid for an AFF U-18 glory after scoring her brace.
The Filipinas rushed an offensive execution in desperation for a quick score but time was already not on their side as the closing horn started to sound that officially ended the match.