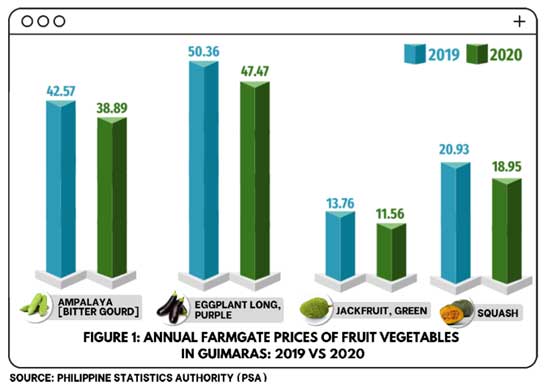 Farmgate prices of fruit vegetables in Guimaras slightly declined in 2020, based on the result of the Crops Production Survey (CrPS) conducted by the Philippine Statistics Authority (PSA).
The 2020 survey results revealed that fruit vegetables including ampalaya or bitter gourd, eggplant long (purple), jackfruit (green), and squash posted slight decreases in farmgate prices.
"For ampalaya or bitter gourd, farmgate prices decreased by 8.64% or ₱3.68/kg from ₱42.57/kg in 2019 to ₱38.89/kg a year after. The same trend observed on eggplant long (purple), with a reduction of 5.74% or ₱2.89/kg, and jackfruit green with 15.99% or ₱2.20/kg decrement in 2020 over its 2019 prices," Provincial Statistics Officer Nelida B. Losare said.
The survey results also disclosed that farmgate prices for squash recorded a 9.46% cutback, or ₱1.98/kg, from ₱20.93/kg in 2019 to ₱18.95/kg in 2020. (See figure 1)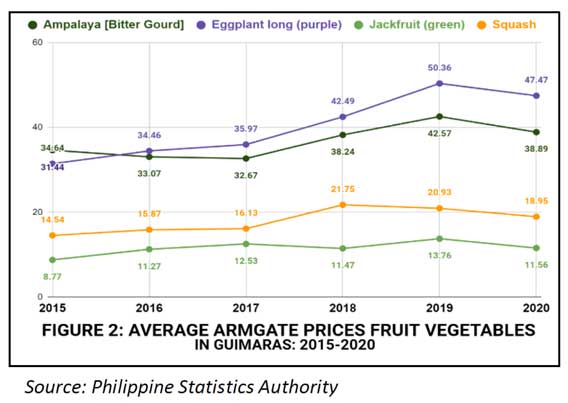 For six comparative years (2015-2020), increases on the farmgate prices on fruit vegetables was noted in the last three years (2018-2020), higher than farmgate prices in 2015-2021.
"Continuous increment on the average farmgate prices on fruit vegetables especially for ampalaya, and eggplant, were observed for the years 2018 to 2019, the farmgate prices dropped in 2020 after reaching its peak in 2019 at ₱42.57/kg and ₱50.36/kg, respectively," Losare said.
There was a slight swivel on the average annual farmgate prices for jackfruit green and squash from 2015 to 2017. A downtick in the price for jackfruit green was observed in 2018, while squash price picked up.
The decrease in prices of the four (4) mentioned fruit vegetables was due to the increased production in 2020 compared to its 2019 outputs.  Moreover, farmgate prices in 2020 were higher than the average farmgate prices back in 2015.
"PSA monitors the average farmgate or the farmer's selling prices of the mentioned crops excluding any separately billed transport or delivery charges," Losare said.