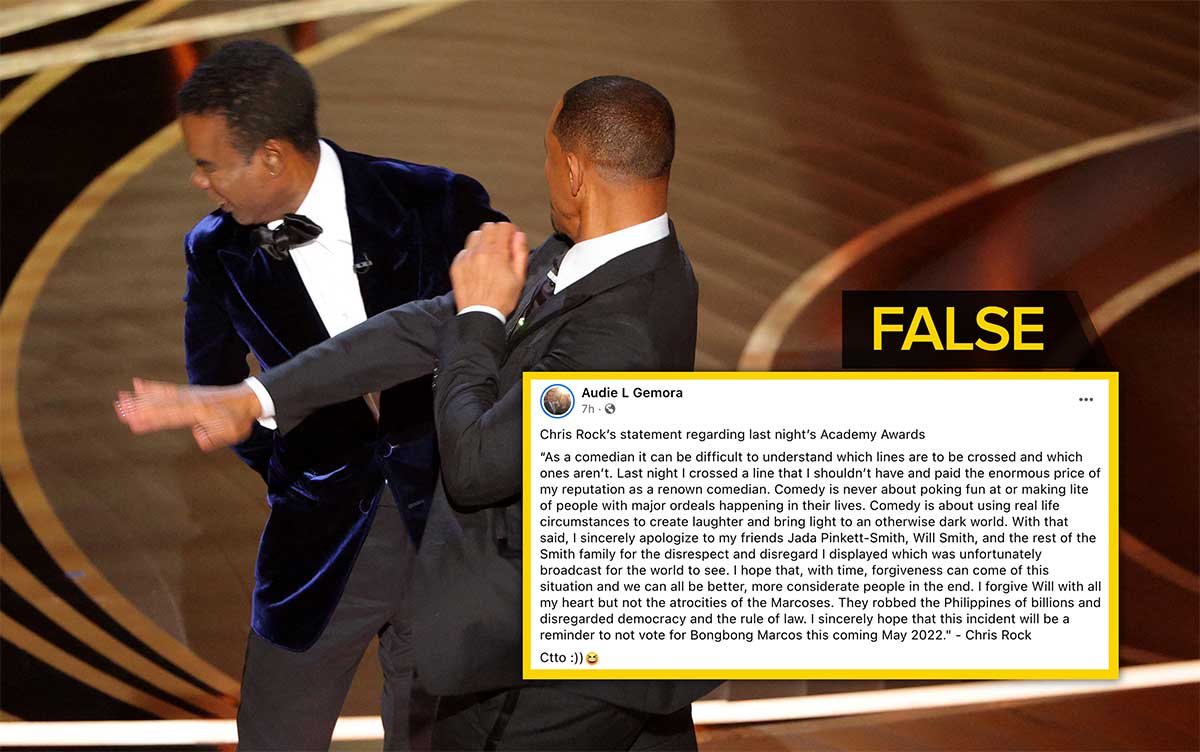 By Sean Rafio
There are no official reports, statements, or recordings to prove that comedian Chris Rock said he forgives actor Will Smith for striking him during the Oscars "but not the atrocities of the Marcoses." Rock's team also denied a similar quote.
A Facebook post by Audie L Gemora on March 29 claims it quoted Rock, who had made a joke about Smith's wife, as saying, "I forgive Will with all my heart but not the atrocities of the Marcoses. They robbed the Philippines of billions and disregarded democracy and the rule of law. I sincerely hope that this incident will be a reminder to not vote for Bongbong Marcos this coming May 2022."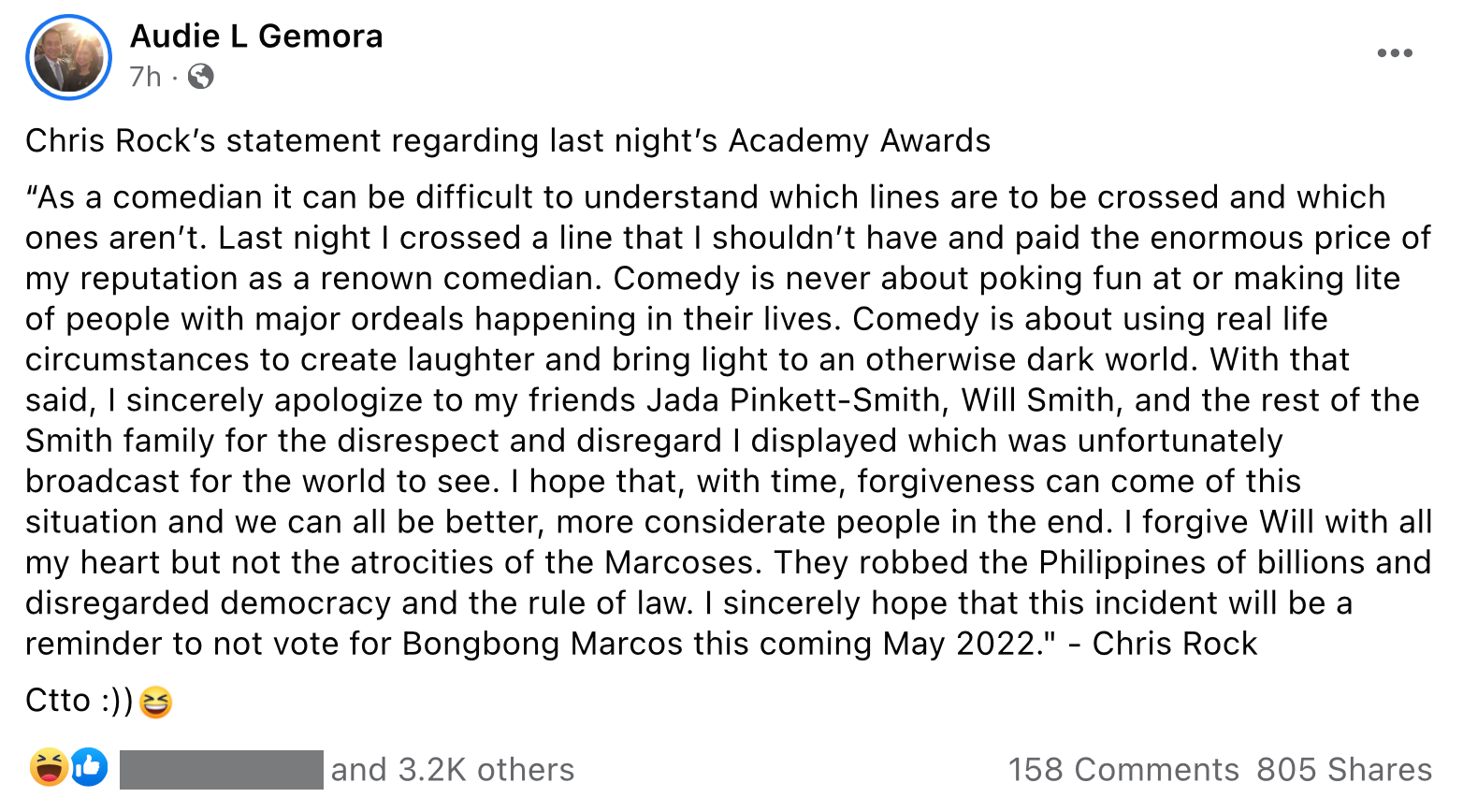 Rock also supposedly said the following statement: "As a comedian it can be difficult to understand which lines are to be crossed and which ones aren't. Last night I crossed a line that I shouldn't have and paid the enormous price of my reputation as a renown comedian. Comedy is never about poking fun at or making lite of people with major ordeals happening in their lives. Comedy is about using real life circumstances to create laughter and bring light to an otherwise dark world. With that said, I sincerely apologize to my friends Jada Pinkett-Smith, Will Smith, and the rest of the Smith family for the disrespect and disregard I displayed which was unfortunately broadcast for the world to see. I hope that, with time, forgiveness can come of this situation and we can all be better, more considerate people in the end."
But the quote above has been denied by Rock's team. According to The Hollywood Reporter, "Chris Rock has not yet issued a statement. There is a statement going around purporting to be from Rock that is not from him," according to his team as of 8:55 a.m
The post was popular among those against dictator Ferdinand Marcos and his family, having been reposted 64 times on Facebook, and shared more than 800 times. Gemora's post gained more than 3,400 reactions and 174 comments as of posting.
Many of those who engaged with the post, however, believed the said quote.
Even Gemora had to clarify to netizens who expressed disbelief towards the post.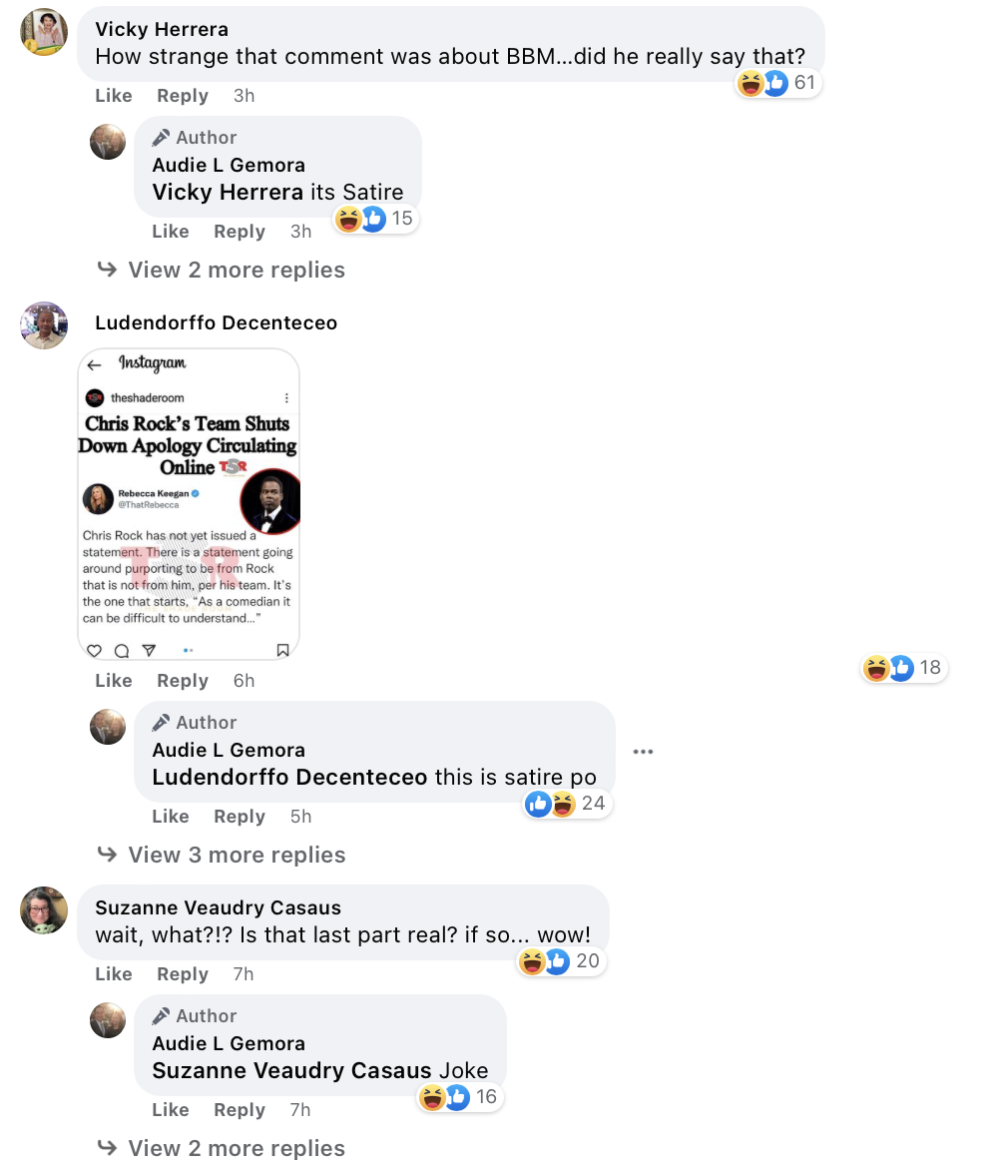 "Forgive but never forget. nice one, chris!" one user wrote.
"Somebody clever, and probably Filipino too, is behind Chris Rock's publicity team," another user commented.
The post was shared by netizens a day after the incident that went viral on social media. Smith had apologized to Rock, while the comedian declined to file a police report.
While Rock's statement is false, public records show the Marcos administration from 1965 to 1986 embezzled as much as $10 billion and committed thousands of human rights abuses.
Daily Guardian is part of #FactsFirstPH, which brings together various sectors that are committed to promoting truth in the public space, and exacting accountability on those who harm it with lies.
Spotted a video or post you suspect to be false? Report it to the #FactsFirstPH tipline by messaging Daily Guardian on Facebook, so participating newsrooms and groups can investigate the claim.