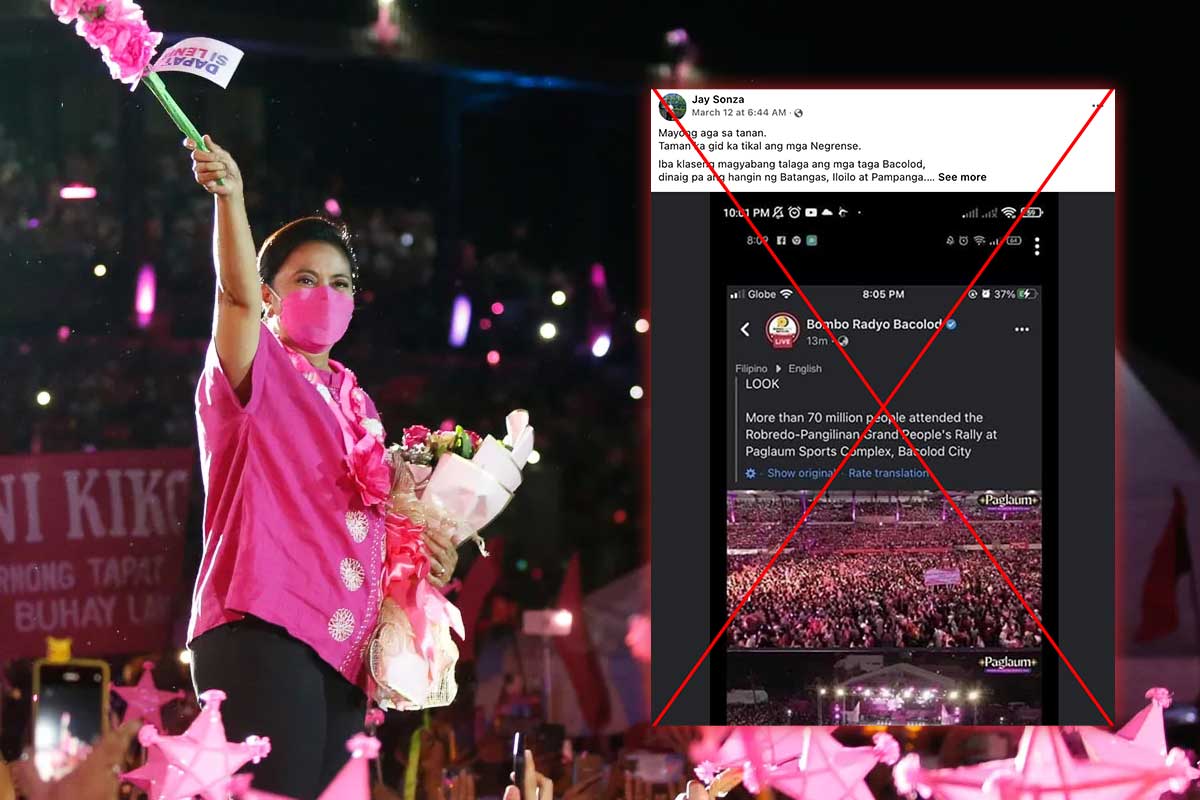 By Sean Rafio
A Facebook post claims to show Bombo Radyo Bacolod reported Vice President Leni Robredo gathered 70 million people during the presidential candidate's campaign rally held at the Paglaum Stadium in Bacolod City. This is false; the radio station has belied this, saying Facebook wrongly translated their post.
Former television personality Jay Sonza made the claim on March 12, a day after Robredo and running mate Senator Kiko Pangilinan toured Negros Occidental and held a grand rally in Paglaum Stadium.
"Mayong aga sa tanan. Taman ka gid ka tikal ang mga Negrense. Iba klaseng magyabang talaga ang mga taga Bacolod, dinaig pa ang hangin ng Batangas, Iloilo at Pampanga," Sonza said in his post that has garnered over 17,900 reactions and 1,800 shares.
(Translation: Good morning to all. Negrenses are so boastful. People from Bacolod are one of a kind in bragging, they surpassed Batangas, Iloilo and Pampanga.)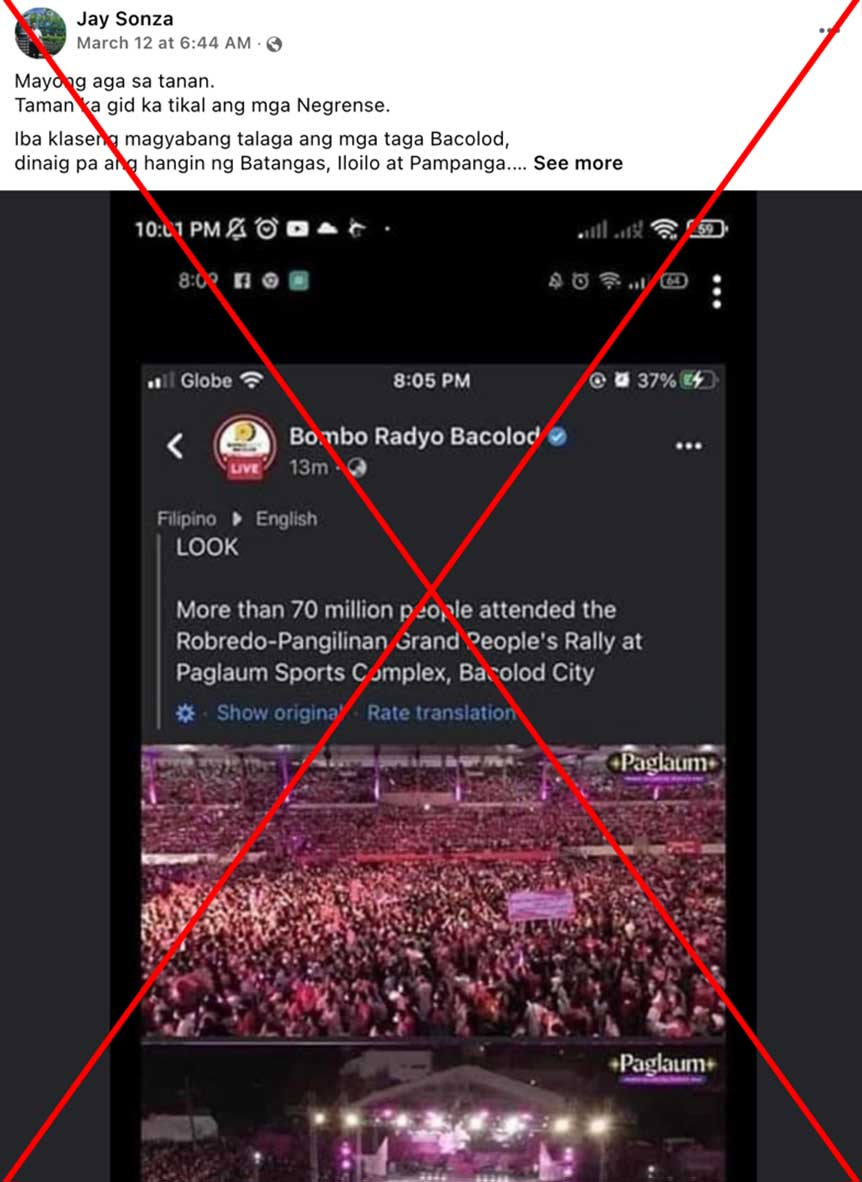 "Akalain mo 70% ng buong population ng PIlipinas pinagkasya sa Paglaum Sports Center na may overflow capacity na 20k. Hahahahahahahaha Duro kakadlaw ko ya. Yugs. Kagahod sang lilintian," he added.
(Imagine that 70% of the Philippine population was fit in the Paglaum Sports Center with an overflow capacity of 20,000. I had so many laughs. They were damn noisy.)
In his post, Sonza included a screenshot of Bombo Radyo Bacolod's post. But it was wrongly translated from Hiligaynon to English by Facebook.
His screenshot indicated the radio station's post as of 8:05 p.m. read, "More than 70 million people attended the Robredo-Pangilinan Grand People's Rally at Paglaum Sports Complex, Bacolod City."
Bombo Radyo Bacolod has admitted to posting the report but clarified that it intended to report 70,000 people. However, 70,000 in Hiligaynon is sisyenta mil, a loanword from the Spanish language.
The now-deleted post read: "Masubra 70mil ka mga tawo ang nagatambong sa Robredo-Pangilinan Grand People's Rally sa Paglaum Sports Complex sa Bacolod City."
(Over 70 thousand people are attending the Robredo-Pangilinan Grand People's Rally at Paglaum Sports Complex, Bacolod City.) 70,000 in Hiligaynon is Sisyenta Mil, a loneword from Spanish.
The radio station belied the claim saying, "The screenshot showed the automatic translation of Facebook, which is wrong. The 70mil was made 70 million, instead of 70,000 or seventy thousand. Bombo Radyo Bacolod had no involvement [in the translation]."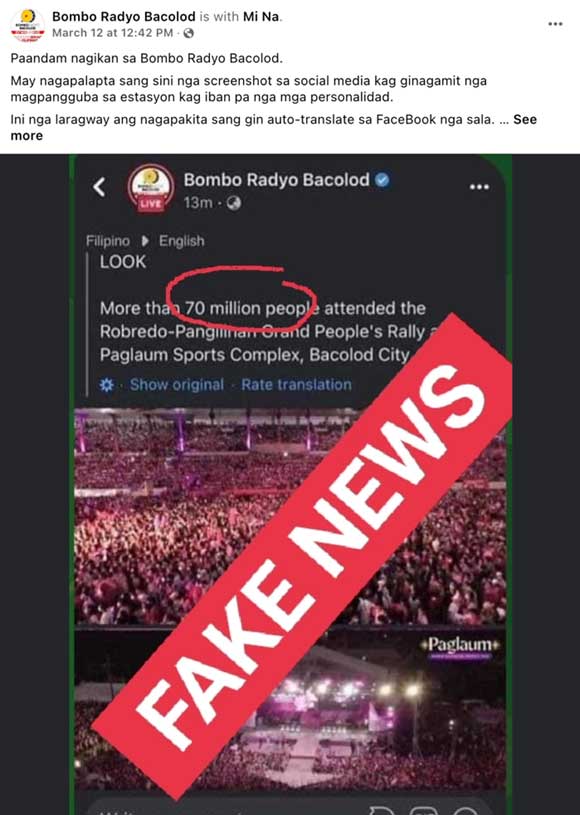 Negros Occidental provincial administrator Rayfrando Diaz reported that the crowd inside the Paglaum Stadium and surrounding area attending the event was estimated at 70,000 as of 6:30 p.m.
Daily Guardian is part of #FactsFirstPH, which brings together various sectors that are committed to promoting truth in the public space, and exacting accountability on those who harm it with lies.
Spotted a video or post you suspect to be false? Report it to the #FactsFirstPH tipline by messaging Daily Guardian on Facebook, so participating newsrooms and groups can investigate the claim.