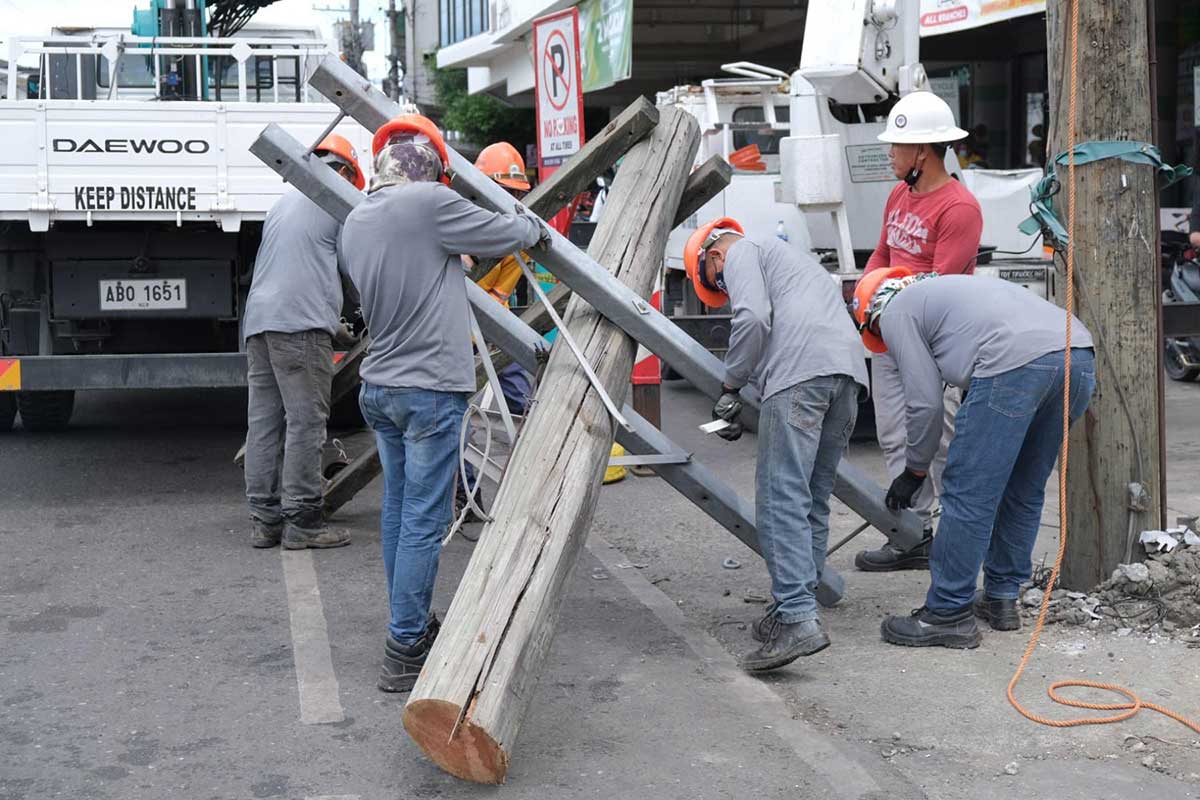 By Francis Allan L. Angelo
Iloilo City's sole power distribution utility cited consistency and fairness as key factors that prompted many consumers with illegal or jumper connections to turn legitimate.
Roel Z. Castro, president and COO of MORE Electric and Power Corp., said they managed to increase their consumer base from around 62,000 to over 85,000 two years after taking over power distribution services in the city due to their evenhanded but consistent enforcement of the law.
"The key is consistency then the cautious on the limits of the law. We are compassionate to those who want to reform, but we are willing to apply full force of the law when the consumer is hardheaded," Castro said.
Power theft is a crime under Republic Act 7832 (Anti-Pilferage of Electricity and Theft of Electric Transmission Lines/Materials Act of 1994).
Persons who violate Section 2 of RA 7832 (Illegal Use of Electricity) face the penalty of prision mayor (imprisonment of 6 years and one day to 12 years) or a fine ranging from P10,000 to P20,000 or both, at the discretion of the court,
Violation of Section 3 (Theft of Electric Power Transmission Lines and Materials) will result in the penalty of reclusion temporal (imprisonment of 12 years and one day to 20 years) or a fine ranging from P50,000 to P100,000 or both, at the discretion of the court.
Castro said they have filed over 100 cases against suspected power thieves, which included prominent personalities and businesspeople in the city.
To undue pressure or favoritism, Castro said reports on power pilferage only contain the account numbers and arrears and penalties that the violators owe to MORE Power.
"There are no family names. We really don't care who the family name is. I only get to see account numbers and the amount they ought to pay."
Castro said MORE Power personnel continue the crackdown on illegal or jumper connections at the barangay level even if they get harassed in some instances.
"Even if binabastos na tayo, maximum tolerance pa rin," he added.
For consumers who are willing to turn a new leaf over, Castro said they give leeway to them by doing away with penalties.
"We are very compassionate to those who are willing to be legitimate. No more penalties for those who decide to do so on their own volition. If they surrender their illegal connections, wala nang penalty."
But for headstrong consumers, Castro said they will go to the extent of what the law provides, and they will be consistent with such move.
As case in point is the barangay kagawad or village council member of City Proper, Iloilo City who was arrested for allegedly stealing electricity despite having a legitimate connection and meter with MORE Power.
Ricardo Bretaña Jr, 69, a kagawad of Hipodromo village, City Proper is detained at Lapaz police station after MORE Power Iloilo personnel caught him installing a "jumper connection" from the secondary distribution line to his house located at barangay Baldoza, Lapaz Wednesday afternoon.
Security guards who escorted MORE Power's apprehension team placed Bretaña Jr. under citizen's arrest. They also recovered wires and pliers he allegedly used to install the jumper connection.
MORE Power engineers learned that Bretaña Jr. has a legitimate connection to his house in Lapaz but he continued to use the illicit connection.
The team also discovered that Bretaña's house uses various appliances apart from a welding machine, a grinder, and an electric motor.
Bretaña Jr. is facing charges for violation of Republic Act 7832 (Anti-Pilferage of Electricity and Theft of Electric Transmission Lines/Materials Act of 1994) if he fails to settle his unbilled consumption.
Apart from criminal charges, MORE Power is also studying the possibility of filing administrative cases against government officials and employees who steal electricity.
When asked if there are still "mini-franchises" or jumper rackets in the barangays, Castro said they still exist "but they are not as gung-ho as before because they know we are actively running after them."
Jumper connections account for part of the systems loss or electricity supply lost in the distribution lines.
Castro estimated that they lose around P5 million a month to illegal connections.