Ang thumbnail kag titulo sang isa ka YouTube video nagapasuni nga si Sen. Manny Pacquiao nadisqualify kag nagawithraw sa pagkapresidente. Ini indi matuod kag isa ka pagpatalang.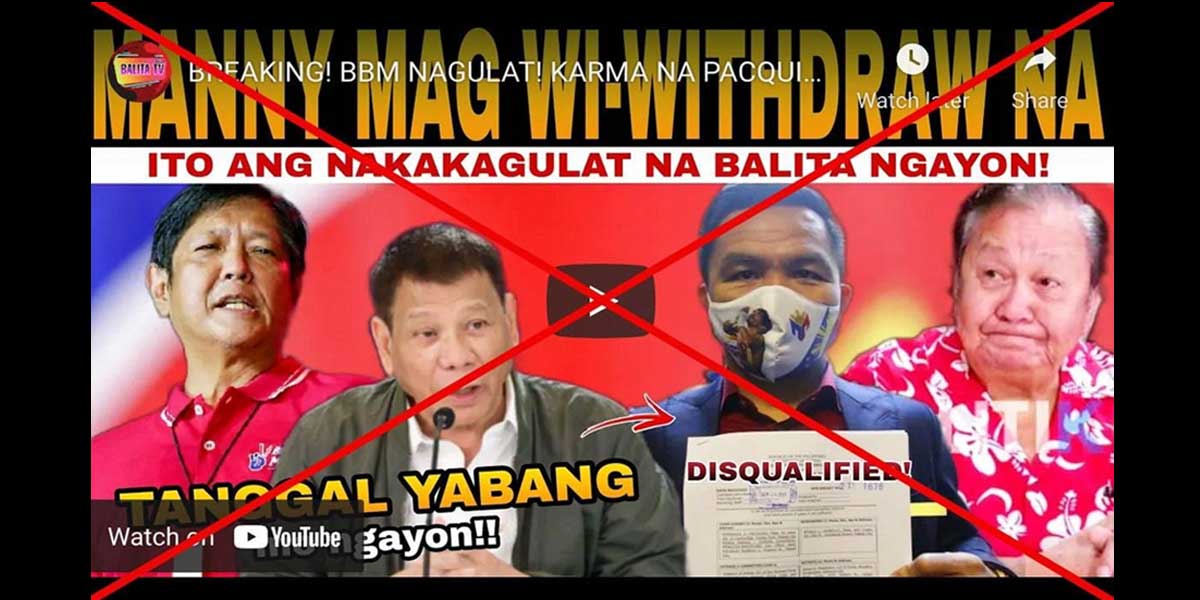 ANG PASUNI: Ang isa ka video nga ginpost sang BALITA NEWS TV sa ila YouTube channel sang Marso 16 nagasiling nga si Sen. Manny Pacquiao indi na magpadayon sang iya presidential bid kay disqualified ini sa pagpadalagan sa palaabuton nga eleksyon.
Ang video may titulo nga  "BREAKING! BBM NAGULAT! KARMA NA PACQUIA0 DISQUALlFlED NA AATRAS NASA LABAN!? ATIENZA NAIWAN SA ERE!"
INI INDI MATUOD KAG ISA KA PAGPATALANG
ANG KAUNDAN:
Makita sa thumbnail sang video ang linya nga, "Manny magwi-withdraw na" kaupod ang litrato ni Pacquiao nga nagakapot sang dokumento nga may "disqualified" nga tatak.
Apang dayon man nga ginpanginwala ini ni Pacquiao sang Pebrero bangud may nagkalat nga report nga ini magawithraw sa pagkapresidente.
Ang Commission on Elections and Progressive Movement for the Devolution of Initiatives o Promdi party wala man sang announcement suno sa withrawal o disqualification ni Pacquiao sa pagpadalagan sa pinakamataas nga posisyon.
Ang litrato nga ginamit sa thumbnail sang video naggikan sa pagfile ni Pacquiao sang certificate of candidacy kaupod ang running mate,Buhay Hayaang Yumabong party-list Rep. Lito Atienza sang Oktubre 2021. Ang litrato ni Pacquiao gin edit kag ginmarkahan "disqualified."
Ang Pinoy boxing champion nagpadayon sa kampanya sa pagkapresidente. Sa pareho nga adlaw nga ang video ginpost, makita sa Facebook page ni Pacquiao nga yara ini sa isa ka meeting kaupod ang mga supporters sini sa Sarangani.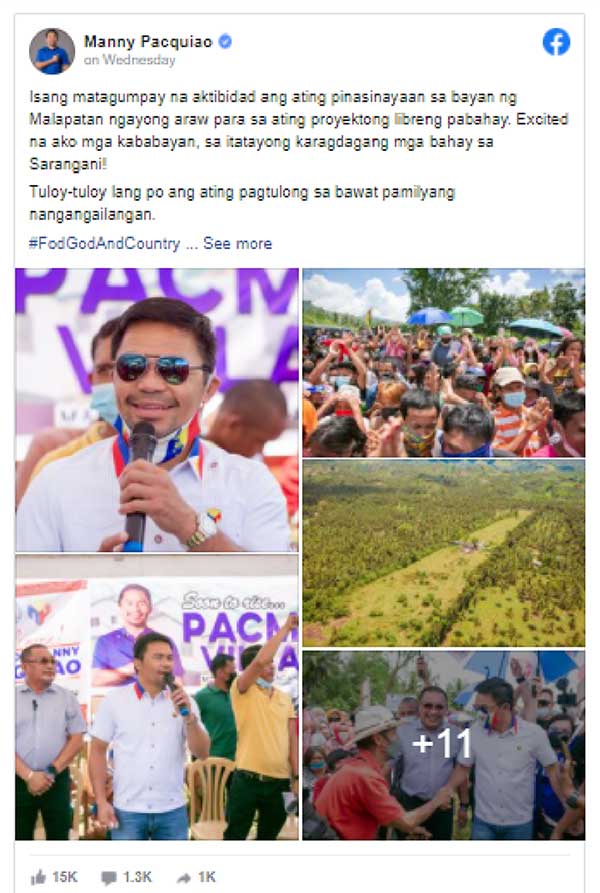 Luwas sa titulo kag thumbnail, ang diskurso sang video halos patungkol sa mga katapu sang Buhay party-list group nga nagawithraw sang ila suporta kay Atienza kag Paquiao, nga madugay na nga natabo sang Oktubre 2021. Apang ginpaguwa sa video nga ang deklarasyon sang mga ini natabo sining karon lamang.
NGAA DAPAT MAY PAGPANADLONG:
Sini nga Byernes, Marso 18, ang video nag-angkon sang 27,943 views. Ang titulo kag thumbnail sang video posible magtuga sang libug sa mga botante sining palaabuton nga eleksyon sa Mayo.
(Sinulatan ni Luis Agus/OneNewPH; Ginlubad ni Ryce Erica Lacbanes sang West Visayas State University-College of Communications para sa Daily Guardian)
Source:
https://www.onenews.ph/articles/fact-check-pacquiao-did-not-withdraw-his-candidacy-for-president
Daily Guardian is part of #FactsFirstPH, which brings together various sectors that are committed to promoting truth in the public space, and exacting accountability on those who harm it with lies. For those interested to join the initiative, email editorial@dailyguardian.com.ph and info@factsfirst.ph, or send a message to facebook.com/DailyGuardianPH.