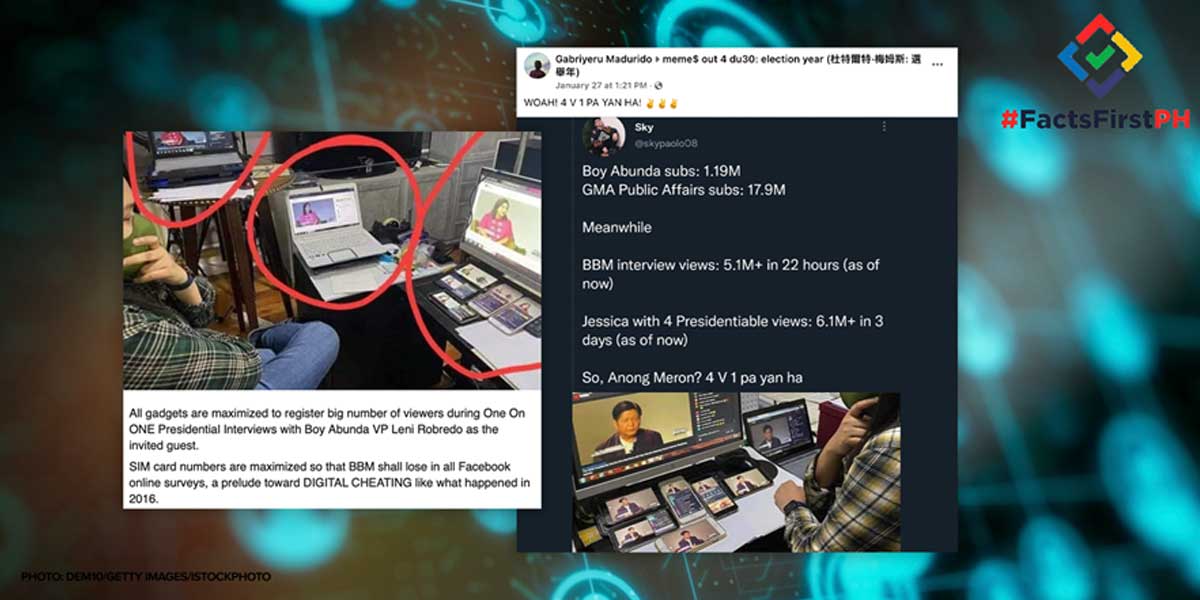 By Sean Rafio
Social media posts circulating online claim presidential candidates Ferdinand "Bongbong" Marcos Jr. and Vice President Leni Robredo have troll farms to boost views of their one-on-one interview with talk-show host Boy Abunda. But the posts are misleading: the person photographed watching the video on multiple devices said she wanted to observe how the live broadcast on YouTube aired at different times.
A post on the Facebook group "meme$ out 4 du30: election year" contained two images suggesting that the views Marcos gained from his interview with Abunda were thanks to troll farms. It has been shared over 12,000 times and has earned 33,000 reactions.
The top image was a screenshot of a tweet comparing the YouTube subscribers of Boy Abunda and GMA Public Affairs. For context, Marcos skipped the network's one-on-one interview with award-winning broadcaster Jessica Soho. The presidential aspirant, three days later, was interviewed by Abunda on his YouTube channel.
The bottom image shows Almira Sheil Sullano watching Marcos' interview on multiple devices. It was grabbed from Sullano's Facebook account and seemingly cropped her caption: "Hindi naman ako sigurista ano? Consistency check ulit tulad ng ginawa ko kay Sen. Ping at sa mga sususnod pa.🇵🇭🤣"
A TikTok video that has been deleted as of this posting showed another photo of Sullano. This time she was watching in multiple devices Abunda's interview with Robredo.
The footage claimed Sullano was a troll of Robredo and was watching on multiple devices to boost the views of the video. Similar claims were also shared on Facebook here and here.
All these posts are misleading.
In a YouTube video posted on January 30, 2022, Sullano clarified that supporters of presidential contenders used her photos to mislead netizens.
"Hindi ko matanggap is yung inedit niya 'yung mga bagay-bagay para umayon lang sa goal na gusto nilang gawin, i-portay para sa personal interest nila," she said. "Hindi po nila sinama yung caption ng totoong post. Ang pinakita lang ay 'yung picture na mukha naman talaga akong, sa tawag nila, troll."
Sullano explained she was only observing how the live broadcast on YouTube aired at different times. She did not disclose whether she worked for Abunda, but she thanked the celebrity talk-show host when she greeted him in a Facebook post on October 29, 2021.
"Nung simula, which is kay Senator Ping [Lacson], na observe po namin na dun sa mga devices namin na 'di nagsabay-sabay nag pla-play like sa phone ko and sa desktop. Sa office po ito ha," she recalled.
For the number of devices used by Sullano, as seen in the photos, she said it was from her boss who also wanted to check the "consistency" of the videos.
"Sa phone nung boss ko, di rin siya nag pla-play, so pinakita niya po saakin with all the phones  na meron siya, well, naka-ll siya marami siyang phone," she also recalled.
Sullano said they were just concerned about the "traffic" that the video was receiving, which she said might have affected how the live broadcast played on different devices connected to the same network.
Robredo and Marcos were not the only videos Sullano and her team tried to check. They also checked the live broadcast videos of Senators Ping Lacson and Manny Pacquiao, and Manila Mayor Isko Moreno. All five aspirants were featured in the week-long series aired live on YouTube from January 24 to 28, 2022.
While Sullano is not a troll, they are real. Marcos is known for being the candidate most backed by a vast online disinformation network. But the presidential candidate denied in a recent interview that he has trolls and said false news is "dangerous."
Robredo, meanwhile, is the biggest victim of dis- and misinformation amplified by trolls to attack negatively the lone female contender.
Daily Guardian is part of #FactsFirstPH which brings together various sectors that are committed to promoting truth in the public space, and exacting accountability on those who harm it with lies. For those interested to join the initiative, email editorial@dailyguardian.com.ph and info@factsfirst.ph, or send a message to facebook.com/DailyGuardianPH.