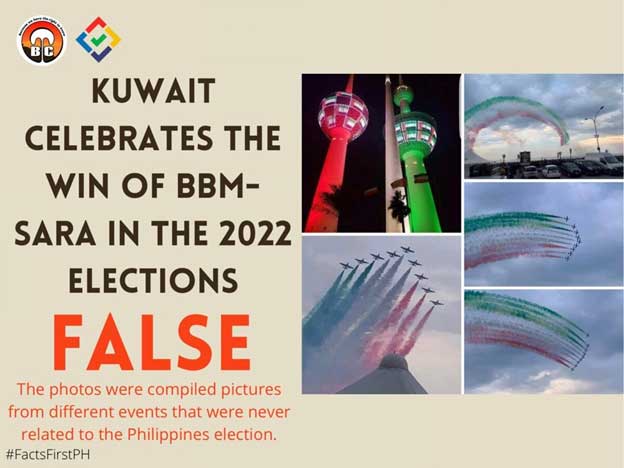 Pasuni: Kuwait nagaselebrar sang pagdaug ni BBM-Sara sa 2022 Election.
Rating: INDI INI MATUOD
Ang viral post sa Facebook nagapasuni nga ang Kuwait nagaintra sa selebrasyon sang pagdaug sang BBM-Sara para sa 2022 Election. Ang post may unod mga litrato sang Kuwait tower nga may sanag sang duag pula kag lunhaw, pati litrato sang aerobatic air shows sa pareho nga duag. Ang post ginhimu sang Facebook page nagangalan  'OFW ng Middle East' kag nagapasuni nga ang Kuwait nagselebrar sa daug sang BBM-Sara tandem.
https://www.facebook.com/khilsy33/posts/541972767385597
Ang mga laragway amu mga compiled pictures gikan sa nagakalainlain nga hitabu nga wala may hilabot sa eleksyon sa Pilipinas.
Ang Kuwait tower nga may sanag sang duag pula kag lunhaw, isa ka tribute sa national day sang Kuwait sang tuig 2019.
Ang duag sang mga suga nagarepresentar sa bandera sang Kuwait.
https://www.facebook.com/goldenpentypingcenter/posts/420160938791248
Samtang, ang aerobatic airshow palaguaon nga ginhikot sang Italian Airforce kag ginatawag nga "Freece Tricolori" para sa Italian Week sang 2018 nga ginbuhat man sa Kuwait. Ini amo man nagarepresentar sa duag sang Italian nga bandera.
https://www.youtube.com/watch?v=rCoAE8h2W_w
Maluwas pa, Si BongBong Marcos kag Sara Duterte wala pa opisyal nga makonpirmar nga nagdaug sa eleksyon. Bisan leading ang mga ini sa inisipay, ini amu lamang mga partial kag unofficial nga resulta.https://www.rappler.com/…/ferdinand-bongbong-marcos-jr…/
Ngaa kinahanglan may pagpanadlong: Sa 13k shares kag reactions ini nga post nagapalapnag sang misinformation sa internasyunal nga lebel paagi sa pagdalahig sa iban nga pungsod sa eleksyon sa Pilipinas.
#FactsFirstPH
(Gin-lubad sang Daily Guardian gikan sa orihinal nga fact check report sang Baguio Chronicle)
Daily Guardian is part of #FactsFirstPH, which brings together various sectors that are committed to promoting truth in the public space, and exacting accountability on those who harm it with lies. For those interested to join the initiative, email editorial@dailyguardian.com.ph and info@factsfirst.ph, or send a message to facebook.com/DailyGuardianPH.