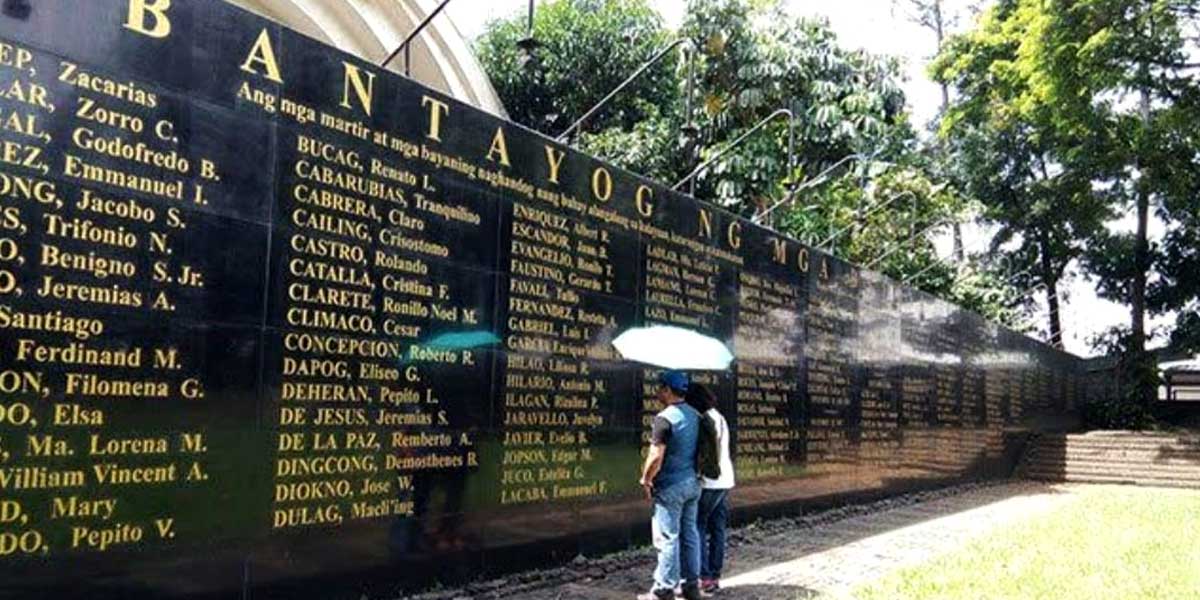 INDI MATUOD: Tanan nga mga pinamatay sang Martial Law puro mga komunista
Dala sa 3,240 nga mga pinamatay sang Martial Law ang mga manunudlo, estudyante, bata, kag iban pa nga gin-dakup nga wala sang kaso kag wala napamatud-an nga komunista
ANG PASUNI: Komunista ang tanan nga pinamatay sa rion sang Martial Law sa idalom sang diktadura ni Ferdinand Marcos.
INDI MATUOD
Ang kamatuoran: Upod sa 3,240 nga ginpamatay sang Martial Law ang mga manunudlo, estudyante, bata, kag iban pa nga gin-aresto nga wala kaso kag wala mapamatud-an nga komunista.
Ngaa kinahanglan i-fact-check ini nga pasuni: Sang ginsulat ang fact-check nga ini, may ara na sang 12,000 ka mga reaksyon, 1,500 komento, kag 12,000 shares ang post nga puno sang mga kutso-kutso sa Facebook.
MGA DETALYE
Halin sang Oktubre 30, 2021, nagalapta ang isa ka post sa Facebook nga ginhimo ni Romeo V. Poquiz nga nahanungod sa panahon sang Martial Law sa idalom sang diktador nga si Ferdinand Marcos Sr.
Nakabutang sa post nga ini ang panaysayon halin sa panahon sang Martial Law: "It must be noted, however, that those killed – 3,257 in all for 20 years, were communists who were then nearing a strategic victory against the government. Without Martial Law, these communists must have been our rulers today. Based on other countries' experiences, the 3,257 local communists killed during Marcos' time were a small number when compared to millions killed by communists when they take over a government."
(Dapat naton pagadumdumon, nga ang mga pinatay – 3,257 sa kabilugan sang 20 ka tuig – ang mga komunista nga kung sa diin malapit na lang madaog ang bahin sang gobyerno. Kung wala sang Martial Law, ang mga komunista nga ini kung tani ang nagapamuno sa aton subong. Base sa inagyan sang iban nga pungsod, ang 3,257 nga komunista nga pinamatay sang panahon ni Marcos gamay lang kumparar sa minilyon nga ginpamatay sang mga komunista sang sila na ang namuno.)
Suno sa post nga ini, tanan nga pinamatay sang Martial Law puros mga komunista.
Ngaa kinanglan i-fact-check: Sang gin-sulat ang fact-check nga ini, may ara na sang 12,000 reaksiyon, 1,500 komento, at 12,000 shares ang unod sang post nga puros kutso-kutso sa Facebook.
Indi matuod ang haka-haka nga ini.
Sang nagpaidalom ang Pilipinas sa Martial Law, madamo nga sibilyan ang ginhatulan sang gobyerno nga ginlabag ang karapatang pantao. Suno sa imbestigasyon sang Amnesty International, mga 70,000 ka tao ang ginpapriso, 34,000 tinortyur, kag 3,240 ang pinamatay sa kamot ni Marcos halin 1972 hasta 1981.
Wala ebidensiya okun mga nagapamatuod nga komunista ang tanan nga mga biktima. (BASAHIN: FACT CHECK: Lies about EDSA, Martial Law, Marcoses)
Suno sa madamo nga siyasat kag imbestigasyon, damo sa mga biktima ang wala napamatud-an nga may koneksyon sa mga komunista. Tungod sa pagsuspinde sang "writ of habeas corpus," nagpinagusto sa pagpanakop ang mga kapulisan, militar, kag iban pa nga awtoridad nga gintakda sang gobyerno ang bisan sin-o nga mahambal nila nga mga banta sa seguridad sang Pilipinas. Upod sini ang mga ginasuspetsahan nga komunista, parehos sang mga grupo ukon indibidwal nga kritikal sa gobyerno apang indi mapamatud-an nga komunista.
Damo sa mga pinamatay kag gin-aresto nga wala kaso, parehas sang mga aktibista, maistro, estudyante, mamamahayag, doktor, kag iban pa nga mga ordinaryo nga tao. (PANOORIN: Marcos Imbento, Bistado: Hindi 'pasaway' ang mga dinukot, pinatay ng diktadura)
Isa sa mga napatay si Luis "Boyet" Mijares, ang bata ni Primitivo Mijares, ang sadto nga propagandista ni Marcos nga nagkalas sa ila nga kampo sang 1975 kag nangin whistle-blower sang ginsulat niya ang "The Conjugal Dictatorship of Ferdinand and Imelda Marcos". Gindetalye ni Mijares sa libro nga ini ang mga personal niya nga nasaksihan suno sa mga krimen sang mga Marcos, kag ang pagbuking sa ila nga korapsyon. Nadula man kag wala na nakit-an si Mijares halin sang 1977.
Si Boyet nga 16 anyos pa lamang sang siya ang ginkidnap, tortyur, kag pinatay kadungan nga tuig sa iya amay. Hasta subong, hindi makit-an ang iya lawas.
Si Archimedes Trajano man ang isa sa mga pinatay sang 1977. Isa ka estudyante sang Mapua Institute of Technology, nagkadto si Trajano sa isa ka forum kung sa diin speaker ang bata nga babae ni Marcos, nga senador na subong nga si Imee Marcos. Ginpamangkot ni Trajano si Imee kung dapat bala siya maging national chairperson sang Kabataang Barangay ukon tungod lang ini kay bata siya sang presidente.
Suno sa mga saksi, ginpagwa sang mga bodyguard ni Imee si Trajano. Nabalitaan nga gintortyur siya halin 12 asta sa 36 ka oras, kag ginhaboy ang lawas halin sa ikaduwa nga panalgan sang isa ka building. Nasapwan nga patay kag duguan ang lawas ni Trajano sa karsada sang Maynila sang Setyembre 2, 1977. (BASAHIN: #NeverAgain: Martial Law stories young people need to hear)
Madamo na nga nasulat ang Rappler sa mga Marcos. Basaha man ang iban nga mga fact check parte sa ila:
FALSE: 'No proof' that Marcos couple stole billions from Filipinos
FALSE: It's impossible for Marcos' wealth to be sourced from public funds
FALSE: Marcos family owns '$2 quadrillion' worth of gold
FALSE: Marcoses were not convicted of any charges
HINDI TOTOO: Nagapanag-iya sang 'milyong tonelada ng ginto' ang pamilya nga Marcos
KULANG SA KONTEKSTO: Sequestered assets ka mga Marcos indi pruweba sang pagpangawat.
HINDI TOTOO: Wala sang nabawi ang Pilipinas halin sa kinawatan nga manggad sang mga Marcos
(Sinulatan ni Sofia Guanzon/Rappler.com; Gin-lubad ni Ma. Trina Belmote sang West Visayas State University-College of Communications para sa Daily Guardian)
LINK TO ORIGINAL article: https://www.rappler.com/newsbreak/fact-check/all-people-killed-during-martial-law-were-communists/?fbclid=IwAR0Mrw32OFAQ7JIuuPZFL-6G7-4oYHWERrwvxj8WnQ2RBrwl-8pIlq0RrXI
Daily Guardian is part of #FactsFirstPH, which brings together various sectors that are committed to promoting truth in the public space, and exacting accountability on those who harm it with lies. For those interested to join the initiative, email editorial@dailyguardian.com.ph and info@factsfirst.ph, or send a message to facebook.com/DailyGuardianPH.