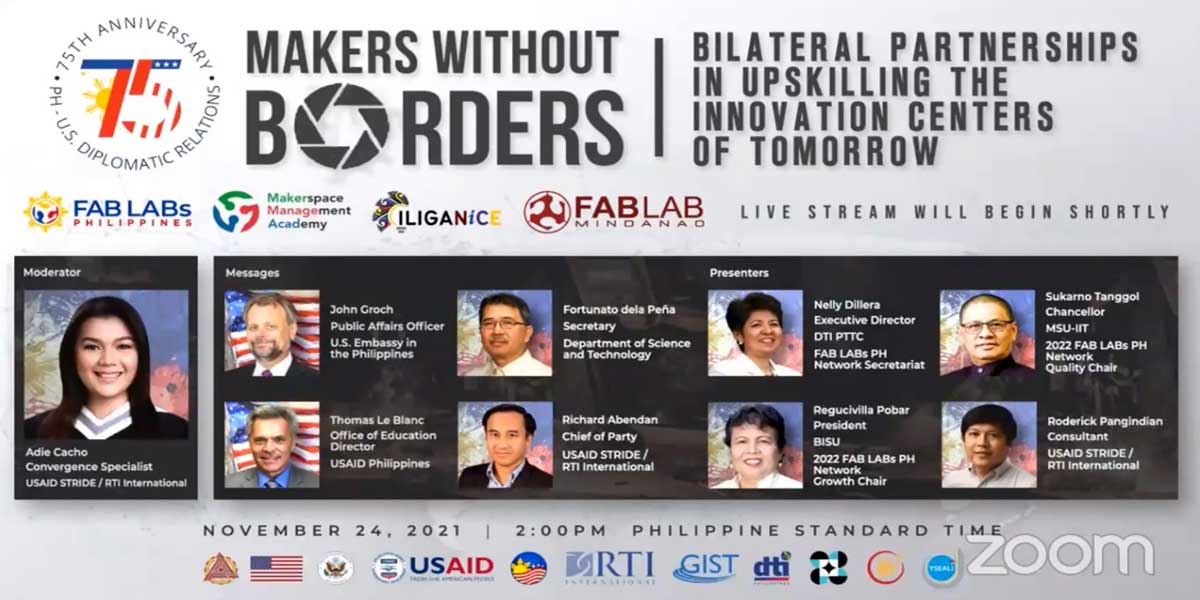 Despite the pandemic, the Fab Labs Network has achieved numerous feats worthy of celebrating – feats that are heading towards its goal to be the innovation network of tomorrow.
Stakeholders on Nov 24, 2021 gathered in the 21st episode of the Makers Without Borders online session to highlight their victories and to share the path forward.
"This unprecedented pandemic has truly challenged every one of us. Throughout the first year of its operation, Fab Labs Philippines has been a viable partner of the US Embassy. Our shared mission is to advance science and technology in the Philippines to support human capital development. And despite the challenges of remote engagement we had a year of activities," said US Embassy Public Affairs Officer John Groch.
USAID Philippines Director of the Office of Education Thomas Le Blanc noted the long-standing US-Philippines relations, and the two countries' mutual goal to build stronger and more prosperous communities in the country.
"Key aspect of USAID's development approach is building capacity and connections between people and institutions who share common interest, while also learning from each other's experiences. This is an approach that yielded sustainable results, spurring more locally-led development," he said.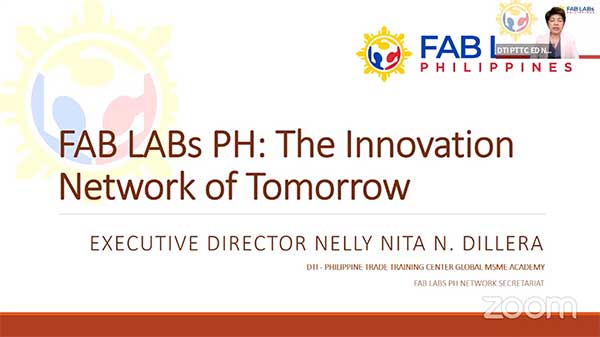 He also lauded the Fab Labs Philippines Networks for its active role in building the capacity of future innovators.
"It was just last year when we launched the Fab Labs Philippines Network, a convergence at 23 Fab Labs. While Fab Labs Philippines is a relatively young community of practice, I've heard it's already playing an active role in building the capacity of future innovators," Le Blanc noted.
Fab Labs Make Ideas a Reality
On the part of Science and Technology Secretary Fortunato Dela Peña, he emphasized that Fab Labs created vast opportunities for inventors to turn their vision into fruition.
"Makerspaces such as Fab Labs are instrumental in enabling the learning of 21st century skills, including entrepreneurship, and digital skills, among others. Students have opportunities to explore, invent, or make abstract ideas tangible through digital technology," he said.
"Fab Labs encourage collaboration and cooperation among learners and serve to promote learning of science, technology, engineering, and mathematics. Beyond teaching 21st century skills, Fab Labs also serves as a catalyst for innovation and a driver for industry 4.0," he added.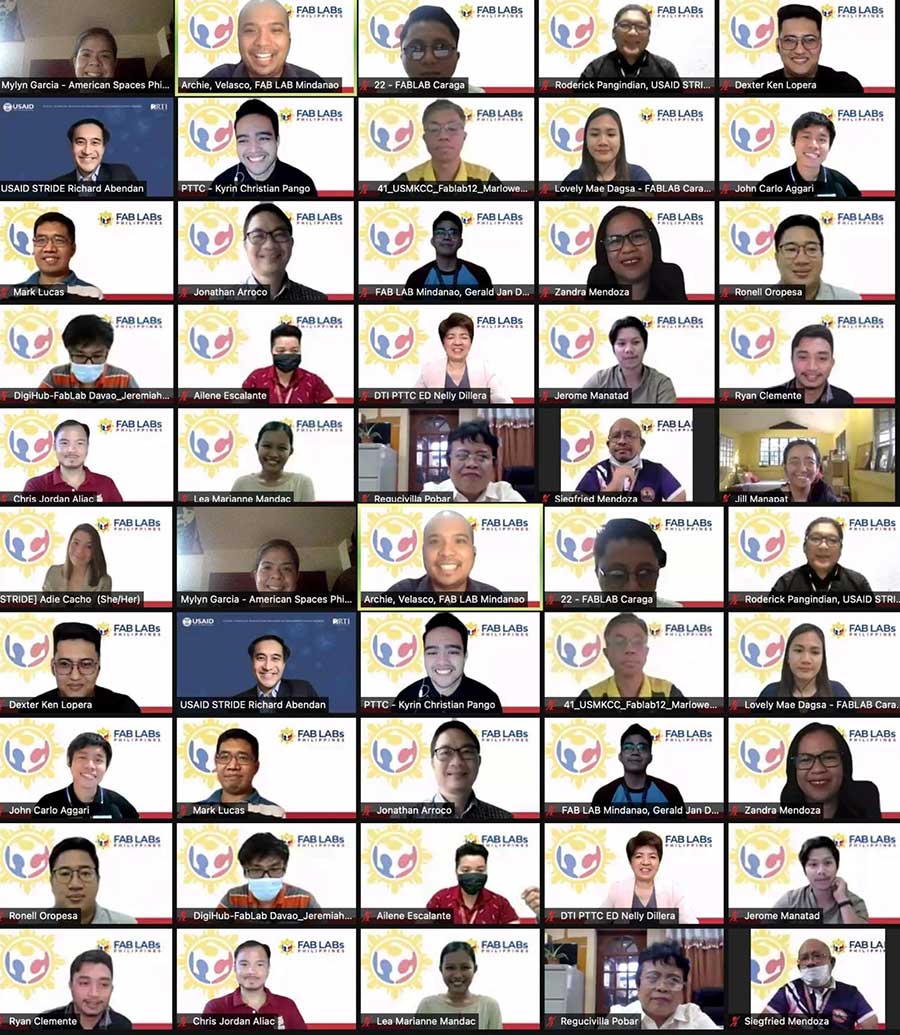 Fab Labs the Innovation Network of Tomorrow
Meanwhile, Philippine Trade Training Center – Global MSME Academy Executive Director Nelly Nita Dillera vowed to continue striving hard in taking part in the nation's innovation initiatives.
"The [Fab Labs] Network continues to strive hard in contributing to the country's innovation initiatives and will continue to strengthen as we present to you the strategic plans for 2022 and beyond as your innovation network of tomorrow," she said.
Dillera also shared her hope that intended recipients, which are the micro, small, and medium enterprises (MSMEs) will be enjoying the facilities and training programs that the Fab Labs offer.
"From prototyping services and partnership projects, Fab Labs Philippines will continue to provide an avenue for all stakeholders to enjoy the benefits of the Makerspace equipment and system. So eventually, while we're looking for Fab Labs stakeholders being trained under the Makerspace Management Academy, we hope that the MSMEs for whom this project is intended will eventually be enjoying the different facilities and even the training programs that we're offering to them," she noted.
The said program also inducted the new Fab Labs Management Committee, which included MSU-IIT Chancellor Dr. Sukarno Tanggol, serving as the Network's Quality chairperson; BISU President Dr. Regucivilla Pobar, serving as the Network's Growth chairperson.
Since the founding of Fab Labs a year ago, it has significantly contributed in upskilling the members of the Network through the implementation of the Makerspace Management Academy. The Makerspace Academy is a program of the United States Agency for International Development through the STRIDE Program with the purpose to upskill the competency of Fabrication Laboratories in order to facilitate innovators and inventors.