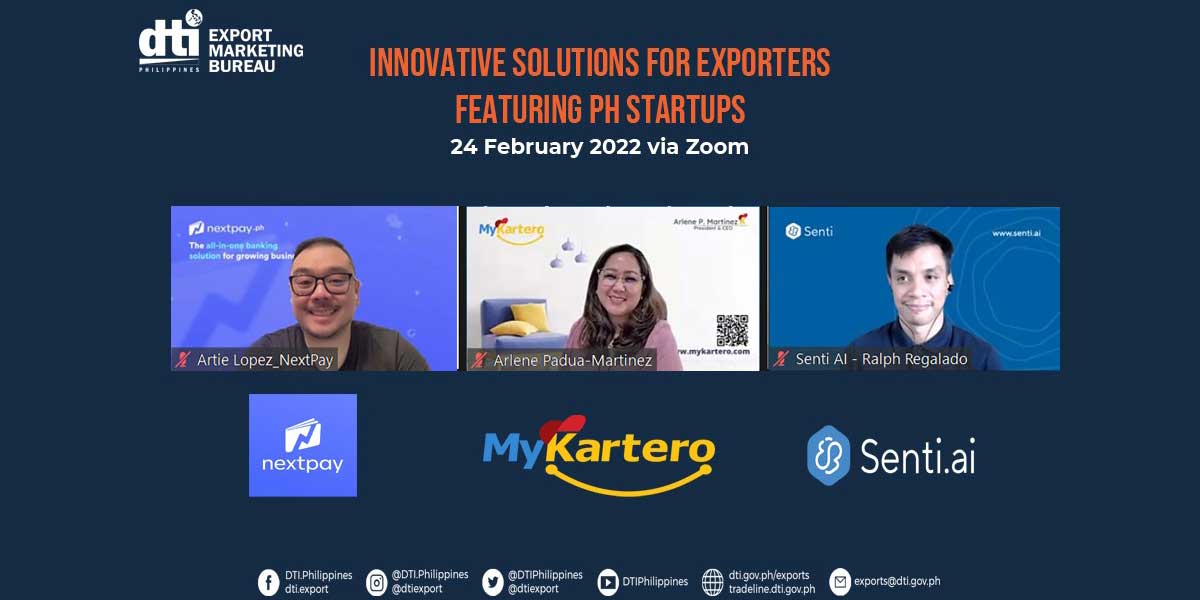 To inform exporters on the current leading-edge solutions to support their businesses, the Department of Trade and Industry – Export Marketing Bureau (DTI-EMB) organized a webinar on "Innovative Solutions for Exporters featuring PH Startups" under the Philippine Export Competitiveness Program (PECP) on Feb 24, 2022 via Zoom.
The PECP webinar featured Philippine Startups that can provide innovative technology solutions to exporters that can help them digitally adapt and work and thrive amidst the challenges of the COVID-19 pandemic.
DTI-EMB Director Christopher Lawrence S. Arnuco encouraged exporters to take advantage of the free information sessions organized by the DTI-EMB.
"The DTI-EMB is implementing initiatives to grow innovative and globally competitive exporters, especially with the heightened need to adopt more digital solutions in response to the pandemic. PECP is one of EMB's major programs that helps exporters and would-be-exporters improve their competitive stance in the global market. Through the PECP's free information sessions, entrepreneurs can gain insights on productivity and new market updates relevant to products and/or services," Director Arnuco said.
In this first PECP info session for 2022, the DTI-EMB introduced different tech solutions that exporters can utilize to manage their businesses more efficiently.
Resource Speakers featured included NextPay's Head of Growth Artie Lopez, Senti AI's CEO Ralph Regalado, and MyKartero President and CEO Arlene Martinez. The speakers discussed different tech solutions for digital banking, post-on-demand shipping and courier services, as well as artificial intelligence, (AI) and machine learning (ML) solutions.
DTI-Trade Promotions Group (TPG) Undersecretary Abdulgani M. Macatoman noted that "This initiative attests to TPG's thrust to encourage more Filipino entrepreneurs to be more digitally adaptable by embracing new tech solutions that can help them level up their businesses."
A total of 175 participants attended the event, composed of exporters, would-be exporters, private organizations, various government agencies, and members of the academe, among others.
For exporters interested in attending DTI-EMB's free info sessions, you may contact DTI-EMB's Exporter Services Division at exportwebinars@dti.gov.ph or at exports@dti.gov.ph.
To stay updated on DTI EMB's upcoming events and programs, visit their Facebook Page: fb.com/dti.export.