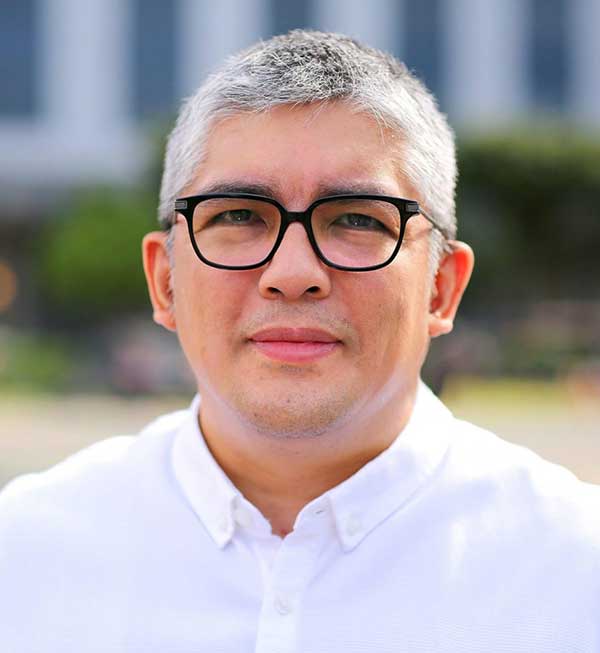 By Joseph B.A. Marzan
Former Commission on Elections (COMELEC) Commissioner Gregorio Larrazabal said the coronavirus disease 2019 (COVID-19) pandemic may result in higher turnout of younger voters in the May 9, 2022 National and Local Elections (NLE) compared to older age groups.
In anticipation of the 2022 NLE, Larrazabal told Daily Guardian on Air Friday last week that questions about the Automated Election System will still have a key role in the elections.
Thus, the COMELEC has to be transparent in its processes and responses to current and probable issues.
"It's still going to play an important role, but the key takeaway there is that the COMELEC will have to continue the thrust of transparency, because many people have questions right now, which the COMELEC must answer. They cannot say, 'We've answered that already, don't worry about it, everything's under control.' They should explain why everything is okay, everything is under control, and why everything is ready for the 2022 elections," Larrazabal said.
The former COMELEC commissioner, who spearheaded the first automated elections in 2010, nixed the idea of holding the elections in two days, citing legal and operational infirmities.
The Constitution provides that the elections for President, Vice-President, and Members of Congress (after 1992) and local officials shall be held on the second Monday of May every 3 years.
Larrazabal said possible operational infirmities include voter intimidation, where a ruling candidate may use his or her power to "torpedo" possible unfavorable election results.
He cited the success of the March 2021 plebiscite in Palawan, the first electoral process conducted in the wake of the coronavirus disease 2019 (COVID-19) pandemic, saying these may also be implemented in Western Visayas and in other areas across the country.
"There was a plebiscite in Palawan last March, and the turnout was about 61 percent. So if they can do that in Palawan in one day, they can do that in Iloilo, Panay, Negros, and other regions in the Philippines. What's important there is to fix the health protocols. We can't do the election in two days. There'll already be a legal infirmity there. Second is operational. How do you conduct elections in two days?" he said.
Larrazabal said holding two days of elections opens the polls to fraud, intimidation, and other problems.
As to demographics, he said that older voters, especially senior citizens, may be discouraged by the COVID-19 pandemic to go out of their homes to vote.
This would pave the way for younger voters, who historically had low turnouts in previous elections, to decide the upcoming polls.
He also cited the active opinions of members of the youth sector in social media, as well as requests he receive from youth groups pushing for voter registration and wise voting.
"I can see that the turnout of our senior citizen voters, or those of more than 50 or above, will be lower because many of them may be scared to vote because of the ongoing pandemic. What will happen is that, since voter turnout is lower among the senior citizens, necessarily, the turnout of youth voters, even if it's maintained, it will increase. Then if more youth voters come out, the youth vote's impact on the results of the elections will also double," Larrazabal said.
IDEAL LEADER
Larrazabal also chimed in on his thoughts on the ideal president to be elected in the next polls, saying that it should be someone who had the "mindset to make things better for the Filipinos".
He cited the current administration's reactive stance in responding to the COVID-19 pandemic, as well as abrupt changes in policies and the failure to adopt newer policies.
He likened the administration's COVID-19 strategy to a "mosquito hitting a glass window even if there's an open door just beside it".
"You need a president who not only knows what to do, but also has the mindset of doing something for the Filipinos to make things better. You cannot rely on the same system, same methodology, because it's not good. Everybody has the same thought, they don't want to say it, but they're not doing good. There's even no plan. If there are plans, then it will be announced later, then the next day there will be changes, and other changes coming after. You have to have a comprehensive view," he said.
As to the party-list system, which has been "hijacked" by political dynasties, Larrazabal gave two solutions – pass a law that will reform the system and a more responsible vetting of party-lists.
Just like screening suitors, he said that vetting party-lists would be a more effective solution as passing a reform law requires support from Congress.
He also nixed the idea of abolishing the party-list system saying that the strongest opposition come from the current party-list representatives.
"I think there are two things that need to be done. We strengthen the law on party-lists, but that would take more legislation. The second most important that can be done by everybody is to vet on which party-list group you will be voting for. Many of them show their nominees. That's published, the first 5 nominees. You vote for a party-list organization, then they win and discover the nominee, then you would say that you didn't like them," he said.
When asked whether he would run for the Senate, Larrazabal said that he was "seriously looking at it".
He had been mentioned as a possible Senate candidate after leaving the COMELEC in 2011, his name being floated in the 2013, 2016, and 2019 elections.
But more recently, he was touted as a possible senatorial contender under the ticket of Senator Panfilo Lacson and Senate President Vicente Sotto III, who have expressed their intent to run as president and vice-president, respectively.
Larrazabal also appeared in a photo with Lacson and Sotto.
While undecided still, he mentioned possible legislative priorities, including revising the Omnibus Election Code, developing a "digital infrastructure" in the countryside, fixing the health care system especially in rural areas, and tourism development.
He emphasized that tourism development should only come after infrastructure and health care reforms.
"I've been asked to run since 2013, 2016, and 2019. I said no, but now I'm seriously looking at it. I don't want to say yes. I don't want to say that I won't run, because then I'd be lying. That's the typical answer of politicians. If I decide to run and file a COC (certificate of candidacy), that would be a big task, so I have to be ready for that. I'm studying it, and if I decide to run, I have to be ready on what to do when I win," he said.