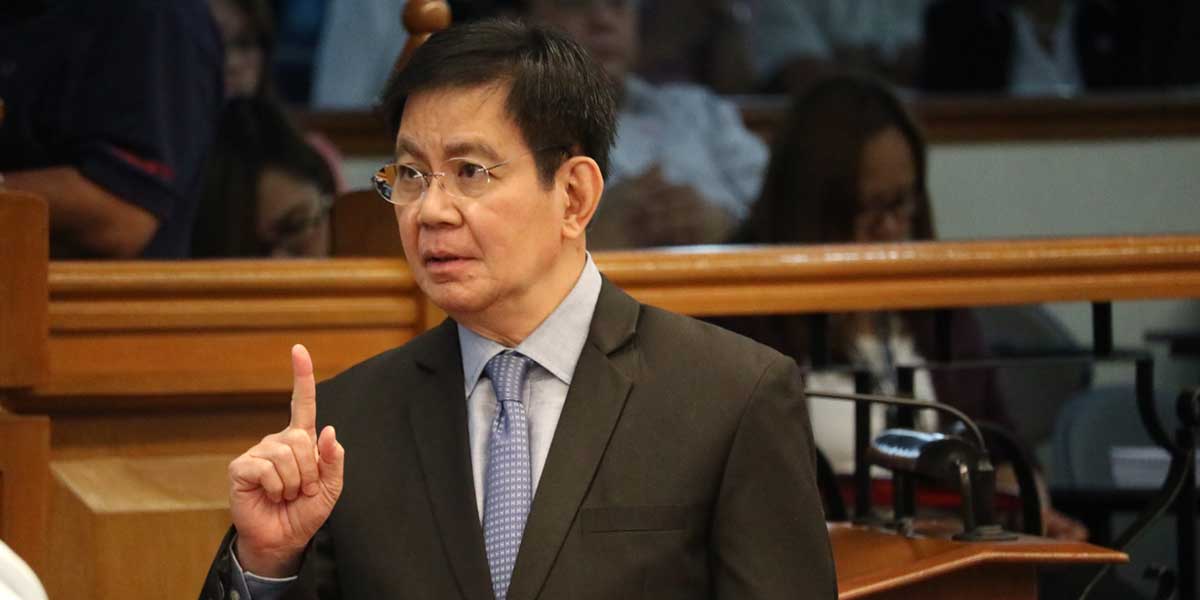 White-collar thieves hiding in plain sight among government officials will have their much-awaited comeuppance as Partido Reporma chairman and standard-bearer Panfilo 'Ping' Lacson is bent on ending the careers of notoriously corrupt individuals that are ravaging taxpayers' money.
Speaking to television host Boy Abunda in his own presidential one-on-one interviews Monday night, Lacson said this warning extends to some of the biggest names in the world of politics regardless of party alliances to prove he is serious about implementing a single standard policy against corruption.
"Sisimulan ko 'yan doon sa alam kong walang magrereklamo; walang magku-kuwestiyon… 'Yung walang ibabalik sa akin na pulitika 'yan. Sisimulan ko 'yan [doon] sa alam kong talamak na kilalang-kilalang magnanakaw—'yan ang sampol muna. Ke kapartido mo, ke hindi, 'yan ang unahin mo and see its logical conclusion," Lacson told Abunda.
[I am going to start with someone who I know no one will complain about, no one will question… No one will reason with me that it's politically motivated. I will begin with someone who everybody knows is a hardcore thief—that will be my first example. Whether you belong to the same party or not, you start with that and see its logical conclusion.]
Lacson said his grit to put plunderers behind bars was fueled by what happened to Lolo Narding Flores, who stole mangoes but was immediately sent to jail, whereas those who are committing large-scale theft involving public funds get to enjoy VIP treatment to the extent of having police escorts.
"Alam mo (You know), the ordinary thieves, they get the whip surely and fast. Pero 'yung mga (But these) big-time thieves—ito 'yung (these are the) big and powerful—they stay big, they stay powerful," noted Lacson, promising to turn this particular kind of social injustice upside down.
The presidential aspirant vowed to gather solid evidence against these corrupt and greedy government officials that he has in mind, so his administration could build the strongest case yet to prosecute them, subject to our judicial processes.
Lacson said he is going to build that case in a very thorough manner that even incumbent officials in the executive, legislative and judicial branches of government would not be able to conspire with each other and unduly influence its development within the legal system.
This plan is part of his pledge to conduct a massive internal cleansing of the bureaucracy to achieve his goal of fixing the ills of government from the inside. He also wants it sustained so he can deliver public services in the best and most efficient way possible beyond his administration.
Lacson is confident he can deliver on this promise because he said he already did it with the Philippine National Police (PNP) when he got rid of the rogue cops, who got involved in serious illegal activities. His principle of 'leadership by example' enabled the entire PNP to turn its bad reputation around.
"Ginawa ko sa PNP 'yan, Boy. Ganyan ang ginawa ko e. Ilan 'yung napa-dismiss ko? Four months lang na-correct ko 'yung PNP e. Kasi tinanong din ako ng media noon sa Crame 'nung nag-assume ako: 'General, ano ang nakita niyong pinakamalaking problema ng PNP?' Ang bilis ng sagot ko, Boy, PNP," he recalled.
[I have done this for the PNP, Boy. It is what I did. How many erring officials did I dismiss? Within four months, I managed to correct (what was wrong with) the PNP. Because I was also asked by the media back in the day when I assumed (as PNP Chief(sad) 'General, what do you think is the biggest problem of the PNP?' My answer was quick, Boy, PNP.]
"Kaya internal cleansing kaagad e. Ganoon din sa national government. Massive talaga (ang changes) 'pag sustained na internal cleansing. Kasi everything starts with the government; everything ends with the government. There's no other way, Boy. Let's not look at society, let's not look at the public… [Let's look at] ourselves," the Partido Reporma chief underscored.
[So, we really need to do an immediate internal cleansing, especially with the national government. The changes would be massive if the internal cleansing is sustained because everything starts with government; everything ends with government. There's no other way, Boy. Let's not look at society, let's not look at the public… (Let's look at) ourselves.]
Lacson is running for president in the upcoming 2022 elections on the platforms of good governance and the elimination of crime and corruption, carrying the message: "Aayusin ang Gobyerno, Uubusin ang Magnanakaw" (Fix the Government, Get Rid of the Thieves).