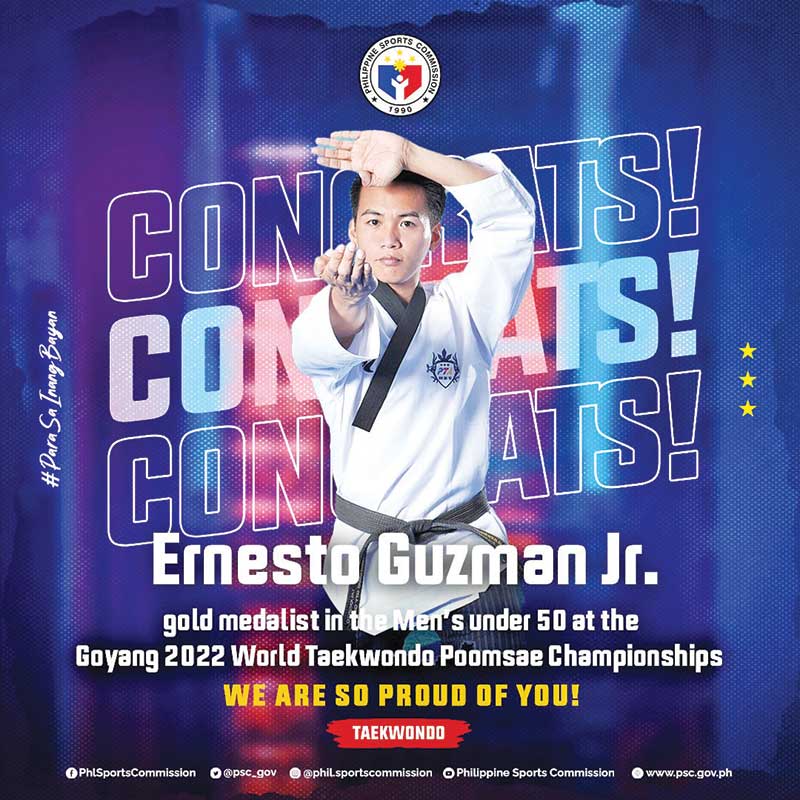 By Leobert Julian A. de la Peña
Filipino jin Ernesto Guzman Jr. reigned supreme in the 2022 World Taekwondo Poomsae Championships, 50-under category held in Goyang, South Korea.
The legendary taekwondo athlete scored a slim margin win against South Korea's Kim Hakdong, 7.81-7.70, for the championship match of the prestigious tournament.
Guzman Jr. added another championship trophy to his list of accolades and was also the 2020 World Taekwondo Poomsae Championships 40-under category winner.
Aside from Guzman Jr.'s accomplishment, the Philippine national taekwondo team also collected four other medals in various categories.
The terrific pair of Ian Matthew Corton and Maria Nicole Labayne gave a silver medal to the PH squad after a decent finish in the pair junior category.
Also delivering a silver medal for the national team are Kobe Macario and Juvenile Faye Crisostomo who grabbed second-place honors in the freestyle pair 17-over category.
Meanwhile, national team staple and defending Asian champion Darius Venerable settled for a bronze medal finish in the freestyle individual male 17-over category.
Southeast Asian Games standout Rodolfo Reyes Jr. also gave a promising performance and took the bronze medal in the individual male 30-under category.
With the five-medal campaign, the Philippines ended sixth overall while the mighty South Korean squad ruled the tournament with 28 total medals.