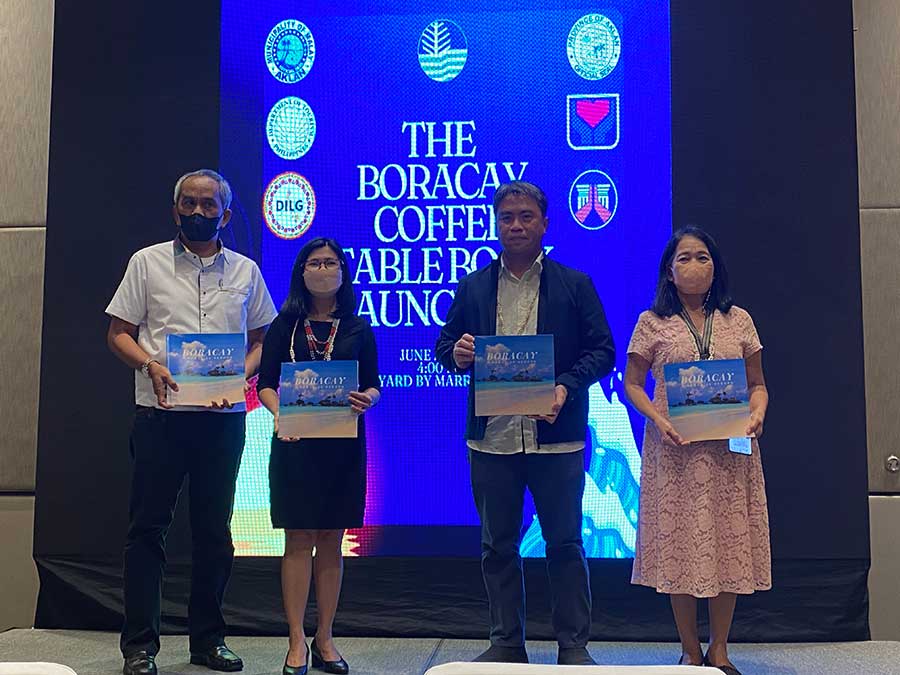 By Joseph B.A. Marzan
The Environmental Management Bureau-Region 6 (EMB-6) on Thursday, June 23, launched a coffee table book to "immortalize" the outgoing Duterte administration's gains on the rehabilitation of Boracay Island in Malay, Aklan.
The 70-page book titled "Boracay: A Paradise Reborn", brings its readers back to the island, the old and the new, through photos and stories, of what is considered as the crown jewel of the Philippine tourism industry.
It contains the island's features, its 6-month closure from April to October 2022, the rehabilitation activities performed, and the reopened island.
The book's cover features Willy's Rock, a famous rock formation just a stone's throw from the island known for housing an image of the Virgin Mary, symbolizing Filipino faith, where devotees offer prayers.
EMB-6 Regional Director Ramar Niel Pascua said that the book was made to record what they had done during the rehabilitation and note what still needs to be done.
Pascua in his welcoming message recalled the first moments and reactions when news of the island's closure broke out.
He said that the launching not only touches upon the celebratory mood of their victory in rehabilitation of the island, but also their hopes for its future as a world-class tourist destination.
"We are gathered here today to celebrate not only its accomplished rehabilitation but to rejoice on the same hope we held on to, that same hope which brought the people and the government together to sustain the collaborative efforts of making Boracay clean and captivating again," said Pascua in his opening remarks.
"This launching of the Boracay coffee table book, it is only fitting that we call its rebirth as a symbol of hope, that in times of desolation and destruction, what will keep us together and what will make us act up is hope," he added.
On what still needs to be done, Pascua said that he wishes the incoming Marcos Jr. administration to recreate the Boracay Inter-Agency Task Force (BIATF) so that agencies would have coordinated action in relation to their mandates.
He said that the EMB-6 would continue with its mandates under Presidential Decree No. 1586 (Environmental Impact Statement System) and Republic Act Nos. 8749 (Philippine Clean Air Act) and 9275 (Philippine Clean Water Act of 2004).
"Each agency will implement according to their own mandate, like the EMB with enforcement and monitoring of our environmental laws there. That is why I think that it would be better if the next administration continued [the BIATF] by issuing an executive order which would revive [it]," he stated.
The book only has limited copies, and Pascua says that its pages will be scanned and uploaded to social media so that many will view it online.