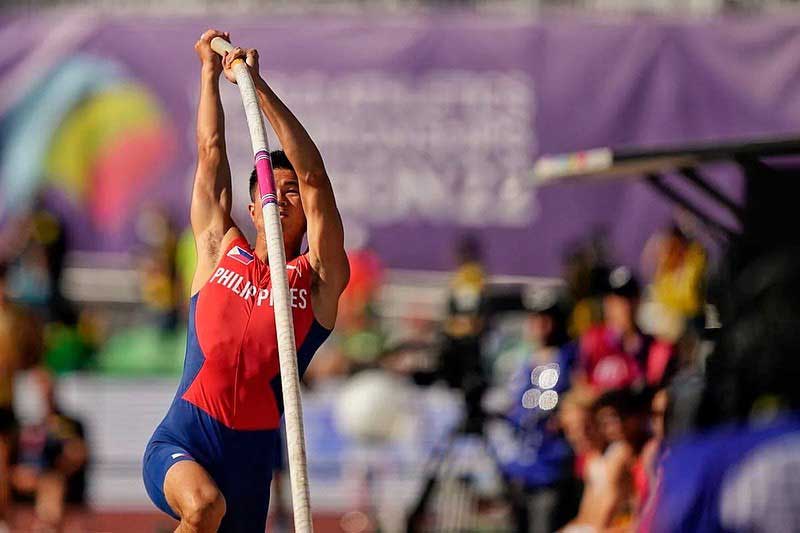 By Leobert Julian A. de la Peña
Another podium finish, another record broken.
EJ Obiena just keeps on proving that he belongs with the world's best after re-setting the new pole vaulting record in Asia during the 2022 World Athletics Championships in Oregon, USA.
The Filipino pole vaulting sensation broke his own Asian record set last September 2021 in the Golden Roof Challenge in Innsbruck, Austria when he made his golden leap and conquered the 5.93-meter obstacle.
Seeking to top off his personal best, Obiena made history once again after completing the 5.94-meter height on his second attempt while clinching the bronze medal behind champion Armand Duplantis and silver-medalist Chris Nilsen.
Aside from re-setting the Asian record, Obiena also became the first Filipino to end his campaign in the World Athletics Championship with a podium finish.
Despite an even score with Nilsen in the final tally, the American home bet edged Obiena in the rankings after only needing one attempt to complete the 5.94-meter height.
Duplantis would continue to leap to the next heights while breaking the previous world record after successfully leaping over the 6.21-meter obstacle.
Former Olympic standout and champion Thiago Braz from Brazil was hailed as the fourth-placer with a 5.87-meter score.
Obiena got the better of 30 other pole vaulting competitors and added another prestigious feat in his young career.
With his third-place finish in the World Championships, Obiena's world ranking is expected to shoot up due to the boost in points to be tallied after the event in Oregon.