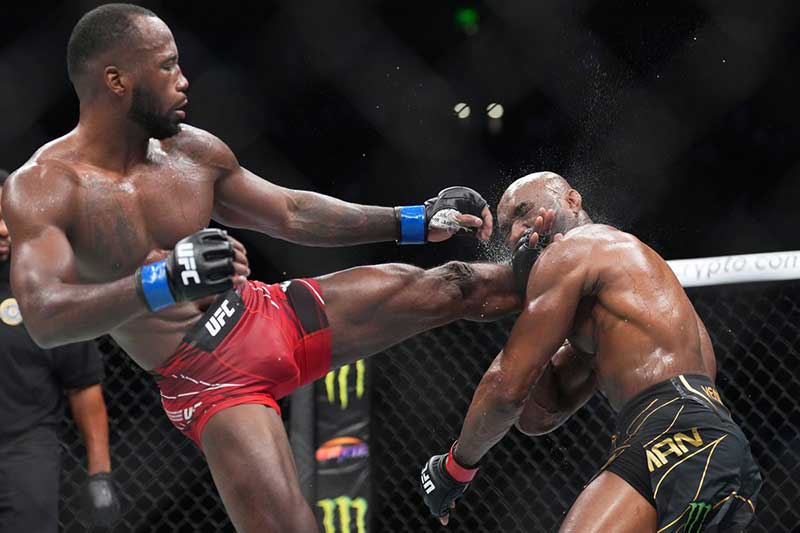 By Leobert Julian A. de la Peña
Who would've thought that fight would end that way?
After four intense rounds during the Ultimate Fighting Championship (UFC) 278 welterweight supremacy showdown, it was clear that reigning and defending king Kamaru Usman was leading in the score cards against challenger Leon Edwards.
Gunning for his sixth-straight welterweight title defense, Usman was a minute away from another UFC victory but unfortunately, the whole world stopped and witnessed one of the greatest upsets in Mixed Martial Arts (MMA) history.
After absorbing a huge left kick from Edwards, Usman kept his guard up and kept his focus on not getting hit again.
Knowing Usman was on the defensive, Edwards feigned a left straight followed by a left head kick that knocked Usman out cold.
For the first time in seven years, Usman went down after the kick, never recovered, and yielded his welterweight championship belt since taking down Tyrone Woodley last March 2019.
It was a typical Usman show in the first four rounds as "The Nigerian Nightmare" got it going from the get-go and connected on his patent 1-2 combinations.
Every time Edwards went forward and attempted to throw high kicks, Usman always found the perfect counter and landed a sweet jab-hook combination that became his bread and butter in the fight.
Aside from his efficient striking, Usman's improved ground game helped him control the score cards midway in the second round.
However, Edwards started to respond starting in the third round when he chose to fight at his desired distance and became patient throwing his kicks.
Edwards then capitalized on using his leg kicks more often and became one of his set-ups before firing the finishing blow in the final minute of the match.