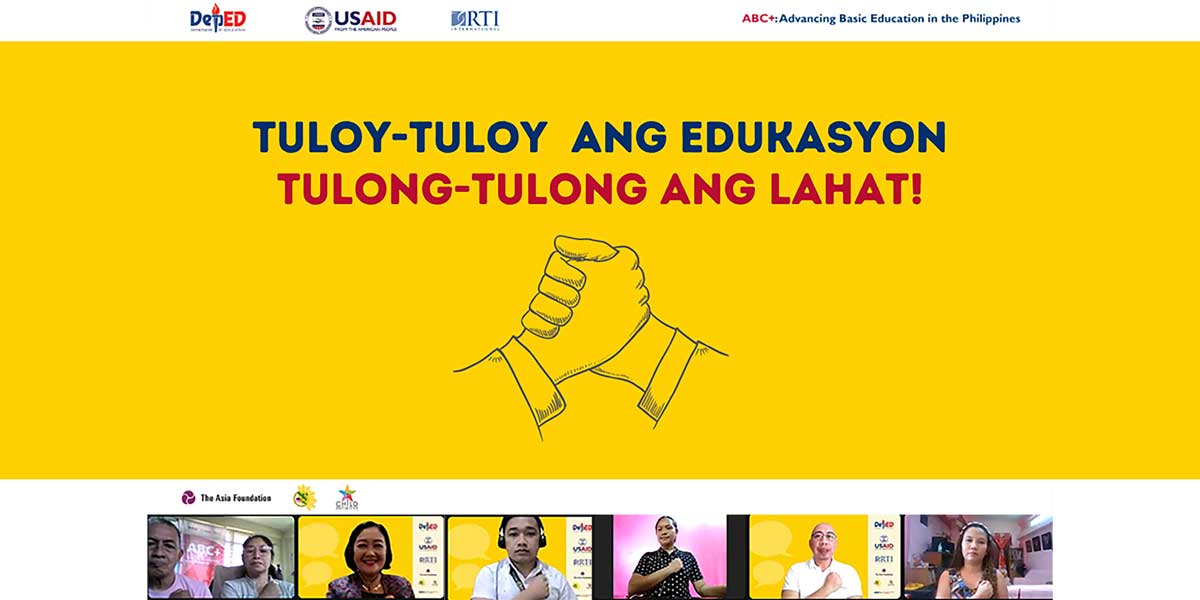 By Joseph B.A. Marzan
Parents, teachers, and education advocates called on candidates of the 2022 national and local elections to lay down their plans for the education sector should they win, as well as for stronger local and community-based interventions to help improve learning for kindergarten to Grade 3 levels amid the pandemic.
The Advancing Basic Education in the Philippines (ABC+ Project) organized a dialogue with parents, teachers, and other partners on early grade education and distance learning last Wednesday, February 23.
Eden Capapas, a Grade 2 teacher from Roxas City, raised the dilemma of both learners and teachers arising from continued distance learning.
"Distance learning poses a challenge to improving early grade education. Interaction between
students and their teacher, an important process for literacy, numeracy, and socio-emotional learning is strained in an online set-up," she stated.
Parent-leader Emilyn Luceña from Iriga City, Camarines Sur, lamented on the "unprecedented role" they have taken in the place of teachers in the current educational set-up.
"In an online set-up for children in the early grades, parents are stepping into a bigger role for their children. We are essentially secondary teachers. Because of this, our capacities and skills are also being put to the test," Luceña said.
Roy Layosa of the Coalition for Bicol Development, an ABC+ Project partner in the Bicol Region, said that candidates in both local and national elections should have commitments especially to early grade learners.
Layosa cited the piloting of face-to-face classes which started in November of last year, and the vaccination of children from the age of 5 and above.
"Education is an election issue. Candidates who wish to be our new set of leaders should present their education platform, including a learning recovery plan from the two years of online classes, especially now that Filipino children are being vaccinated and DepEd is piloting limited face-to-face classes. What is the post-quarantine set-up for Filipino early grade learners and how do we ensure that no Filipino child is left behind?" said Layosa.
ABC+ Project Education Governance Manager Quintin Atienza emphasized education as a community effort led by all members of society.
"Education is a community effort. We need to help each other. Education, especially early grade education, is not the responsibility of the education sector or DepEd alone. Everyone, from the local government units to the private sector, has an important role in helping teachers and parents improve early grade learning," said Atienza.
John Patrick Sedantes, Executive Director of CHILDInitiative, another partner of ABC+ Project in Western Visayas, echoed on Atienza's statement, eyeing on community-based programs for the education sector.
"Assistance from the LGU, private sector, and community leaders can build parents' capacity on the use of gadgets and other learning materials so that we can better help our children in their online classes. Donations from the private sector and earmarked funds from the LGU can go to supplementary learning materials, gadgets, internet devices, and learning hubs, among others," said Sedantes.
The ABC+ Project is an initiative of the Department of Education (DepEd) supported by the United States Agency for International Development (USAID) and RTI International.