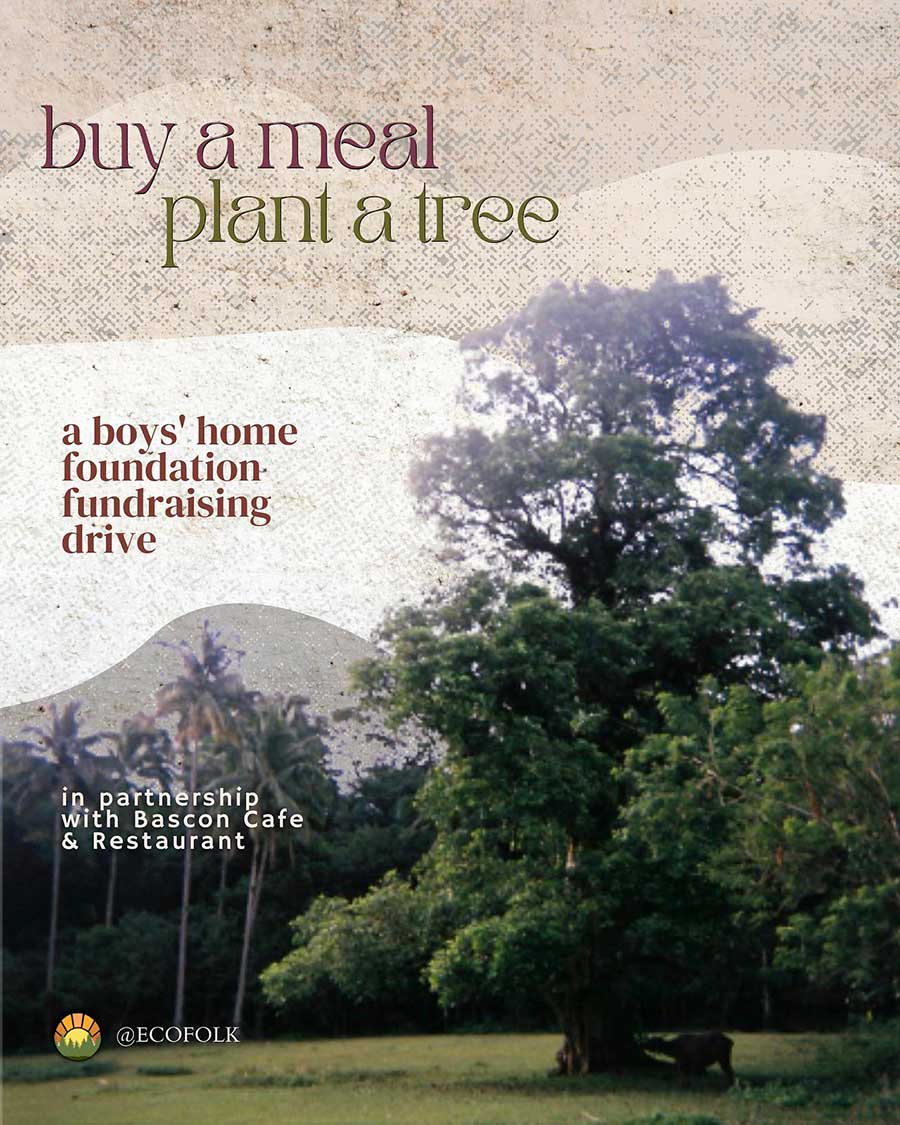 By Alysha Mae Gelvosa
Eco-Folk Youth Organization recently launched its "Buy a Meal, Plant a Tree" project to support orphans of Bacolod Boys' Home Foundation, a non-profit organization that relies on private funding and donations.
"The pandemic has greatly affected the current situation of Bacolod Boys' Home as external support given to orphans has been reduced," Eco-Folk Youth Organization president Javier Alfonso Milan said.
Eco-Folk Youth initiated the fundraiser to provide orphans with their daily needs such as food, vitamins, toiletries, slippers, among others.
Part of the funds that will be collected will be used to repair existing facilities.
The "Buy a Meal, Plant a Tree" project is in partnership with Bascon Café and Restaurant which offered affordable and delicious dishes to donors.
The purchased meal comes with a tree seedling which will be planted and named after the donor.
All proceeds of the project will be given to Bacolod Boys' Home Foundation.
"The project is especially significant to us as it is the very first of our series of tree planting activities in line with our reforestation advocacy," Milan said.
As a youth alliance led by enthusiastic and passionate individuals from different parts of the Philippines who are united under the advocacies of environmental care and awareness, it is significant for the organization to show the youth how doable it is to actively care for the environment while empowering different sectors of the community.
A BRIGHT FUTURE AHEAD
With their growing presence and reach to the youth of Bacolod City, the organization aims to promote sustainability advocacies.
They plan to launch solid waste management awareness projects which focuses on plastic waste and community segregation as well as promoting attainable and sustainable lifestyle changes and habits.
"If we see the need to help a certain community, especially now that everybody is struggling with the pandemic, we're very much willing to conduct donation drives and fundraising activities for them," Milan said.
(Alysha Mae Gelvosa is a Communications and Media Studies student of UP Visayas)