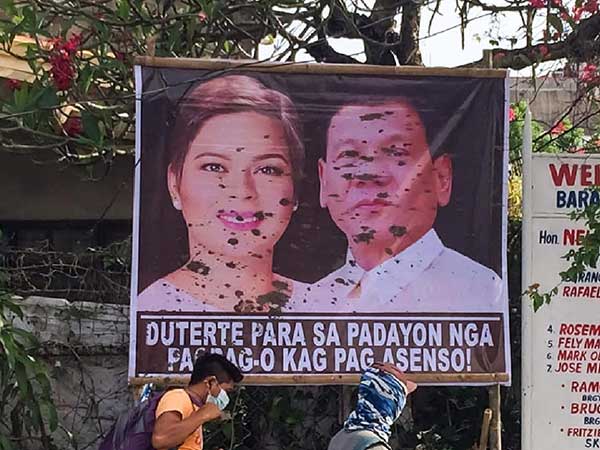 ROXAS CITY, Capiz – A poster of President Rodrigo Duterte and daughter Davao Mayor Sarah Duterte at San Roque-McKinley Streets, Roxas City was smeared with mud.
Punong Barangay Nelson A. Ignacio said they cannot identify the perpetrators due to lack of witnesses and security cameras in the area.
Ignacio lamented the incident saying that no one has the right to defile photos of any person, especially the president and his family.
He added that the barangay council condemns the incident.
"Kung ara ang isa ka picture sa isa ka lugar, wala sang karapatan ang isa ka tawo nga higkuan ina biskan may kaakig pa sya sa tawo nga ara sa picture. Ina nga kahimuan gina kondenar ina sang bilog nga barangay council sang barangay 3. Wala ina namon gina tolerar," the punong barangay said.
Barangay 3 is one of the entry/exit points of the city and it is believed that persons responsible for the incident are not from the barangay.
Ignacio appealed to the public not to repeat the incident.
Ignacio said they now plan to install closed-circuit TV cameras in the barangay even as they investigate the incident.
Similar "smearing" incidents of pro-Duterte posters were also reported in Iloilo province last month.
Roxas City is the hometown of former Senator Manuel "Mar" Roxas II who lost to Pres. Duterte in 2016.