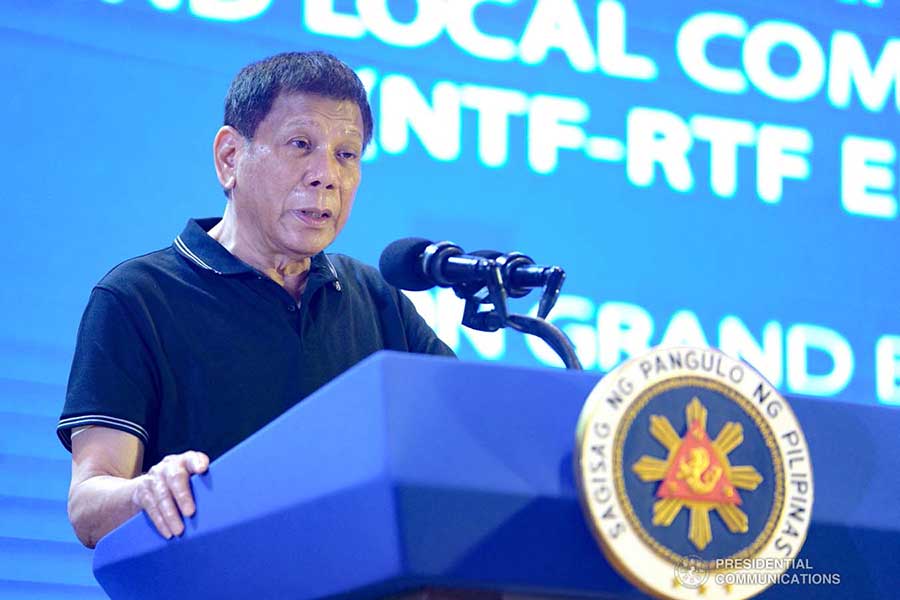 President Rodrigo Duterte said he will not anoint his successor as he insists on being "neutral" for the May 9, 2022 elections.
In a speech the joint meeting of the National Task Force and Regional Task Force to End Local Communist Armed Conflict in Lapu-Lapu City, Cebu, Duterte said he was not campaigning for any presidential candidate.
The President will step down on June 30, 2022.
"I am not supporting any presidential candidate. Neutral ako. So this is not a campaign because I am not campaigning for any particular candidate. So stop f*ck*ng with me kasi ito hindi ito pulitika," he said in a speech in Lapu-Lapu City.
Duterte issued the statement amid reports that he met with pre-election survey frontrunner Ferdinand "Bongbong" Marcos Jr. who is running with the former's daughter, vice presidential candidate Sara Duterte-Carpio.
Duterte's party Partido Demokratiko Pilipino–Lakas ng Bayan (PDP-Laban) had endorsed Marcos Jr. for president.
While he has not made any endorsement, Duterte earlier said that he wants a president that is decisive, compassionate, and a good judge of a person, preferably a lawyer.
While he remains neutral on the presidential race, Duterte endorsed more senatoriables in the upcoming elections.
They are Alan Peter Cayetano, Chiz Escudero, Loren Legarda, Joel Villanueva, Jinggoy Estrada, JV Ejercito, Gibo Teodoro, and Migz Zubiri, all of whom do not belong to PDP-Laban.
Duterte made the announcement during PDP-Laban's first grand rally in Lapu-Lapu City, Cebu.
PDP-Laban's official slate is composed of Astra Pimentel, Rey Langit, Greco Belgica, Salvador Panelo, and Robin Padilla, all of whom were present on Thursday's sortie.
The party also adopted guest Senatoriables such as Mark Villar, Rodante Marcoleta, Gringo Honasan, and Harry Roque who also joined the Lapu-Lapu sortie.