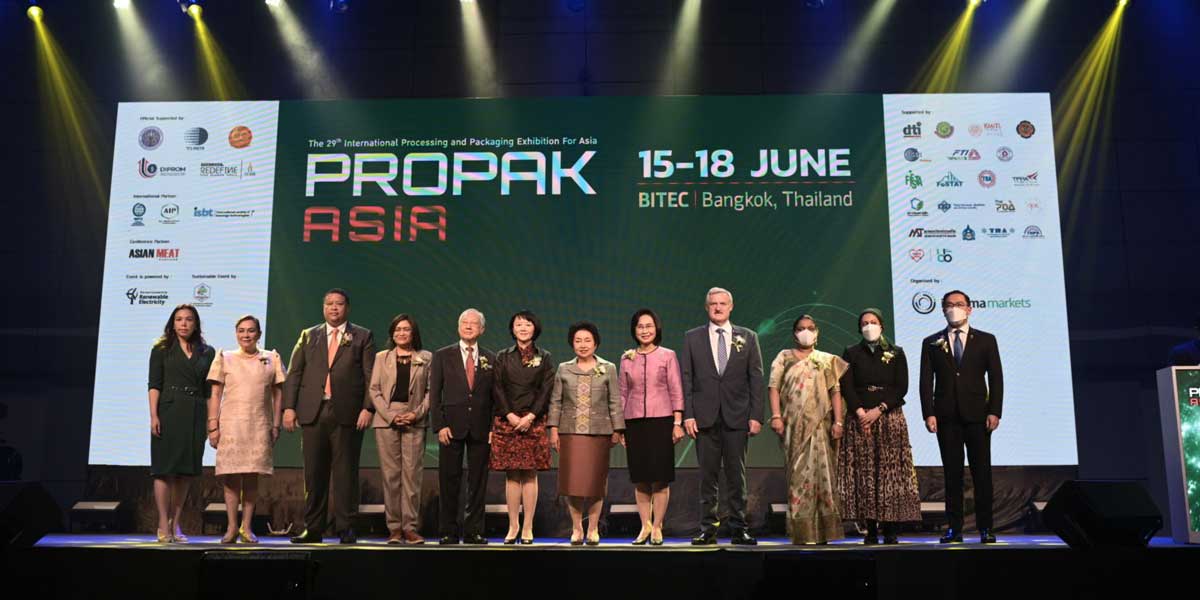 After the series of unprecedented challenges brought about by the COVID-19 pandemic, ProPak Asia 2022 successfully executed its powerful comeback in Bangkok, Thailand last 15 June 2022.
Organized by Informa Markets, ProPak Asia is the premier international trade show in Asia that provides opportunities for stakeholders to explore advanced technologies and solutions in processing and packaging from over a thousand of companies around the world.
With the theme "Sustainability in Processing and Packaging for our Better World", the 29th installation of the tradeshow aimed to enable businesses to embrace volatility in labor markets and the manufacturing sector by adopting technologies and digitization to strengthen their competitiveness. This year's edition gathered more than 37,500 trade visitors from 49 countries and took place from 13-18 June 2022 at BITEC, Bangkok, Thailand.
Regional Operations Group Undersecretary Blesila A. Lantayona led the Philippine delegation from the Department of Trade and Industry (DTI) bringing together over 200 micro, small, and medium enterprises (MSMEs) to the international trade expo.
"DTI acknowledged the role of good packaging and processing to Philippine MSMEs in enhancing productivity, marketability, profitability, and competitiveness of MSMEs," said Usec. Lantayona during her welcome message at the launching of ProPak Asia 2022.
During pre-pandemic in 2018, about 500 Filipino MSMEs participated in ProPak Asia where around 1,600 exhibitors from 44 countries joined. The pioneer edition of ProPak Philippines was launched in the following year at the World Trade Center Manila reaching close to 10,000 trade visitors and stakeholders with 280 exhibitors including nine international pavilions from Australia, China, Denmark, France, Germany, Italy, Japan, Korea, Singapore, Spain, Taiwan, and USA.
"DTI vows to continue its support to ProPak as the Department has seen the huge potential of the Philippines in the packaging industry and exploring ways to reach its goal to help the people in the industry through expanding their knowledge, innovating packaging solutions, and connecting with the international network of the industry," Usec. Lantayona added.
Joining the DTI delegation to the ProPak Asia 2022 were OTOP Next Gen Program Head Assistant Secretary Demphna Du-Naga, DTI-Region 2 Regional Director Leah Ocampo, DTI-Region12 Regional Director Jude Jaugan, DTI-CAR OIC-Regional Director Juliet Lucas, DTI-Region 1 Assistant Regional Director Grace Lapastora, DTI-Region 11 Assistant Regional Director Delia Ayano, the Provincial Directors of Laguna, Misamis Oriental, Masbate, and some technical staff.
Prior to the launching of ProPak Asia 2022, the delegates had also benchmarking visits to the Thailand Institute of Scientific and Technological Research and Thai Packaging Centre, which sought to acquire knowledge on integrating science, technology, and innovation in order to create value addition to the Philippine MSMEs and to enhance competitiveness and sustainable development of the country.