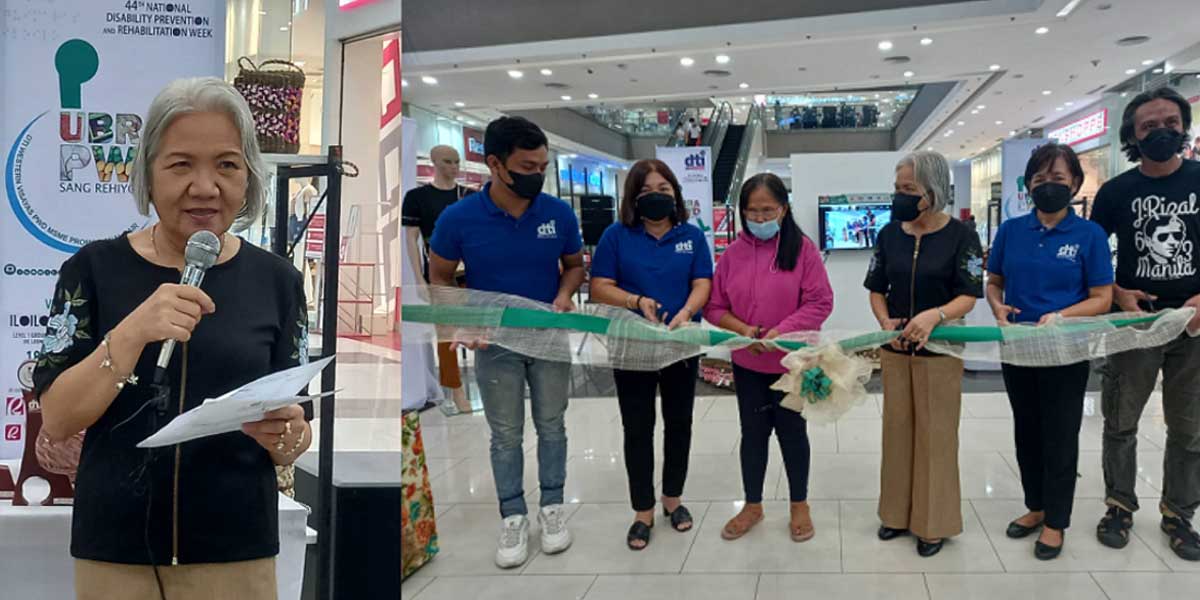 As part of the celebration of the 44th National Disability Prevention and Rehabilitation Week, the Department of Trade and Industry (DTI) Region 6 opened the regional promotional fair known as "UbraPWD sang Rehiyon Seis" featuring products made by person with disability (PWD) entrepreneurs.
DTI launched the program Monday both online via Zoom and onsite at Robinson's Place-Main Branch, Iloilo City, Robinsons Jaro branch and Robinsons Pavia.
The fair and exhibit, which will be held both online and onsite from July 18 to 24, will feature the products of PWD entrepreneurs from the provinces of Aklan and Antique on the first day, Capiz and Guimaras on July 19, and Iloilo and Negros Occidental on July 20. The online promotional fair can be accessed thru Facebook and Instagram @UbraPWDsangRehiyonSeis.
In her opening message, DTI-6 Regional Director Rebecca Rascon said that the program is not just to showcase the products of PWD MSMEs but it is an opportunity to encourage PWDs to venture into business, seek assistance from government agencies, and identify PWDs with skills to produce products that can compete in a global market.
Rascon thanked the institutional partners especially Robinsons Land Corp. for providing the space in three different venues for the promotional fair, specifically Robinsons Main and branches in Jaro and Pavia, partner government agencies and participating PWD MSMEs who continue to thrive during the pandemic.
This is an annual initiative for all DTI PWD recipients where they can sell their crafts without going to the actual location of the customers/clients and could reduce their transportation expenses by giving them a venue to sell their crafts via on-site exhibits and boost social media engagements through online platforms.
Participating in the online trade fair are fifteen (15) micro, small, and medium enterprises (MSMEs) owned by PWDs that produce wearable items, bags, salt, detergent, souvenirs, furniture, food products, and arts and crafts, among others.
The DTI supports the annual NPDR week, as prescribed in Proclamation No. 361, series 2000, and in accordance with other relevant laws such as Executive Order No. 417 (2005), also known as "Directing the Implementation of the Economic Independence Program for PWDs," the 1987 Philippine Constitution, and Republic Act No. 7277, also known as the "Magna Carta for Disabled Persons," among others.
RD Rascon thanked the DTI provincial offices and PWD focal persons from across the region for their hard work and dedication in ensuring that the DTI R6 provides the best assistance to PWD beneficiaries over the years.
She emphasized that the DTI remains adept on the economic challenges and needs of the PWD community, including access to livelihood, employment and fund source.