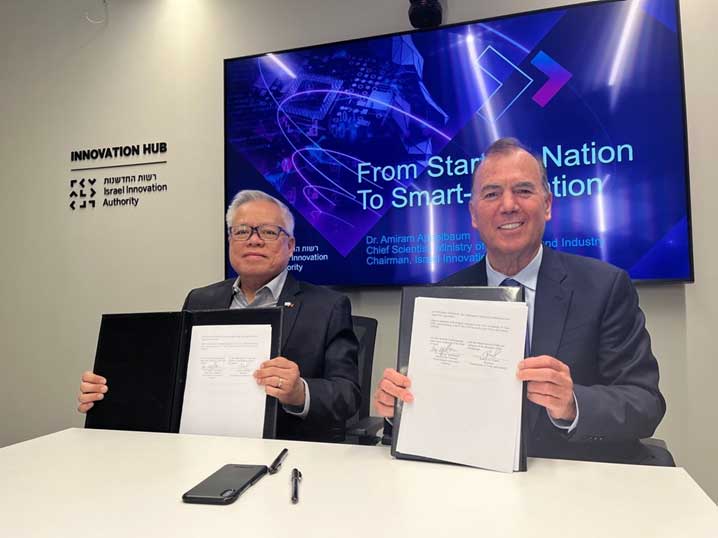 Recognizing that innovation is fundamental to sustainable & inclusive economic growth, Department of Trade and Industry (DTI) Secretary Ramon M. Lopez and Israel Innovation Authority (IIA) Chairman of the Board and Chief Scientist Dr. Ami Applebaum signed a cooperation agreement on technological innovation and R&D on 06 June 2022.
Known as a startup nation, Israel is among the world's leading technology innovation nations. Based on the Global Innovation Index which is the metrics used to track the state of global innovation; out of 132 countries, Israel ranked 15th while the Philippines ranked 51st in 2021.
The Agreement aims to promote programs and activities to strengthen mutual R&D cooperation and establish a framework for support, including financial, for activities which foster R&D cooperation between the two countries. These include exchange of information on R&D laws, regulations, practices or policies; joint seminars, symposia, conferences and workshops; joint business development, technology partnering missions, matchmaking initiatives and sharing of leads and opportunities; and collaborative research and development initiatives.
The initial priority areas for R&D cooperation cover Advanced and Smart Manufacturing Technologies, Agricultural Technologies, Clean Technologies, Artificial Intelligence and Internet of Things, Health Sciences and Biotechnology; and E-Commerce.
DTI Secretary Lopez highlighted that the innovation agreement would enhance not only the countries' capacities and competitiveness but would also develop and strengthen their economic cooperation. IIA's Chief Scientist Dr. Applebaum pointed out the mutual technological and commercial gains that could emerge given the two countries' own strengths, expertise and market opportunities in complementary R&D areas. He emphasized that "Israel has been supporting innovation and R&D through startup support leading to the creation of many breakthrough technologies".
Two important legislations, the Philippine Innovation Act and Innovative Startup Act, were legislated in 2019. These laws aimed to provide both fiscal and non-fiscal support to promote R&D, training and education as well as nurture the growth of a robust startup ecosystem. Secretary Lopez stated that "with the increasing momentum among government agencies to build a healthy innovation ecosystem, the innovation agreement with Israel is a timely opportunity to forge potential R&D collaboration between Filipino companies and the academe with their respective Israeli counterparts."
The trade chief likewise emphasized the importance of financial support by the government, saying, "the key success factor to Israel's drive for innovation that must be adopted by the Philippines is the vibrant ecosystem and clear fund support by the government to selected startups with disruptive technologies and scalability."
Meanwhile, Israel Ambassador to the Philippines Ilan Fluss expressed his optimism about using innovation to strengthen the trade relations between the two countries. He said, "It has been my strong vision as Ambassador of Israel to the Philippines to form bridges of innovation between our two countries. With this agreement, we look forward to the implementation and building of these bridges that will be beneficial to address together with the existing and future challenges. I believe the agreement will also help in creating more job opportunities as well as in improving the well-being and daily life of many Filipinos and Israelis alike".
Innovation is embedded in the Philippine new industrial policy known as inclusive innovation strategy or i3S which is science, technology, and innovation based. i3S is envisioned to drive the country's digital and industrial transformation. By adopting fourth industrial revolution technologies and pursuing innovation, the country could grow globally competitive and innovative industries. This is crucial to accelerate the country's economic recovery towards a more inclusive and sustainable growth which is necessary to eliminate poverty and inequality.
The signing was witnessed by Philippine Ambassador to Israel Macairog Alberto, DTI Undersecretary for Competitiveness and Innovation Rafaelita Aldaba, DTI Undersecretary Flordelona Amate, Department of Agriculture Undersecretary Cheryl Marie Caballero, BOI Governors Angelita Cayas and Marjorie Ramos-Samaniego together with private sector representatives Mr. Jobert Moleno (IMI), Ms. Celeste Ilagan (IBPAP), Ms. Katrina Chan (IdeaSpace/QBO Innovation Hub), Mr. Joseph Orpaz (Ionics) and Mr. Gary Ignacio (PLDT) and from Mr. Avi Lupton from the Israel Innovation Authority. Secretary Lopez led the Philippine Investment Mission to Israel for the signing of the Investment Protection and Promotion Agreement along with the conduct of B2B meetings and the Philippine-Israel Business Forum. With its advanced innovation and technology ecosystem, Israel is on the global front of technological entrepreneurship.