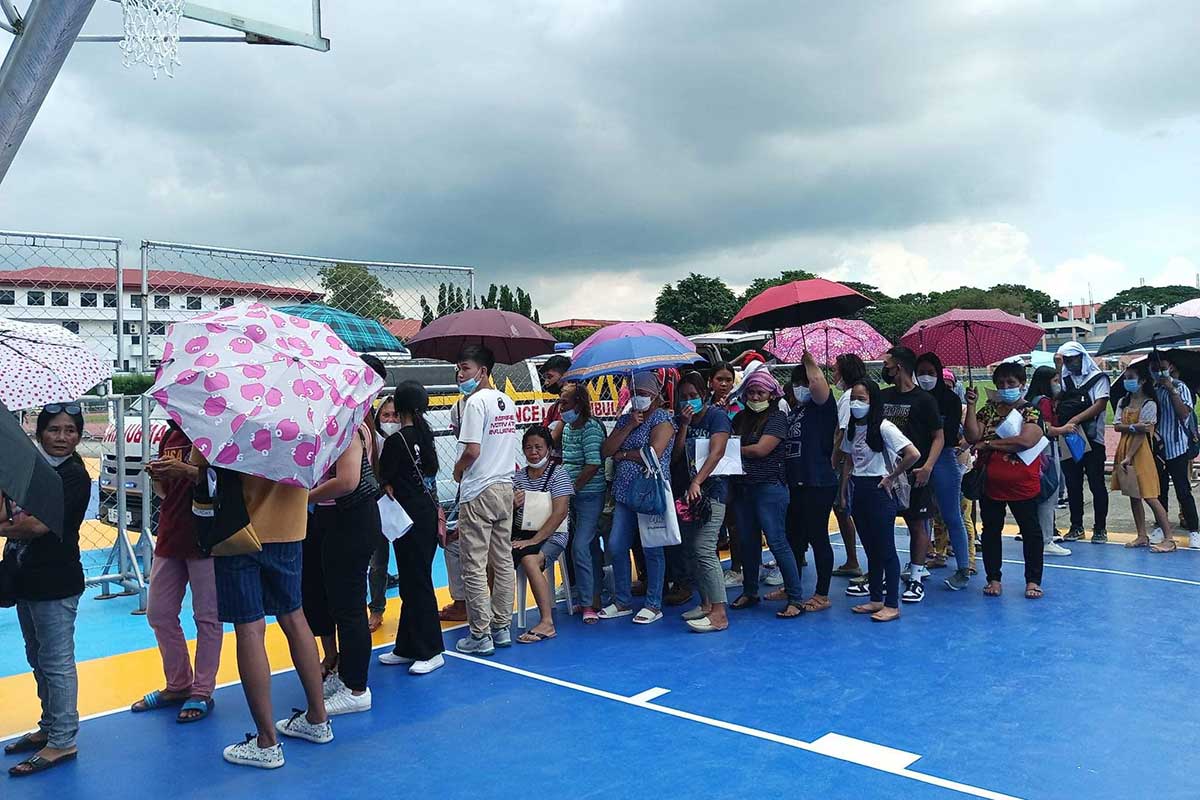 By Jennifer P. Rendon
The Department of Social Welfare and Development (DSWD)'s may have the best of intentions in granting educational assistance to students in crisis, but the execution was far from perfect.
On the first of the six Saturdays of the pay-out schedules, thousands of folks trooped to different venues all over Western Visayas.
In most areas, DSWD-6 personnel had to implement a cut-off as early as 7 a.m. after the venue could no longer accommodate students and their parents who wish to avail of the cash aid.
The DSWD-6 had also repeatedly made calls that those who couldn't be accommodated could still avail of the assistance on the remaining five payout schedules.
Some lined up as early as 3 a.m. to ensure their slot. They had to endure skipping bathroom calls and meals to stay in line.
As the day progressed, several individuals were given medical assistance after they got ill.
In the case of Iloilo Sports Complex, the venue for the payout for residents of the province and city of Iloilo, 1,713 clients were served but more applicants were told to go home.
It was gathered that up to three students per family can receive cash aid worth P1,000 for elementary students, P2,000 for high school, P3,000 for senior high school, and P4,000 for a tertiary student enrolled in a college or technical-vocational school.
But a different scenario might welcome beneficiaries starting next Saturday.
Atty. May Rago-Castillo, DSWD-6 public information officer, said they would modify the giving of cash grants to students.
"We're exploring the idea of having satellite payout sites," she said.
The agency might do the payout in different towns and cities of the region.
In a statement, Delia Villa-Bagolcol, DSWD-6 officer-in-charge, assured that the agency is continuously setting up a better system to ensure orderly and smooth payout in the succeeding schedules set on August 27, September 3, 10, 17 and 24.
One option being eyed is tapping partners at the Local Government Units.
For registration, applicants may fill out an online form through https://bit.ly/dswdfo6EducAssistance; scan a QR code or send an email to dswd.educassistance@gmail.com.
Also, emails to extension offices and messages sent to designated mobile phone numbers earlier disseminated will be catered to schedule the assessment of clients.
"Ang mga kwalipikado nga benepisyaryo mga: breadwinners, biskan indi sila head of the family; ukon working students; ukon orphaned, abandoned kag ukon naga-istar kaupod sa ila mga himata; kabataan sang solo parents; ukon ang ginikanan wala trabaho ukon Overseas Filipinos; ukon Persons with Disability nga yara sa krisis nga sitwasyon, kabataan sang rebel returnees; ukon mga persons deprived of liberty, kabataan nga may ara HIV ukon naga-istar upod ang ginikanan nga may HIV; biktima sang pang abuso ukon displacement; ukon yara sa krisis tungod sa human-induced ukon natural calamities," Villa-Bagolcol added.
CLARIFICATION
Castillo also clarified reports that the educational assistance is for everyone.
"The beneficiary should be considered as a student-in-crisis," she said.
There were earlier reports that children of OFWs could avail of the grant.
"But these parents should be OFW in distress," she said. These include OFWs who have not yet returned to work or are presently having employment problems abroad.
"We conduct interviews for them to substantiate that they are children of OFWs in distress," she said.
Meanwhile, there were reports that Pantawid Pamilyang Pilipino Program or 4Ps beneficiaries might not be eligible to avail of the program. However, the agency has yet to confirm this.
Those who have current scholarship grants might not be considered.
For 4Ps members who already availed of the grant, the amount given could be refunded by deducting it from their future grant.
But the agency has yet to make any official pronouncements on whether it would be implemented or not.
PERSONA NON GRATA
Mayor Jerry Treñas of Iloilo City is not one to keep his silence over Saturday's chaotic payout turnout.
Earlier that day, Treñas made a statement claiming that he was worried about the situation at the Iloilo Sports Complex.
"It is now filled to the full capacity and there are still students outside in the streets. No coordination was ever made, and this was not well thought of or even well planned," he said via his Facebook account.
"If there will be students who will be harmed, I will be filing criminal and Administrative cases on all responsible for this poor planning and execution," Treñas said.
Shortly later, he again posted another statement where he claimed that he is mulling declaring "the DSWD regional director persona non grata in Iloilo City for not coordinating with the LGU in organizing this terribly planned event."
"If the reason of DSWD is to avoid going through the LGUs, the financial assistance can be coursed thru the schools. It will be easier and more convenient," Treñas said.
In response, the DSWD-6 said they understand the sentiment of Mayor Jerry Trenas.
"He is raising valid concerns and we look up to leaders like him," Castillo said.
She added that "the management wants the safety, order and peace of the people in Iloilo City and the rest of the areas of Western Visayas. We will ensure that proper coordination and preparation be done for the next payouts."