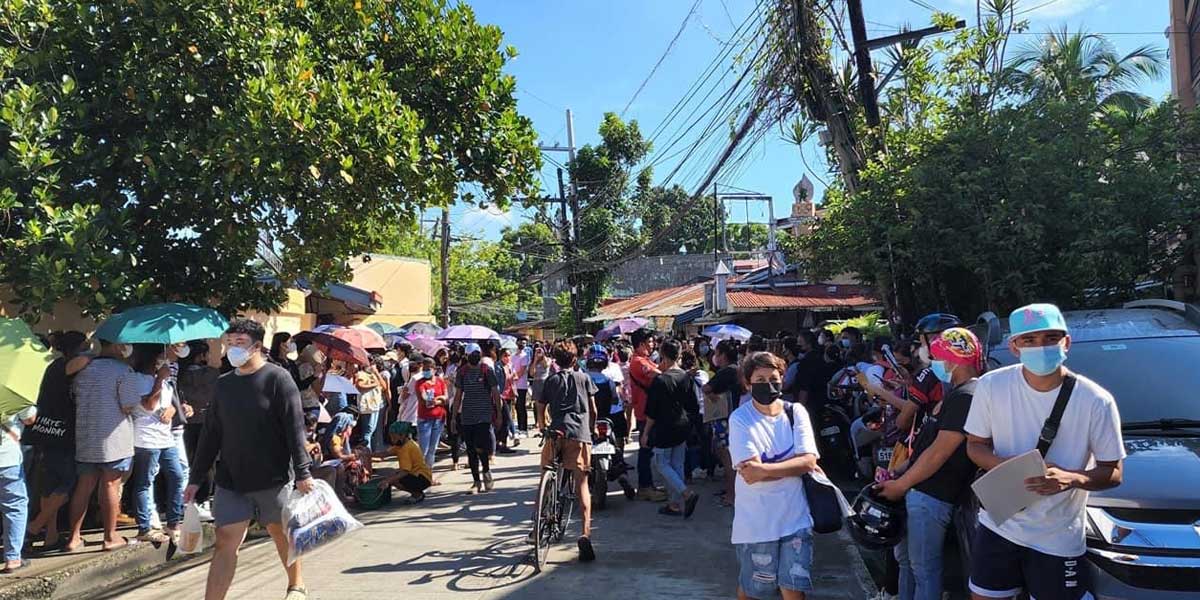 By Joseph B.A. Marzan
The Department of Social Welfare and Development (DSWD)-6 regional office on Saturday said it released P20.76 million to 5,144 "students in crisis" on the first day of payouts for the said financial aid.
The city and province of Iloilo logged the most payouts with P7.75 million released to 1,713 beneficiaries.
Capiz released P4.7 million to 957 beneficiaries followed by Aklan (P2.67 million to 719 beneficiaries), Antique (P2.26 million to 613 beneficiaries), Negros Occidental including Bacolod City (P2.2 million to 587 beneficiaries), and Guimaras (P1.17 million to 555 beneficiaries).
The payouts were held at the Aklan Provincial Capitol grounds in Kalibo, San Jose de Buenavista Municipal Hall, Villareal Stadium in Roxas City, Guimaras Provincial Capitol in Jordan, Iloilo Sports Complex in Iloilo City, and the Ayala Mall Capitol Central in Bacolod City.
Under the DSWD's Memorandum Circular No. 15 series of 2022, the minimum educational assistance is at P1,000 for elementary pupils, P2,000 for junior high school students, P3,000 for senior high school students, and P4,000 for undergraduate college students.
The maximum assistance allowed is P5,000 for elementary and junior high school learners, and P10,000 for senior high school and college students.
DSWD-6 officer-in-charge Delia Villa-Bagolcol said the cash received by beneficiaries would go to their needs for the incoming school year, which is set to officially start today, August 22.
"The educational assistance for students in crisis is to help them in their schooling expenses including for school supplies, projects, additional allowance, and other additional needs," said Bagolcol in a statement.
The release of the assistance was marred by complaints of crowding and poor information dissemination resulting in a stampede in Bacolod City, among other incidents.
Iloilo City Mayor Jerry Treñas even threatened to declare Bagolcol as persona non grata or unwelcome in the city.
The city government's Public Safety and Transportation Management Office (PSTMO) had abruptly closed Magsaysay Village Road leading to the Sports Complex's entrance due to the long lines and crowding in the area.
The mayor also suggested that the social welfare agency partner with the Department of Education (DepEd) to conduct the release of cash through schools.
DSWD-6 spokesperson May Rago-Castillo told Daily Guardian that they understood Treñas' sentiment and would improve their coordination with local government units across Western Visayas.
"We understand the sentiment of [Iloilo City] Mayor Jerry Trenas. He is raising valid concerns and we look up to leaders like him," said Castillo.
"The management wants the safety, order and peace of the people in Iloilo City and the rest of the areas of Western Visayas. We will ensure that proper coordination and preparation be done for the next payouts," she added.
DSWD Secretary Erwin Tulfo has released a statement apologizing to affected beneficiaries who were not able to get their assistance after queueing in long lines under the sun.
He added that they will be releasing payouts through local government units in coordination with the Department of the Interior and Local Government (DILG).
DSWD-6 will continue to facilitate payouts every Saturday on August 27 and September 3, 10, 17, and 24.
Castillo said that venues will be announced in the coming days.
For registration, applicants may fill out an online form at https://bit.ly/dswdfo6EducAssistance, scan a QR code in the DSWD-6's social media pages, or send an email to dswd.educassistance@gmail.com.
Those who have previously contacted the DSWD-6's extension offices via email and designated mobile numbers will also be entertained for the next dates.
Qualified beneficiaries include breadwinners, working students, orphaned or abandoned youth, children of solo parents, Overseas Filipino Workers, rebel returnees, and persons living with human immunodeficiency virus (HIV), children living with HIV, children with disabilities, persons deprived of liberty, victims of abuse or displacement, or those who are in crisis due to man-made or natural calamities.
The assistance does not cover students of undergraduate and post-graduate degrees, including Doctor of Medicine and Juris Doctor programs, as well as those preparing for licensure and Bar examinations.