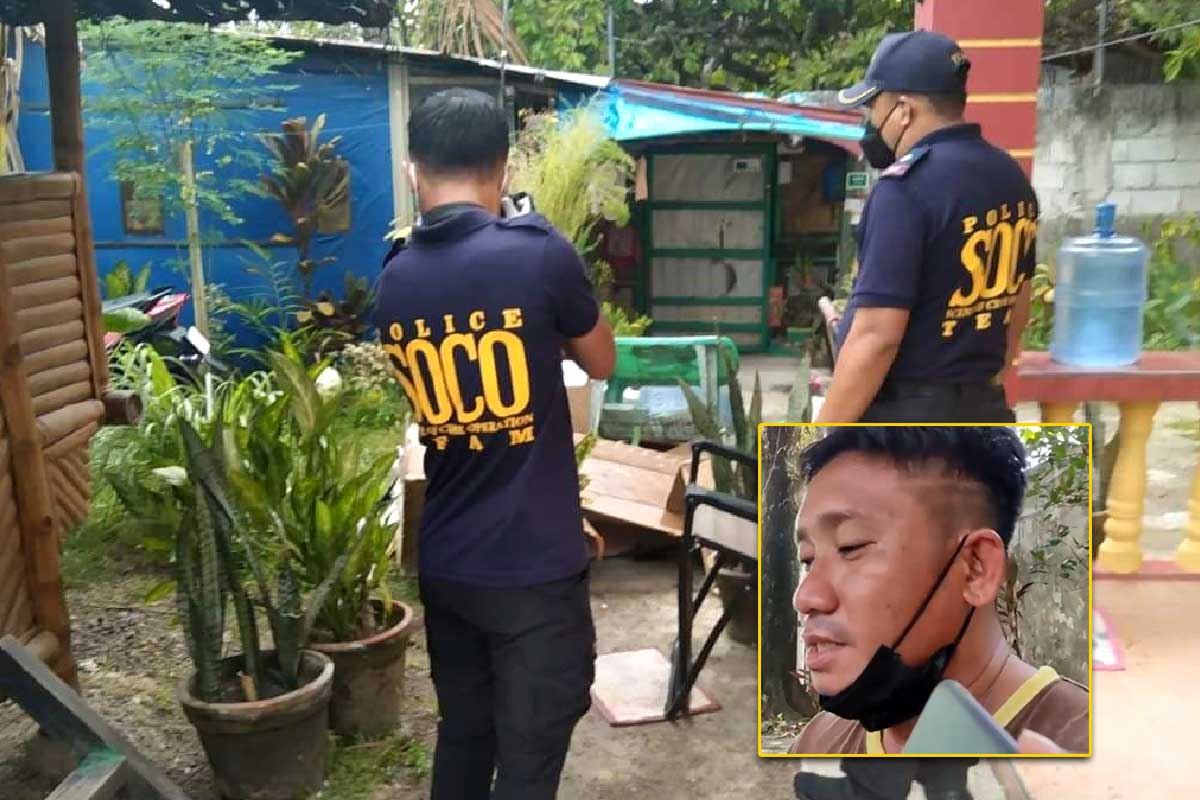 By Glazyl Y. Masculino
BACOLOD City – Police arrested two of the three persons tagged in the murder of four relatives at Gardenville Subdivision, Barangay Tangub here due to an alleged failed illegal drug transaction of one of the victims.
Police Major Joery Puerto, head of Police Station 8, confirmed that Christian Don Tulot, 39; and Joel Espinosa, 57, are now in their custody.
The two suspects were tagged in the deaths of Jocelyn Espinosa-Nombre, 59; her sister Gemma Espinosa, 69; their nephew John Michael Espinosa, 35; and his six-year-old daughter, who were found inside their house last Wednesday.
Puerto said they first brought Tulot to the police station as a person of interest on Wednesday afternoon after police received information linking him to the crime. They later seized from the suspect five sachets of suspected shabu worth P6,800.
Tulot was inconsistent with his statements during the investigation even as he denied the accusations against him.
But he admitted to the police on Thursday that he witnessed the incident and identified two other persons who reportedly directly committed the crime, Puerto said.
Puerto added that Tulot is the adopted son of Nombre's sister, and was tracked down in Don Salvador Benedicto town where he was arrested.
Tulot alleged that he was supposed to get his salary from his employer in the town last Wednesday.
Based on Tulot's confession, Puerto said they were able to arrest his uncle Joel, the brother of Jocelyn and Gemma, at the back of the victims' house yesterday, while a certain "Bro" is still at large.
Puerto said that Tulot narrated to them the incident he witnessed when he went to the victims' house last Sunday morning.
Based on Tulot's statement, he saw Joel, alias "Bro", and Michael drinking liquor in a hut when he arrived that morning, Puerto said.
Tulot joined them, until he witnessed Michael and "Bro" get into a heated argument when the latter asked Michael about the proceeds of the illegal drug deal he owed amounting to P35,000, Puerto said.
A commotion then followed between Michael and "Bro", prompting the latter to hit him with a hammer, while Joel was holding both of Michael's hands, Puerto said.
Nombre saw the incident and tried to seek help from their neighbors, but Tulot stopped her from going outside of their house by grabbing her.
"That's why may mga scratches siya kay gin gapos niya iya tiya," Puerto added.
"Bro" then went to them and allegedly pummeled Nombre with a hammer, while Joel reportedly hacked his sister's head with a cane cutter or espading.
"Bro" also hammered Gemma's head, who was inside the hut, Puerto quoted Tulot as saying.
Tulot also said that he saw Michael's daughter crying in the bedroom, but he chose to leave the house after "Bro" threatened to shoot him, Puerto said.
"Ang bata buhi pa paghalin niya sa balay," he added.
He (Tulot) didn't know who killed Michael's daughter, Puerto said, adding that "gin-pahipos sila tanan (siguro)."
The decomposing bodies of Nombre and John Michael wrapped in blankets were found outside their house, while the latter's daughter was found lying on the sofa.
Nombre's elder sister was found in a hut at the back of their residence. Their remains were discovered after Nombre's husband requested his sister to check their house when he failed to contact his wife for three days.
Puerto said that an autopsy is ongoing to determine the other injuries of the four victims. The weapons used in the crime were not recovered.
Puerto said Tulot is facing illegal possession of dangerous drugs and may also be facing additional charges for multiple murder, along with the two other persons of interest.
Meanwhile, Police Lieutenant Liberty Indiape, information officer of Bacolod City Police Office (BCPO), said that Joel denied the accusations against him even as his family claimed that he was mentally ill.
But police will continue to investigate to determine and confirm Joel's alleged participation in the crime.
Indiape also said that they will also check if John Michael was in the drugs watchlist of the BCPO or Police Station 8.
Earlier police eyed hatred or grudges on the murder case, but upon the confession of Tulot, it was revealed that the incident could be drug-related, although police continue to probe other possible angles.