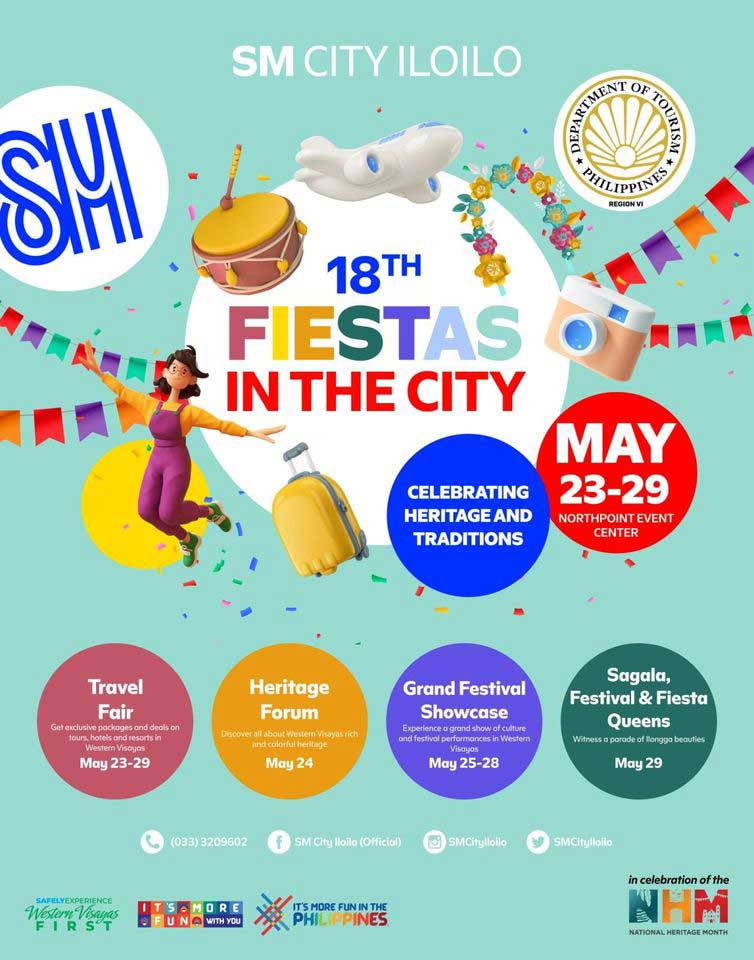 By Joseph B.A. Marzan
The Department of Tourism-Region 6 (DOT-6) returns the best of Western Visayas' heritage and traditions to the region's heart as it launched the 18th edition of "Fiestas In The City" on Monday, May 23, 2022 in Mandurriao, Iloilo City.
Themed "Celebrating Heritage and Traditions," Fiestas In The City aims to showcase in one place the celebrations of the provinces of Aklan, Antique, Capiz, Guimaras, Iloilo, and Negros Occidental, and the highly-urbanized cities of Bacolod and Iloilo.
This is in observance of the National Heritage Month under Presidential Proclamation No. 439 s. 2003.
The opening event kicked off with a performance of Tribu Salognon, one of the most beloved dance teams of the annual Dinagyang Festival of Iloilo City.
The event resumed two years after the coronavirus disease 2019 (COVID-19) pandemic struck in 2020 and affected the tourism and events industries.
In her opening address, DOT-6 Regional Director Cristine Mansinares said the week-long event aims to promote more local heritage, keeping with the National Heritage Month 2022 theme of "Pamanang Lokal: Binhi ng Kulturang Pilipino" (Local Inheritance: Seeds of Filipino Culture).
"We promote our culture, our local heritage within our local tourism community. This celebration is really bringing together 6 provinces and 2 highly urbanized cities," Mansinares said.
"This is an exciting time for us to know more about what each of our [region] can offer, and what are the things that we need to consider in visiting our destinations in the new normal," she added.
The event runs until May 29, and other activities include a Heritage Forum (May 24), Grand Festival Showcase (May 25 to 28) featuring a grand showcase of culture and festival performances in Western Visayas, and a Sagala Festival and Fiesta Queens (May 29) with Ilonggo beauties parading the best of the region's festivals.
This is also the second DOT-6 event within the span of 2 months, as it celebrated its food festival last month in observance of Filipino Food Month every April.
"Fiestas In The City" is organized by DOT-Region 6 in partnership with SM City Iloilo and local government units in the Western Visayas region.