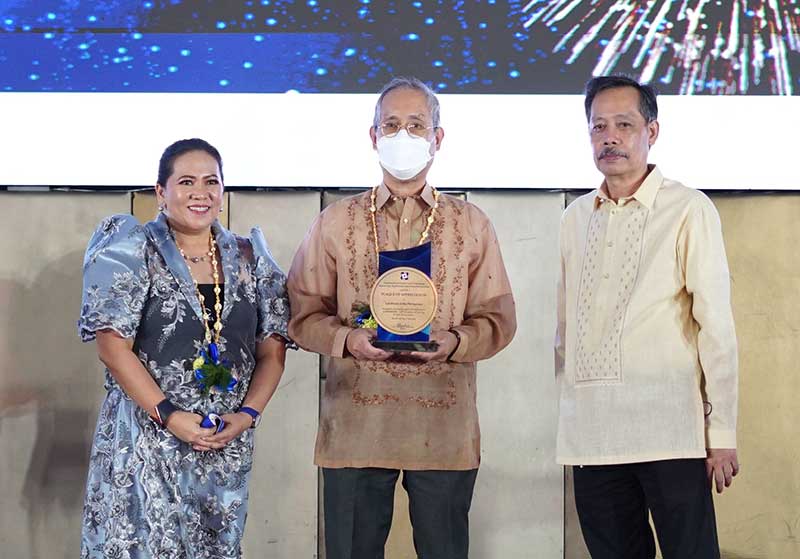 The Department of Science and Technology–Technology Application and Promotion Institute (DOST-TAPI) conferred a plaque of appreciation to the Land Bank of the Philippines (LANDBANK) for its contribution to the development of science and technology in the country.
LANDBANK received the recognition for the Innovation and Technology (I-Tech) Lending Program, which aims to support the commercial production of patented Filipino inventions, utility models and industrial designs.
As of March 31, 2022, the Program has five approved borrowers with loans totaling P25.55 million.
"LANDBANK is one with the DOST in advancing the country's development agenda through technology and digital innovations. This forms part of our expanded mandate of supporting various sectors and serving the nation," LANDBANK President and CEO Cecilia C. Borromeo said.
Program Management Department II Head, Assistant Vice President Generoso S. David received the award on behalf of LANDBANK during DOST-TAPI's Roadmap Launching and Stakeholders' Recognition held on 13 May 2022 in Quezon City.
The I-Tech Lending Program is a partnership program between LANDBANK and DOST-TAPI, designed to assist Filipino innovators and inventors in commercializing their patented innovations and inventions through credit financing using the Bank's financial strength and DOST-TAPI's technological expertise.
Under the Program, borrowers are required to have their inventions or projects evaluated by the DOST-TAPI for technical viability before being endorsed to LANDBANK for credit assessment on their financial and commercial feasibility and sustainability.
Inventor-borrowers can get funding for up to 85% of their total project cost with a 45-40-15 project cost-share. LANDBANK will finance up to 45% of the overall project cost at a 5% rate per year, TAPI-IGF will shoulder up to 40% of the cost with 0% interest rate, while the remaining 15% will serve as the borrowers' equity.
Interested borrowers of the I-Tech Lending Program may contact the nearest LANDBANK Lending Center or Branch nationwide, or call LANDBANK's customer service hotline at (02) 8-405-7000 or at PLDT Domestic Toll Free 1-800-10-405-7000.