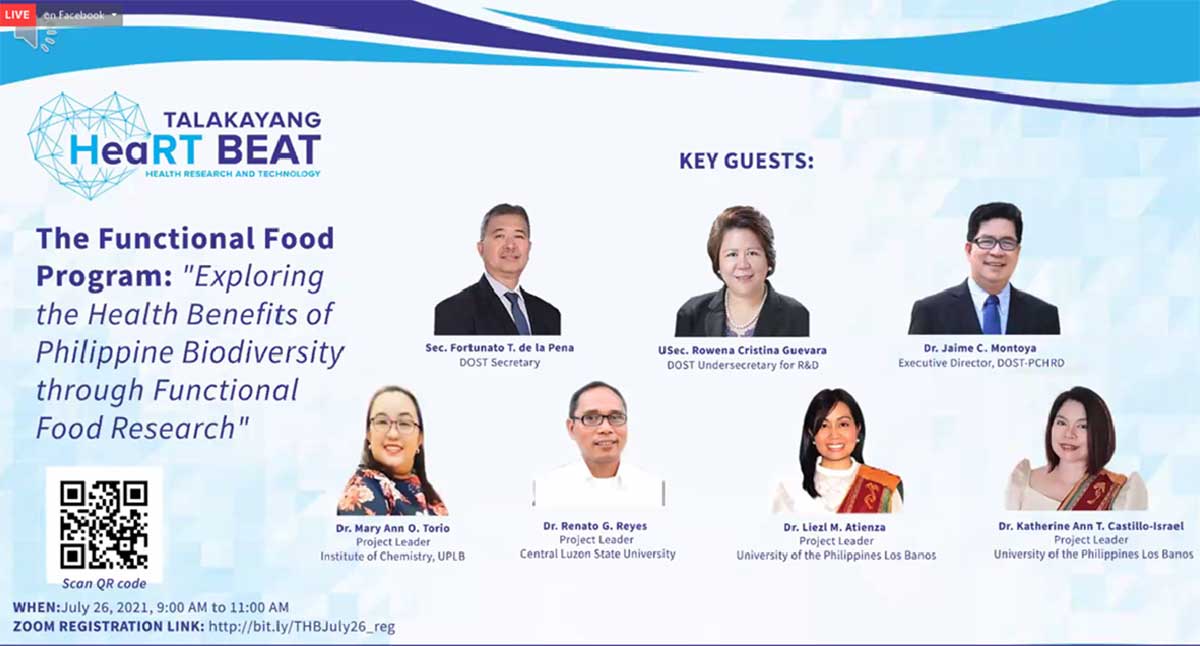 By Aila Kate I. Moreno
The Department of Science and Technology- Philippine Council for Health Research and Development (DOST-PCHRD) presented the latest updates on their projects under the Functional Foods research program through the virtual Talakayang HeaRT Beat on the Functional Foods program last July 26, 2021.
Dr. Jaime C. Montoya, DOST-PCHRD Executive Director III, explained that the Functional Food research program is centered on evaluating the health advantages of crops and food products beyond their known nutritional benefits for the prevention of non-communicable diseases.
"In this era where we still continue to fight malnutrition amid the COVID-19 pandemic, it is high time that we accelerate our efforts to find healthier alternatives to conventional foods," he said.
The program is designed to improve the nutritional status of the Filipinos by raising awareness on the latest quality scientific data on crops and food products through research and development, Montoya added.
DOST Secretary Fortunato T. Dela Peña highlighted the department's progress on research and development on mushrooms, carabao mangoes, and local berries in his presentation.
He mentioned that under the leadership of Dr. Renato Reyes, the Central Luzon State University conducted a study on local, edible, and poisonous mushrooms as possible sources of compounds that can be developed into drug leads.
"The team was already able to work on the development of 7 food products from mushrooms which [include] chips, furikake flakes, instant tea, ready to drink mushroom infused soy coffee, mushroom tempura, shing-a-ling, and furikake paste… All of these products are currently being tested for antidiabetic, antihypertensive, and anti-inflammatory properties," he said.
Since the products were gathered from the country's natural resources, he noted that these are expected to be sold at an affordable price.
Moreover, Dela Peña also introduced the project "BerryPinoy: Exploring the Potentials of Philippine Indigenous Berries as Functional Foods," spearheaded by Dr. Katherine Anne Castillo-Israel and Dr. Liezl Atienza of UP Los Baños.
Castillo-Israel and Atienza's research examined lipote and bignay as antioxidants. The study also analyzed these local berries' toxicity and effects on obesity and associated metabolic disorders.
Furthermore, he talked about the study of Dr. Mary Ann Torio from UP Los Baños which focuses on the utilization and development of carabao mangoes from Batangas, Zambales, Guimaras, and Davao as an anti-hypertensive food product.
"By pursuing studies on the development of functional foods, we hope to provide additional benefits for the Filipino people by building on the sources that are easily accessible for us," he said.
DOST Undersecretary for Research and Development Rowena Cristina Guevara served as the moderator of the program and closed it with a short message saying, "When successfully commercialized, the positive impacts of these projects are expected to cut across several sectors of the society. Aside from the health benefits of these functional foods, they may also help our Filipino farmers increase the value of their crops in the market and in turn, uplift the agricultural sector and the economy."
For information on other DOST-PCHRD projects, visit pchrd.dost.gov.ph.
(Aila Kate I. Moreno is a Communication and Media Studies Student of UP Visayas)