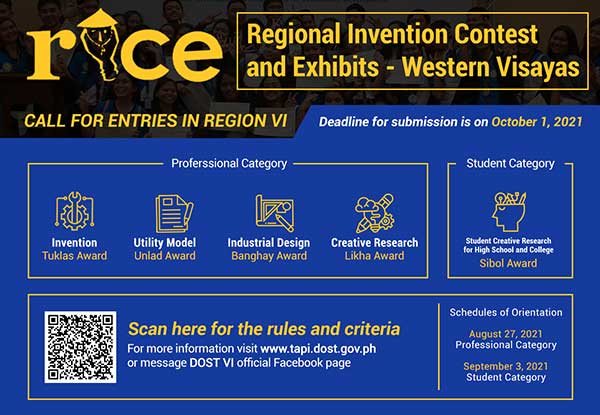 The pandemic has shaped the context of Science and Technology (S&T) to a whole new level. As the changing world has paced different possibilities, the country's S&T researchers came up with innovative technologies and discovered new ways to help flatten the curve through a invention and research competition.
The Department of Science and Technology – Technology Application and Promotion Institute (DOST-TAPI) recently launched the Regional Invention Contest and Exhibits 2021 or dubbed as RICE in Western Visayas.
Pursuant to Section 4 of the Republic Act (RA) 7459 or also known as the "Inventors and Invention Incentives Act of the Philippines", RICE encourages men and women inventors and researchers to showcase their inventive and creative capabilities through a form of competition for cash incentives, awards, and bragging rights.
The competition is composed of five categories namely, the Outstanding Invention through the Tuklas Award, Outstanding Utility Model through the Unlad Award, Outstanding Industrial Design through the Banghay Award, Outstanding Creative Research through the Likha Award, and Outstanding Student Creative Research for High School and College students through the Sibol Award.
The competition is open to all inventors, makers, designers, creative researchers, and student researchers who are Filipino citizens.  Three regional winners per category will receive cash incentives and certificate of recognition in which the first place of each category will automatically represent the region for the national contest.
Moreover, the regional competition also serves as a qualifying round to the National Invention Contest and Exhibits or NICE.
Orientation schedules are also set for inventions and professional category on August 27, 2021, and high school and college student category on September 3, 2021.
Interested participants are required to submit until October 1, 2021 only. Interested participants may scan the QR code using your mobile phone for more information on the competition criteria and requirements.  (BPanes/JJMoleño/SSalazar/DOST VI-KMU)