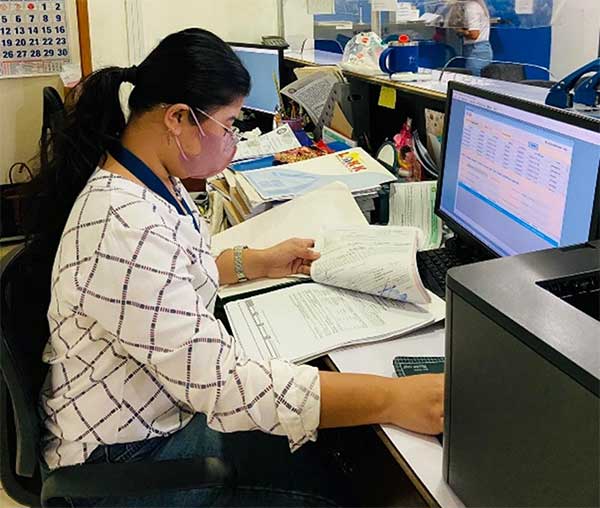 Steffany Jo M. Magbanua tells the story of success of a poor but persevering youth.
The dedicated Special Program for Employment of Student (SPES) baby and a Government Internship Program (GIP) intern reached her goals amidst hardship, and now holds a plantilla position as a Land Registration Examiner I of the Land Registration Authority of the Department of Justice in San Jose de Buenavista, Antique.
Her success was not served in a silver platter, though. It was borne out of sacrifices, hard-work, dedication and the much-needed support from the Department of Labor and Employment (DOLE).
The second child among five siblings, Stef was separated from her family when she was only 2 years old to live with her aunts because her parents could not afford to raise all of them.
Her mother has a small sari-sari store at home. She sometimes sells afternoon snacks like banana cue, banana fritters and fried chicken to help her husband who is a tricycle driver.
More serious challenges came after she graduated from high school. Stef recalled how she pleaded to her aunt to enroll her in college, "My aunt told me one day to stop for a year because she could not afford to send me to college.   But I insisted that I'm going to help in the finances and so I applied as student assistant in our school."
Fortunately, she was accepted as a working student at Saint Anthony's College where she performed clerical to utility works.
However, the financial requirement for her studies is quite high that she has to resort to other means to cope with the demands, "In my spare time, I tutored a supervisor's daughter and accepted laundry jobs on weekends to help my parents and my aunt in my school expenses."
Hopelessness is about to sink in when she saw opportunities with the DOLE-SPES. "It was so timely because at that time I was desperately looking for a job," she shared.
Her income as a SPES baby was used to pay for her tuition fee until she finished her Bachelor of Science in Information Technology degree in March 2018.
Her good record and satisfactory performance convinced DOLE RO No. 6 of her potentials. Three months after graduation, she was hired as a National Skills Registry Program (NSRP) Coordinator, as TUPAD Coordinator and later as an intern in its Government Internship Program (GIP) at DOLE RO No. 6 -Antique Field Office.
"My GIP internship came later but it was the most significant and a more meaningful one. I was blessed with a job when the rest of the world was in despair to have one because of the pandemic," Stef quipped.
She embraced and internalized DOLE's values to walk the extra mile, work with excellence and go beyond the working hours and beyond the call of duty – all in the name of public service.
DOLE-GIP does not only develop her skills and abilities but helped her shape her potentials and character as a good public servant who is willing to serve with humility and compassion.
Her fervent desire to have a permanent job and a stable source of income was granted. In July 2021, she was accepted at the Land Registration Authority-Antique as a permanent government employee after more than 3 years of being a contract of service.
Stef also expressed her gratitude and appreciation to DOLE for the employment that helped her finish her studies.  "The Department of Labor and Employment has prepared me for my career in public service.  I cannot be what I am today if it were not for the employment opportunities given to me by DOLE," Stef happily shared.
With the job, she hopes to lift her family from poverty and to help her siblings-two are still in college and one in high school- achieve their dreams, "I want to buy my parents a parcel of land and to have our house renovated.  I want to improve my family's living condition," was the dream that she start realizing now.
DOLE RO No. 6, under the able leadership of Atty. Sixto T. Rodriguez, Jr., is happy to see Steffany Jo M. Magbanua performing her job with the values she learned from her internship under the GIP at DOLE RO 6 – Antique Field Office.
With DOLE she built hope, grabbed opportunities and starts fulfilling her dreams. (JPM/DVB)