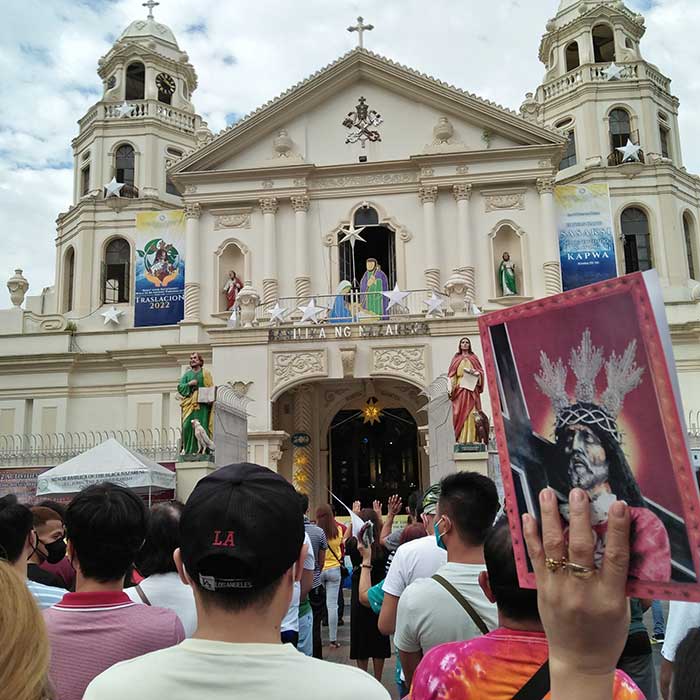 With the rapid rise in COVID-19 cases, the Department of Health (DOH) and the World Health Organization (WHO) call on all devotees of the Black Nazarene to safely observe the Traslacion and its related activities by attending virtual events at home instead of going to unsafe gatherings.
COVID-19 cases have been increasing in the last 10 days, from (97) cases last 26 December 2021 to more than (5,000) cases on 4 January 2022. The spike resulted from the increase in movement and social mixing over the holiday period. The DOH also earlier attributed the increase to the possibility of the local spread of the Omicron variant.
This year's Traslacion — the procession which draws more than a million devotees to Quiapo Church and surrounding areas in Manila — has been suspended due to the pandemic.
The National Task Force on COVID-19 also issued a resolution for Quiapo Church to be closed from 7 to 9 January 2022, and for holy masses by the church to instead be aired online. Virtual versions of the usual activities during the Feast of the Black Nazarene — vigil, "pahalik" and procession — have also been organized. Law enforcers are also expected to limit foot traffic around the Quiapo area during the celebration.
However, smaller events in other churches and communities pose the risk of increased spread of COVID-19 and its variants.
"We have witnessed this past holiday season how fast, how rapid the rise has been of COVID-19 because of social gatherings. We would like to remind everyone to be vigilant and continue practicing the necessary health protocols amid the impending threat of the Omicron variant and the continued rise in cases these past days. In light of these, we are calling for a suspension of all mass gatherings", said Secretary of Health Francisco T. Duque III.
"Our alarming situation calls for safer ways to celebrate traditions. We appeal to devotees — please stay at home to help limit the spread of COVID-19 and its variants. Doing so is an act of kindness. We need to protect each other, especially our elderly and those with underlying medical conditions. They can most easily catch the virus and possibly suffer its worst consequences — severe disease, hospitalization and even death", said Dr Rabindra Abeyasinghe, WHO Representative to the Philippines. "To our barangay leaders, we strongly urge you to consistently implement the measures to prevent unsafe gatherings in your community," Dr Abeyasinghe added.
The new Omicron variant has been detected in over 110 countries, including the Philippines. Growing evidence shows that it spreads much faster than other variants such as Delta.
Aside from avoiding unsafe gatherings, DOH and WHO calls on everyone, vaccinated or not, to consistently observe protective health measures such as physical distancing, mask-wearing, hand washing, covering coughs and sneezes, and limiting visits to close spaces, crowded spaces, and close-contact settings. These measures continue to be the most effective ways to protect oneself and others from COVID-19.
"We call upon all eligible individuals especially our senior citizens, those with comorbidities, and children to get vaccinated and boosted immediately, these are safe, effective, and free. Let's come together in doing our part in preventing the spread of the virus as more transmission means more mutations, let's not be agents of transmission. Remember to do the right test at the right time and isolate proactively at the earliest signs of symptoms. Finally, let us maximize our telemedicine services and keep our hospitals from filling-up. We have been through these situations before and no challenge, not even Omicron is insurmountable, when we work together to make things work." – Secretary of Health Francisco T. Duque III.