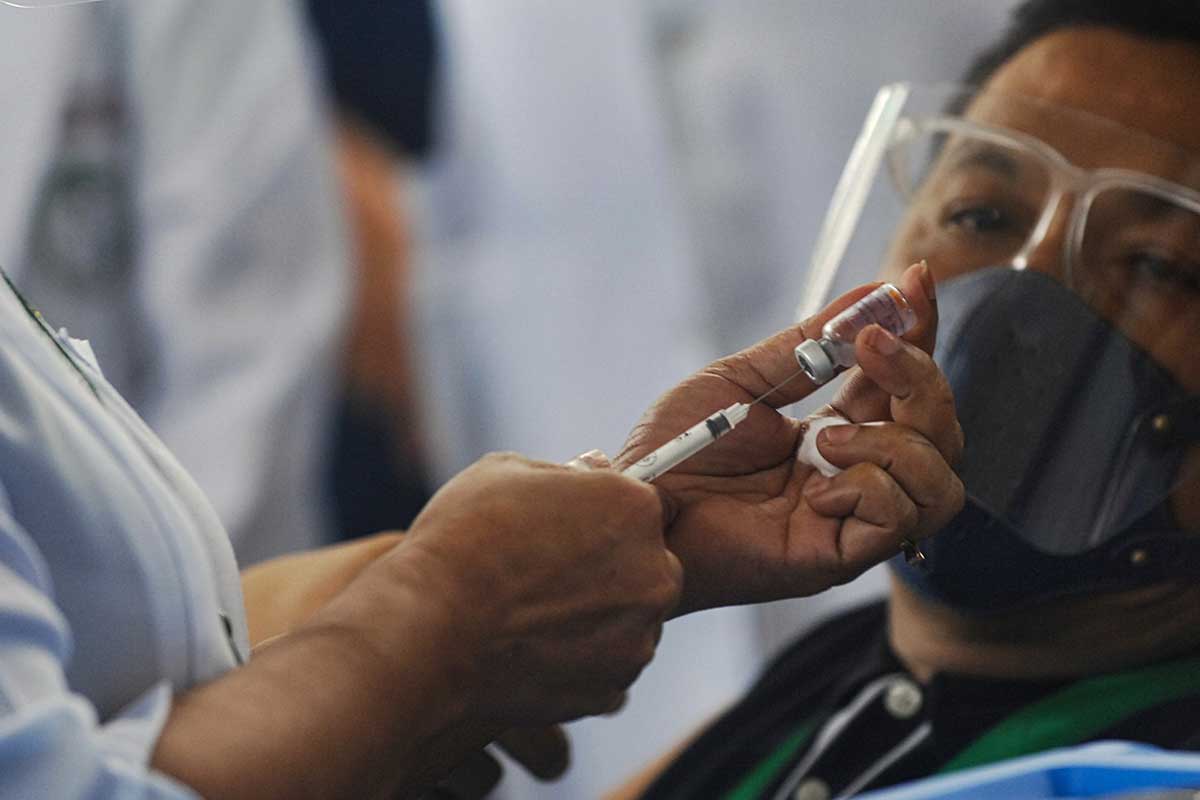 By Joseph B.A. Marzan
The Department of Health-Western Visayas Center for Health Development (DOH-WV CHD) on Monday announced the extension of the national Bayanihan Bakunahan 4 vaccination drive for coronavirus disease 2019 (COVID-19) until this Friday, March 18, 2022.
The announcement was made by DOH-WV CHD spokesperson Richard Lapascua during an online presser.
"Our national vaccination day[s] part 4 is extended up to March 18. It means that we can still reach more of our target population, especially to the A2 population of our senior citizens," said Lapascua.
This was amid a low turnout of the A2 population during the four-day drive last March 10 to 14, done simultaneously across the country.
Regional Vaccination Operations Center (RVOC) data as of March 14 indicated that 68,562 people have been vaccinated, or only 44.49 percent of the DOH's drive target of 154,097.
Among the A2 population in the region, 3,365 were inoculated in four days, or only 6.38 percent of the remaining 52,731 in the unvaccinated group.
For other categories based on their targets, those due for the second dose hit a 72.77 percent accomplishment, first dose with 55.27 percent, and booster doses with 26.32 percent.
Only Guimaras accomplished its target (100.14 percent), followed by Bacolod City (74.14 percent), Iloilo province (66.01 percent), Iloilo City (58.35 percent), Antique (35.35 percent), Negros Occidental (32.01 percent), Aklan (28.34 percent), and Capiz (26.22 percent).
Guimaras also had the highest turnout among the A2 population (71.25 percent), followed by Iloilo province (17.69 percent), Aklan (4.60 percent), Negros Occidental (3.18 percent), and Antique (1.98 percent).
There are areas in the region which recorded 0 accomplishment in RVOC's data due to non-inclusion in the computation of the target A2 populations for vaccination.
But these areas still recorded some A2 vaccinations, including Capiz (207) and the highly urbanized cities of Bacolod (455) and Iloilo (39).
Lapascua said that vaccinating the A2 population remains a priority for the DOH-WV CHD, even as vaccination levels remain high across the region and the country.
"When we started the COVID vaccination program in March 2021, we released a list of priority vaccination groups because of their high risk of infection. Our A2 population has been a priority from way back," he said.
The World Health Organization earlier this month told the Iloilo provincial government that vaccinating the elderly against COVID-19 has to remain a top priority.
Overall COVID vaccination data from RVOC as of March 6:00 a.m. of March 14 indicated that 4.68 million have been vaccinated in Western Visayas, with 565,784 having had their booster shots and 213,844 partially vaccinated.