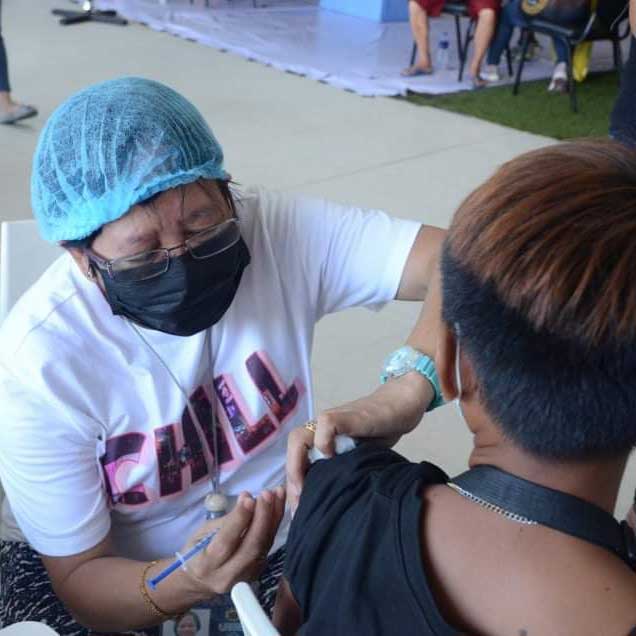 By Joseph B.A. Marzan
The Department of Health-Western Visayas Center for Health Development (DOH-WV CHD) drastically scaled down its daily targets for the 3-day Bayanihan Bakunahan which started on Monday, Nov 29, 2021.
Dr. Mary Jane Juanico, chief of the DOH-WV CHD's Infectious Diseases Cluster, said in an online press briefing Monday that their target for the 3-day COVID-19 vaccination would be 791,034, or 263,678 per day.
This includes daily targets from Aklan (26,530), Antique (15,000), Capiz (44,525), Guimaras (9,566), Iloilo Province (90,000), Negros Occidental (50,000), Bacolod City (22,057), and Iloilo City (6,000).
"Our committed target from the various local government units has accounted to 263,678, and that will be our committed daily target, and for the next 3 days our total target to be reached for the for the national vaccination days would be 791,034," Juanico said.
The new target is a stark departure from the DOH-WV CHD's pronouncement just a week ago, on Nov. 22, when the designated spokesperson, Dr. Bea Camille Natalaray, announced that the region's target was 2.2 million, or a daily target of 426,259.
Iloilo City, which was initially not part of the target data due to its COVID vaccination accomplishment, is also now part of the equation.
Juanico explained that the reduction was because of the national government's agreement with local governors and mayors as part of the latter's commitment to reach the country's 15-million target for the 3-day drive, which was now also reduced to 9 million.
She also cited logistical concerns on the national level, particularly the collaterals needed for vaccination.
"Last [Nov. 26], our national government agencies met with governors and mayors for their commitment to reach the 15 million target, so it was decided that there will be some decrease or adjustments in the target since some mayors and governors also estimated preparations in reaching their respective target," she explained.
Juanico they have yet to tag the 55,436 Iloilo province residents who have been vaccinated in Iloilo City, saying that this was still under validation.
"Although there were already 55,000 from [Iloilo] province as recipients [of COVID vaccines] from Iloilo City, we cannot really disaggregate them in terms of their areas because they were vaccinated by virtue of their workplaces, given that Iloilo City is a regional hub in Western Visayas. We have also been dedicating the Data Management Team to validate this data from both areas especially that some economic zones have been covered by the local government unit."
Juanico added that the focus is more on the collaboration of the Iloilo city and provincial governments to increase vaccination accomplishments.
"Instead of really counting who's to vaccinate and who's not to vaccinate, this is a collaborative effort of both the province and the city government to ensure the whole of Iloilo province is protected from COVID-19," she added.
As of 5 p.m. on Nov 29, the DOH-WV CHD reported that 112,560 persons were vaccinated across 515 sites. The data includes 103,265 for the first dose, 8,314 for the first dose, and 981 for the booster shots.
There were no major adverse effects on the recipients as of this writing.