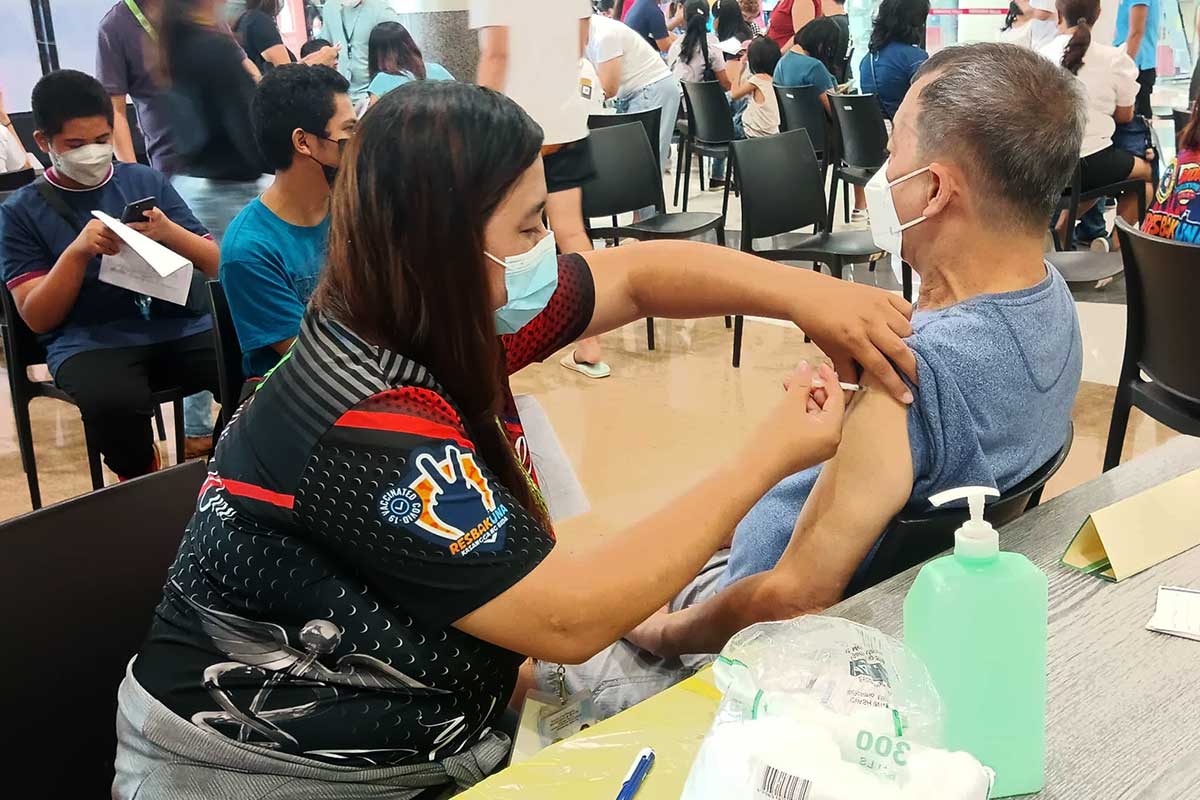 By Joseph B.A. Marzan
The Department of Health-Western Visayas Center for Health Development (DOH-WV CHD) has set an ambitious new target for coronavirus disease 2019 (COVID-19) vaccinations, including booster shots, for the first 100 days of the Marcos administration.
The regional health office on Tuesday launched its "PinasLakas" COVID-19 vaccination campaign, which aims to set up updated strategies to achieve vaccination targets.
This was in line with the Marcos administration's recent directive to the DOH to increase COVID vaccinations amid a visible rise in cases and threats of newer variants of the disease.
As part of the boosted strategy, vaccinations will be set in more public places including plazas, schools, and offices, in addition to the malls which have been previously used as mega-sites.
More vaccinators will also be deployed as part of the 'aggressive' campaign's strategies. This is also in preparation for the full face-to-face classes in November 2022.
The launch at a mall in Jaro was attended by DOH and city government officials, as well as students of the Philippine Science High School-Western Visayas Campus (PSHS-WVC) who took their booster shots.
DOH-WV CHD OIC Assistant Regional Director Dr. Ma. Sophia Pulmones said that they are targeting more than 97,000 senior citizens, otherwise known as the A2 population, and 1.6 million members of the general population for booster shots.
This, despite the regional health office having fully vaccinated 5.18 million, or 80 percent of its target population.
In her opening message, Pulmones cited that senior citizen vaccinations and booster shots were among the slowest at this time, despite the continuous encouragement from the health department and local governments.
"To date, only 76.81%, or 564,663 of the target 735,157 senior citizens have been fully vaccinated. Uptake of vaccination among our senior citizens is declining while boosters, which provide additional protection against severe COVID-19, are slowest since the start of our vaccination campaign," Pulmones said.
"We all know that primary series coverage among senior citizens and booster doses of the eligible population are critical in maintaining the country's wall of immunity," she added.
She highlighted that amid the current rise of COVID cases, vaccination continues to protect the public as majority of the cases are either asymptomatic or mild.
"Our data shows that despite of the increase in COVID-19 confirmed cases, most are asymptomatic or having only mild cases. This is one indicator to show that our vaccines work effectively as they protect us from having severe infections that could either lead to hospitalization or even death," she said.
Pulmones told the media on the sideline of the launch that there are many reasons as to why the vaccination rates have remained low.
"They may be scared of the side effects or the adverse reactions to COVID, and at the same time, because that they have spiritual or religious beliefs, or maybe fake news on the vaccines. Those are the primary reasons for the low vaccination rates," she said.
She also allayed worries that vaccines administered may be expired, clarifying that shelf life has been extended as reviewed by the Food and Drug Administration (FDA), emphasizing their continuous potency so long as local vaccination operations centers (LVOCs) comply with the proper storage and transport guidelines.
"Those are not expired vaccines, those are only with extended shelf life. The [FDA] study these before issuing the extension. We emphasize that these are safe and effective despite the extensions. We have been ensured by [LVOCs] and implementing units that vaccines have had maintained temperature requirement because of existing cold storage equipment and facilities," she said.
As to proposed school-based vaccinations, Pulmones said the DOH-WV CHD has been coordinating with the DepEd to ensure that primary-level-age schoolchildren would get their COVID jabs.
One of the "boosted" youngsters, 18-year-old Joshua Angelo Lopez, told Daily Guardian that getting vaccinated "goes a long way" for people his age and for their families.
"It's better to be safe than sorry to be protected from the disease, and with face-to-face classes coming up, I think it's really important for us to get vaccinated and get boosters," he said.
The DOH central office, through the PinasLakas campaign, aims to fully vaccinate 90 percent of the A2 population and 50 percent for booster shot coverage.