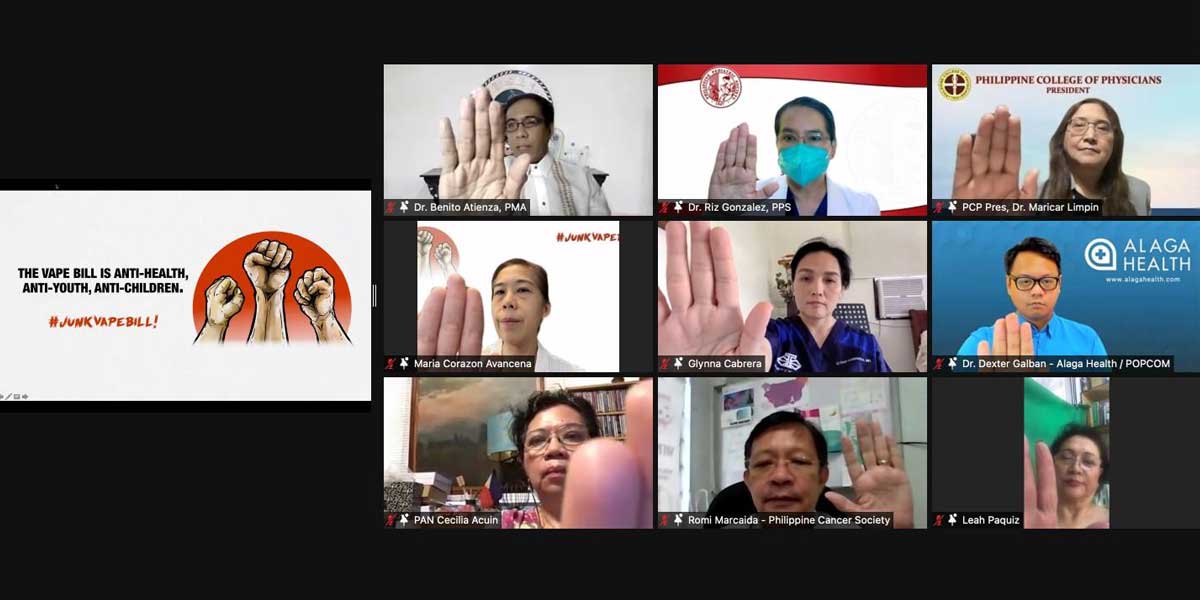 Medical associations and health groups on Tuesday criticized the move of Senators to approve on second reading Senate Bill No. 2239 (SBN 2239) or the Vaporized Nicotine Products Regulation Act, saying that the measure is 'anti-health, anti-youth, and anti-children'.
SBN 2239, or more commonly known as the Vape Bill, is severely flawed and regressive, according to Philippine Medical Association (PMA) President Dr. Benito Atienza. "We are appalled at the hasty pace of Congress and Senate deliberations," he said during an online rally with doctors and health advocates urging the Senate to junk the measure.
The bill, which will now move to third and final reading on Thursday, seeks to lower the minimum age of access to vapes and e-cigarettes from the current 21 years old to 18 years old. It also transfers the power of regulation over said products from the Food and Drug Administration (FDA) to the Department of Trade and Industry (DTI), and eases restrictions on the use of flavorings.
"Vape and e-cigarette use is a rising epidemic among young people. The passage of the Vape Bill will fuel this epidemic," Dr. Riz Gonzalez of the Philippine Pediatric Society (PPS) said. "Aside from nicotine addiction, vaping has been shown to predispose our youth to tobacco use, alcohol abuse and use of illicit drugs," she added.
Dr. Maricar Limpin, President of the Philippine College of Physicians (PCP), branded the measure as "a pro-industry regulation masquerading as a health measure". "We condemn this attempt to undo and weaken existing laws at the height of a pandemic. We have enough health and economic problems and do not need further aggravation," she said.
"We will campaign against these lawmakers and make sure this becomes an election issue," Dr. Limpin warned, referring to the proponents of the bill. "We will remember those lawmakers who chose to represent industry profit, instead of Filipinos' health. They do not deserve our vote," she also said.
The groups urged Senators to reverse their vote for the Vape Bill during the third and final reading. A counterpart measure was approved by the House of Representatives early this year.
"Passing the Vape Bill is a complete reversal of the life-saving policies the Senate enacted in the time of the COVID-19 pandemic, a disease that primarily attacks the lungs," said public interest law group ImagineLaw Executive Director Atty. Sophia San Luis. "The last two years should have taught us the value of listening to our doctors and prioritizing public health. Will this Senate pass an anti-health measure during the time of COVID-19?" she asked.
"The Vape Bill offers Filipinos' health on a silver platter to e-cigarette and vape companies' profit-driven interests. Our Senators should not allow this to happen and vote 'No' to the Vape Bill," San Luis concluded.