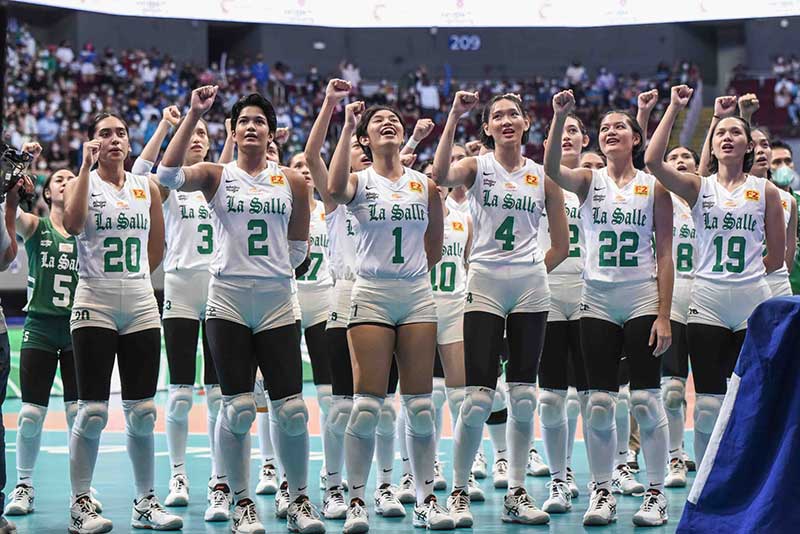 By Leobert Julian A. de la Peña
The De La Salle University (DLSU) Lady Spikers ousted the Ateneo de Manila University (ADMU) as the queens of the UAAP women's volleyball and advanced to the grand finals of Season 84.
DLSU never gave up a set and swept ADMU in just three sets, 25-19,19, 25-20, 25-23, to set up an explosive final showdown with the National University Lady Bulldogs for all the marbles.
Gaining advantage after Ateneo's grueling stepladder series against the University of Santo Tomas (UST) Golden Tigresses and Adanson University, the Lady Spikers punished the banged-up ADMU team.
It was a back-and-forth opening set as the two prestigious schools answered traded offensive runs but the Lady Spikers uncorked a 7-2 scoring outburst to extend their three-point lead.
Ateneo fought back and showed their resiliency in floor defense but Alleiah Malaluan, Thea Gagate, and Fifi Sharma joined hands to seal the first set and helped their team grab the much-needed momentum heading into the second set against the defending champions.
The Lady Spikers continued their efficient offensive possessions and went ahead in the early part of the second set despite Faith Nisperos scoring points for Ateneo.
Eager to put their team to a comfortable 2-0 lead, standouts Jolina Dela Cruz and Malaluan went hot in the most-needed stretch of the second set and took turns in finishing the spike kills for DLSU.
The third period became Ateneo's best set as they finally found their offensive rhythm but the Lady Spikers' 6-1 run helped balloon their two-point lead and was again back in the driver's seat.
Ateneo pulled within a point, 24-23, off an Erika Raagas point but the ever-consistent Malaluan scored the most important point that awarded the Lady Spikers with another UAAP finals berth.
DLSU's Season 84 finals trip became their 11th in 12 years and are laser-focused against the undefeated NU squad that earlier earned an outright seat to the finale after finishing the elimination phase with a 14-0 win-loss record.