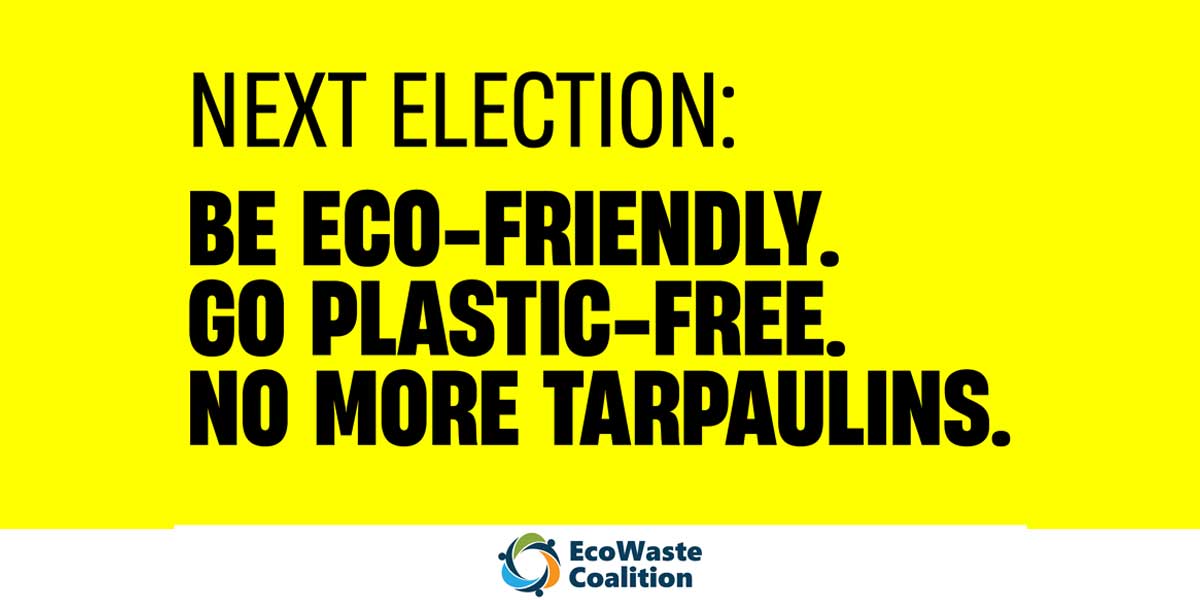 By Francis Allan L. Angelo
The Department of Environment and Natural Resources and an environmental group prodded candidates in the May 9, 2022 polls to properly collect and discard their campaign materials.
In a statement, DENR-6 regional office advised candidates in the recent national and local elections to clear their respective areas of campaign materials.
"This is not just to remind the candidates but also to urge them to clear their campaign materials and properly dispose it in accordance with the Ecological Solid Waste Management Act or Republic Act 9003," DENR Regional Director Livino B. Duran said.
"Those campaign materials are mostly made of plastics and it can be recycled. There are many ways to recycle and made it into something useful after all it will lessen the plastics in our garbage at the same time will add some creativity in your community," Duran added.
DENR Secretary Jim O Sampulna said that "win or lose, these candidates must consider the long-term consequences of their campaign materials in the environment. Candidates could show how sincere they are in serving the country this way".
RA 9003 (Ecological Solid Waste Management Act of 2000) mandates "a systematic, comprehensive and ecological solid waste management program that ensures the protection of public health and the environment and the other proper segregation, collection, transport, storage, treatment and disposal of solid waste through the formulation and adoption of best environmental practices."
NO MORE 'TARPOLITICS'
Meanwhile, the EcoWaste Coalition asked winners not to hang new plastic tarpaulins to thank their supporters.
In lieu of wasteful tarpaulins, politicians can express their gratefulness by joining cleanup operations, supporting tarpaulin upcycling for non-food and non-child uses, and by planting trees, the group suggested.
"The post-election cleanup has yet to be completed and we are already seeing newly printed 'thank you' tarpaulins in some places," observed Aileen Lucero, Ecowaste Coalition National Coordinator.
"Enough of 'tarpolitics,' we are already drowning in plastics. We can expect another garbage overload if all the proclaimed winners will put up their 'thank you' tarpaulins individually or as a group. We need to put a cap to the thoughtless use of tarpaulins, especially for political and other non-essential purposes, as these materials contain hazardous chemicals and are not easily recycled or disposed of," Lucero added.
Tarpaulins, which are often made of polyvinyl chloride or PVC plastic, may contain toxic chemical additives such as cadmium, lead and phthalates.
Laboratory tests commissioned by the EcoWaste Coalition and performed by SGS on six presidential campaign tarpaulins, including that of presumptive President Ferdinand Marcos Jr., found cadmium in all the analyzed samples.
"As plastic tarpaulins are neither banned nor regulated, we can only appeal to our politicians to control their penchant to 'tarpolize' anything and everything," Lucero said.
The unrestrained use of tarpaulins before, during and even after the electoral campaign should prompt the authorities into regulating these ubiquitous plastics, according to the group.
"In future elections, let us be environmentally responsible and go plastic-free.  No more tarpaulins, please," the EcoWaste Coalition pleaded.