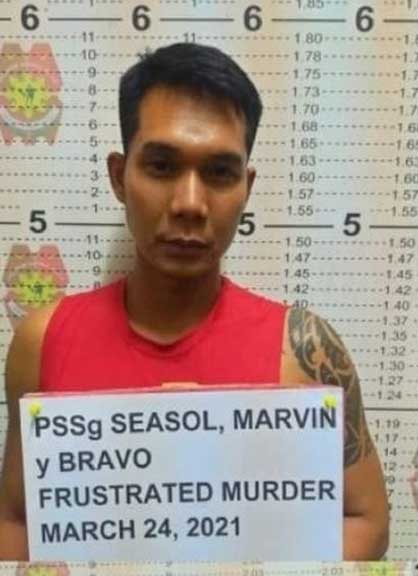 By Jennifer P. Rendon
Remember Staff Sergeant Marvin Seasol, the policeman accused of shooting his neighbor in Oton, Iloilo early last year?
The National Police Commission (NAPOLCOM) has ordered him dismissed from service for an incident several years back.
Atty. Joseph Celis, NAPOLCOM-6 regional director, said his office received the copy of the decision on Jan. 17, 2022.
It stemmed from a complaint filed by a certain Michael Silla who accused Seasol of beating him up on July 5, 2018.
But Celis said on Monday the recent decision to dismiss Seasol from the service might be "moot and academic."
This, after the Police Regional Office 6 (PRO-6) confirmed that Seasol is no longer with the PNP.
Lieutenant Colonel Arnel Solis, PRO-6 spokesperson, said Seasol was dismissed following an order issued on Oct. 21, 2021
Major Gen. Rolando Hinanay of the PNP's Directorate for Personnel and Records Management signed the order sacking the cop effective March 16, 2021.
It cited that the case stemmed from NAPOLCOM Implementation Order No. 2021-03014 issued March 16, 2021 based on a decision dated Feb 11, 2021.
Celis said they were not furnished a copy of the implementation order of Seasol's dismissal from service.
As such, "the latest order dismissing him from the service will just be held in abeyance."
If Seasol would contest his earlier dismissal and would be reinstated from service, the latest dismissal order will be served to him.
"There's no timeline for that," Celis said.
Seasol, then a member of the Arevalo Police Station, hogged the limelight after he was accused of assaulting and shooting his neighbor on March 24, 2021.
The Oton Police Station filed a case against him for shooting his neighbor Normando Estrebor.
Before the incident, Seasol allegedly hurled stones at Estrebor's house on CM Recto Street, Barangay Poblacion West, Oton.
When Estrebor and his father, Ernesto, peeped through their fence, they saw Seasol.
The cop, who was drunk at that time, then fired his gun, with the bullet hitting Estrebor's back.
Seasol then holed up inside their house at Panique Subdivision ah Barabgay Buray, Oton, which is just around 20 meters from the scene of the incident.
He only yielded to police authorities after more than three hours of negotiation.
He surrendered his issued caliber .9mm Glock 17 pistol loaded with 15 ammunition and a 5.56 M16 Elisco rifle loaded with a magazine with 28 ammunition.