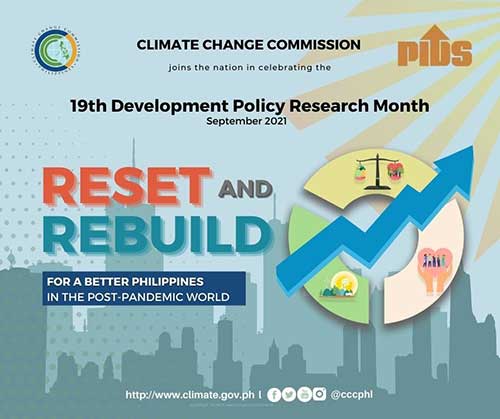 The Climate Change Commission stresses the need to strengthen science policy research to help Filipinos tackle the twin crises of the COVID-19 pandemic and climate change as the country observes the 19th Development Policy Research Month (DPRM) from September 1 to 30.
The 19th DPRM's theme, "Reset and Rebuild for a Better Philippines in the Post-Pandemic World", echoes the imperative to rebuild from the crippling effects of the COVID-19 pandemic and create a better Philippines, and the needed shift from business-as-usual paradigms and practices to place equal importance on economic, social, and environmental well-being and sustainability through science- and evidence-based policy research.
Science policy research is critical in crafting effective strategies and pathways to addressing the pandemic and the climate crisis, both of which pose great threats to the lives and livelihoods of Filipinos.
For years, policy research has played an important contribution to climate change policy development. As climate change continues to pose risks to human health, ecosystems, social and cultural systems, and economic growth, timely and useful climate information is critical to help policymakers and leaders make informed decisions. Policy research and climate projections also enable nations to prepare and avert the adverse effects of climate change way ahead. The same must be undertaken now to enable Filipinos to bounce back better from the COVID-19 pandemic.
Given this, and in observance of the DPRM, the CCC calls on all government agencies and local government units to anchor the development and implementation of policies and programs on scientific policy research. It also encourages all policymakers and decision-makers to always heed the call of science and aim for the creation of an informed and inclusive recovery plan to swiftly rebuild the country into a post-pandemic nation that is equitable, sustainable, and resilient.
The CCC likewise calls on the public to voice out stronger support for the research sector as it seeks to build sustainability, inclusivity, and resilience at both the local and national levels.
Proclamation No. 246, series of 2002 declared September of every year as Development Policy Research Month, with the goal of cultivating a strong culture of research and use of data and evidence among the country's national and local decision-makers in policymaking and program planning, along with raising the public's grasp of important socioeconomic issues. The Philippine Institute for Development Studies (PIDS) leads the coordination of all programmed activities for the entire month.