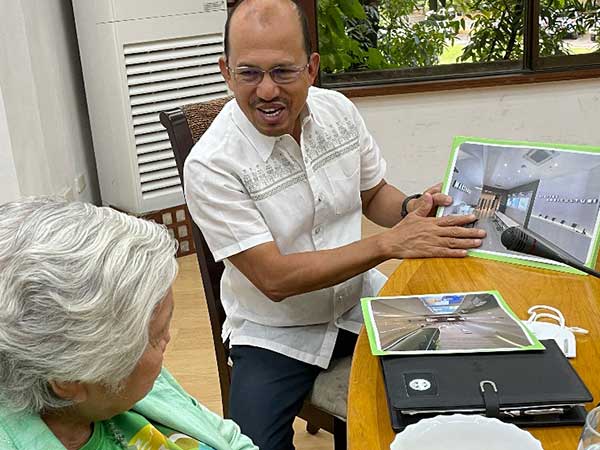 Two new learning facilities for agricultural innovation were presented to Department of Education (DepEd) Secretary Leonor M. Briones by Dr. Glenn B. Gregorio, Director of the Southeast Asian Regional Center for Graduate Study and Research in Agriculture (SEARCA), during his visit to DepEd on 29 March 2022.
Gregorio apprised the education chief of the soon-to-open SEARCA Hub for Agriculture and Rural Innovation for the Next Generation (SHARING), an interactive museum, and the SEARCA iCREATE, which will provide makerspaces and a training facility for robotics, prototyping, and design thinking.
Gregorio stressed that the two facilities are avenues for SEARCA to promote farming innovation to learners in the post-pandemic normal.
"At SEARCA, we are one with DepEd in enriching the learning competencies of our Filipino youth," he said.
Gregorio added that through these platforms, "they can get their hands and minds in action and go crazy with their innovative ideas, especially in smarter agriculture."
He explained that the SHARING is designed not only as an agri-museum, but also as a learning center fitted with multimedia installations for interactive ideation sessions towards next-generation agriculture in Southeast Asia.
Meanwhile, the SEARCA iCREATE is an open-shared complex that offer spaces for exhibitions, hackathons, business pitching, and hands-on learning through Lego robot kits, robot arms, and Minecraft game-based education platforms, Gregorio said.
Both learning facilities are annexed to the SEARCA headquarters located on the campus of the University of the Philippines Los Baños in Los Baños, Laguna.
Briones commended SEARCA for its efforts to promote agriculture to young people and supporting DepEd's mandate.
"I applaud SEARCA for always making agriculture sexy. Thank you for your untiring dedication and support to DepEd," Briones said.