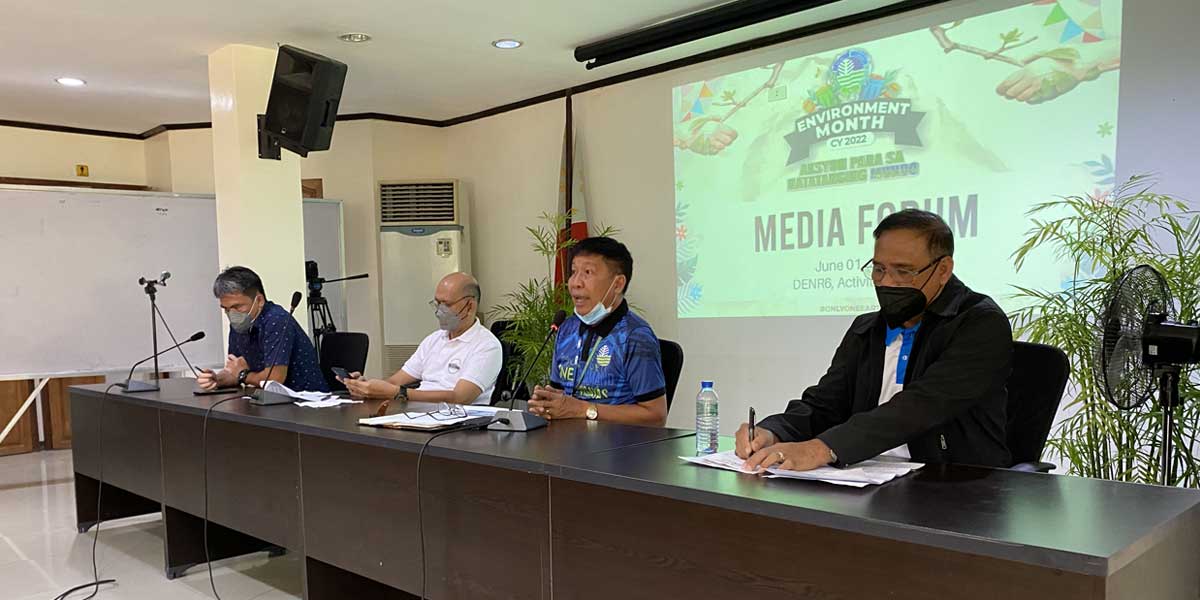 By Joseph B.A. Marzan
The Department of Environment and Natural Resources-Region 6 (DENR-6) on Wednesday bared their accomplishments under the Duterte administration as it kicked off the celebration of the Philippine Environment Month.
The DENR-6 held a press conference in its offices in Iloilo City Monday to jumpstart Environment Month 2022 this June, with the theme "Aksyon para sa Natatanging Mundo" (Action for a Unique World).
They showcased their wins, including the 2018 Boracay rehabilitation in Aklan, Malandog River Rehabilitation and Development Project in Antique, and the ongoing 10-year region-wide Forestland Management Project.
In Boracay, the agency's achievements include 89 percent of establishments following the 30-meter Beach Easement Rule as of April 15, 83 percent of local structures demolished and complied with the 12-meter road easement, continuous monitoring and management of water quality, consistent weekly beach clean-ups, and rehabilitated wetlands, among others.
The regional office also prioritized the Malandog River project, which include support to ecotourism facilities, desilting of the river slope, construction of the provincial ENR office, shore stabilization, and other breakwater projects.
They envision the river to be a sustainable ecotourism site where locals and tourists alike can enjoy sceneries with clean and clear water with support facilities for recreation and sustainable livelihood.
As to the Forestland Management Project, which primarily aims to rehabilitate degraded forestlands of the Jalaur River Basin, the DENR-6 has undertaken agroforestry support facility projects with 9 already completed and 22 projected to be completed this year and empowered 22 people's organizations with agricultural-related projects, utilizing P1.1 billion from 2013 to 2022.
In his welcome message, DENR-6 Regional Executive Director Livino Duran said that the agency will strive to push for better management of environmental resources in the region and the country.
"We are soliciting for the management, for the protection, for the conservation of the environment in order to sustain life. Our times right now are too complicated, and we want to intervene, and we want to act for the good of the environment. For DENR-6 (sic), we wanted to pursue vigorous efforts and we wanted to entertain for every development we wanted to undertake for this region," said Duran.
"We want really to consider that while we want to pursue development or advance our development, there is always an attached impact to the environment. This month is really dedicated in the pursuance of our mandate and support to sustain life in our country," he added.
Duran said the Boracay Island rehabilitation was the biggest environmental project in Western Visayas under the Duterte administration.
He also admitted that there is still much to be done for the island's rehabilitation, including proposals for the relocation of Ati residents and a village for workers.
"The Boracay closure really hurt because it cost a lot. We were serious, it wasn't a joke. [former DENR Secretary Roy Cimatu] was serious in saying that the government should be serious [about Boracay rehabilitation] with cooperation of all," he said.
"So far, it is the biggest because there were also interventions, but when we look at it there are good results. It was said when we had to implement it at the beginning," he added.
The celebration of the Philippine Environment Month every June was mandated by Proclamation No. 237 issued by President Corazon Aquino on April 4, 1988.