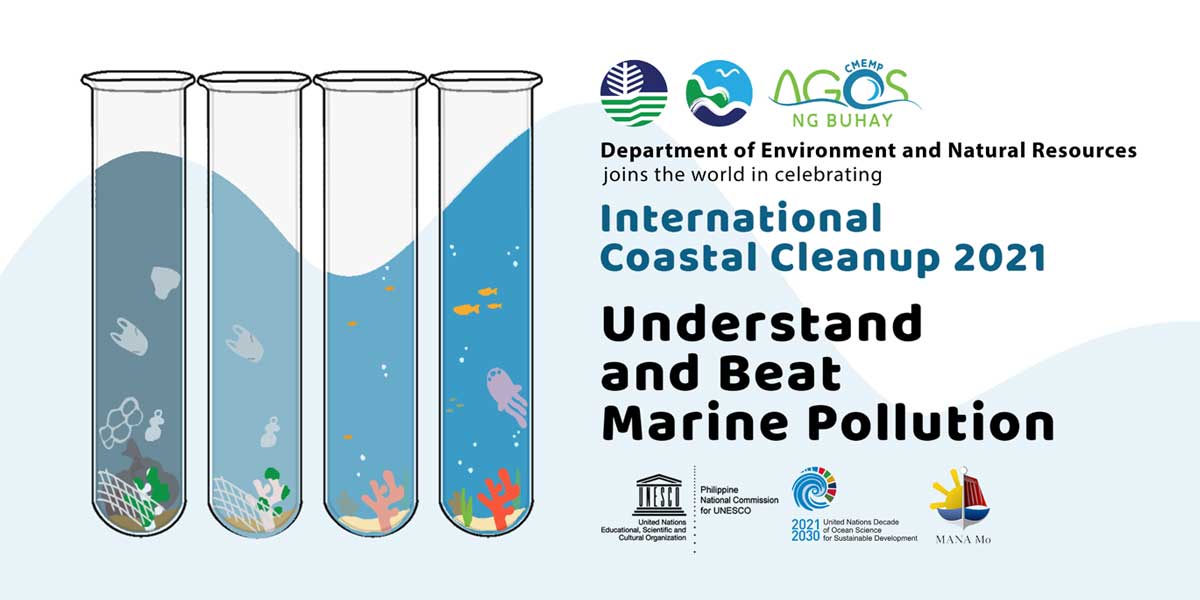 The International Coastal Clean-up (ICC) is celebrated every third Saturday of September by virtue of Proclamation No. 470, s. 2003, observed.
ICC is part of the global coastal clean-up celebrations. It began more than 30 years ago, when communities and environment activists rallied together with the common goal of cleaning, collecting and documenting the trash littering their coastlines. ICC engaged people to remove trash from the world's beaches and waterways to free our oceans especially of plastics which pollutes the water and marine life.
ICC is the largest volunteer effort for the environment and is participated by over 199 countries. Also, information collected during the activity is used to educate people and create solutions to the problems of solid waste litter in our coastal areas. It is important that we protect our coastal and marine areas as 80% of the more than 100 million Filipinos depend on fish for their protein requirements.
The Department of Environment and Natural Resources (DENR) has already put its hand on this matter long before as scaling up coastal and marine ecosystem is one of the priority programs of the Department.
DENR also finds ways to protect our oceans, disseminate facts about coastal management, causes and effects of ocean pollution and ways to mitigate ocean pollution.
The number of volunteers is expected to drop due to the pandemic and basic safety protocols. Yes, the DENR Region 6 makes sure that all PENROs and CENROs do their job in maintaining the cleanliness of their coasts, along with the coastal communities.
PENRO Iloilo Information Officers have already started their action during the recording of the DENR 6 Weekly Radio Program dubbed "Ikaw kag ang Imo Palibot" in partnership with Radyo Pilipinas Iloilo on August 29, 2021.
Topic about the International Coastal Clean Up day was already discussed. Other PENROs and CENROs are expected to follow this movement towards a healthier coast. (DENR-6)