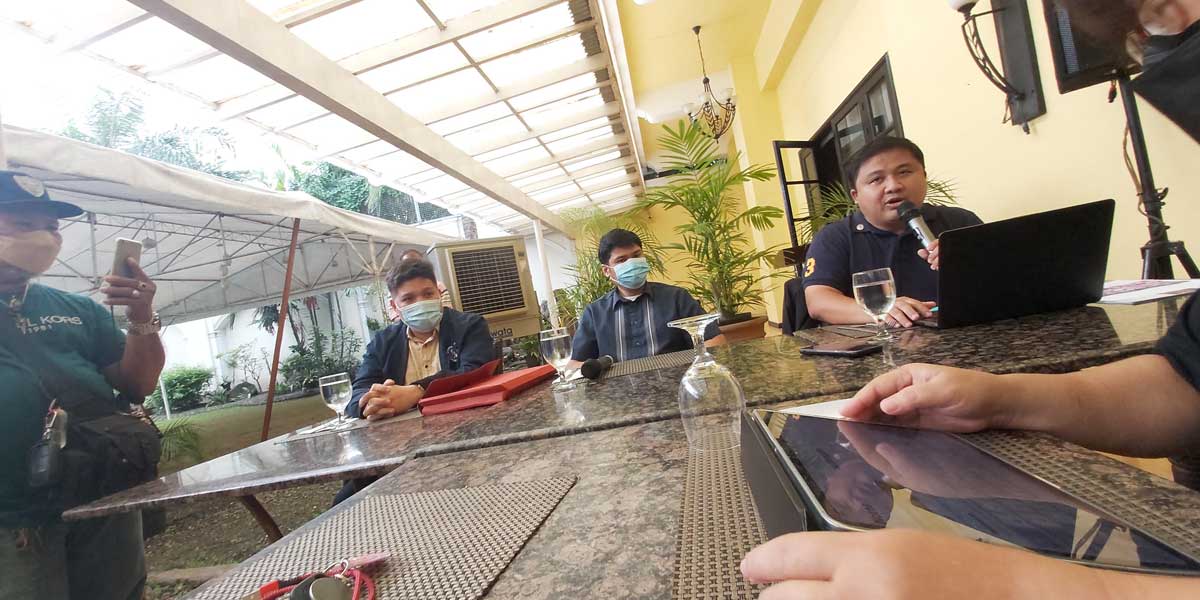 By Dolly Yasa
BACOLOD City – Dr. Cris Sorongon, spokesman of Bacolod City Mayor Evelio "Bing" Leonardia, announces in a press conference at Planta Hotel here Tuesday that the latter has filed an election protest with the Commission on Elections (Comelec) central office in Manila on May 20, 2022.
Sorongon said Leonardia is asking the Comelec to declare a failure of election in Bacolod City.
Former Negros Occidental congressman Alfredo Abelard "Albee" Benitez got 171,893 votes to defeat Leonardia who got 107,447 ballots.
"Today, marked another milestone in the political history of Bacolod City, as we unveil to you the first ever electoral protest in the 34-year political career of Mayor Bing – simply to know the TRUTH and give hope to hundreds of thousands who consider the recently concluded May Bacolod local elections as MYSTERIOUS AND UNBELIEVABLE," Sorongon said in his opening statement.
He also said the mayor is asking for a manual recount of the mayoralty race on all 450 polling precincts.
Sorongon said the mayor does not believe that he lost the election citing the overwhelming support he got from the Bacolodnons.
"On March 25, 2022 when we kicked off the 45-day campaign, we have witnessed the longest caravan ever to join an opening salvo to open the political campaign of Grupo Progreso headed by Mayor Bing.  Furthermore, I have personally seen, heard, and felt the overwhelming warmth and appreciation of Bacolodnons in our campaign sorties, in our daily handshaking, in our daily pocket meetings and caucuses. Mga pumuluyo nga naga ugyon, wala gina hakot, wala ginabayaran – naga tumpok lang kung din man kami nga barangay magkadto sa ciudad sang Bacolod. Sa pag appreciar nila sa positibo, matinlo kag plataforma de gobierno driven nga klase nga kampanya.  Mangita ta man ang resulta sa mga kalain – lain nga mga survey nga naga pakita sang pagda-og ni mayor Bing kag sang grupo progreso, labi na guid ang makasaysayan nga miting de avance sa John Paul II Tower nga nag surpass sang attendance sang 2016/2019."
We have a strong case, we believe Mayor Bing is the duly- elected mayor of this city, Sorongon said.
"This afternoon, we give hope to the hundreds of thousands who are calling for the TRUTH; to protect the sanctity of the vote and prevent the disenfranchisement of voters in Bacolod City.  We give hope to democracy.  I am aware that many of you were in disbelief as the votes were counted and announced over media outlets, especially when the glaring disparity of the votes became apparent in an almost consistent pattern," added.
He also said that the proclamation of Benitez was on May 10, 2022, so the deadline to file an election protest falls on May 20,2022.
The protest was filed personally by Vaflor & Alimon Law Offices on May 20 at the Main COMELEC Office in Intramuros, Manila (exact time of filing is 2:12 PM).
In his electoral protest, Mayor Bing is asking for:
(1) Manual recount in all 450 precincts (main relief);
(2) Declaration of failure of elections and the holding of special elections for the position of city mayor (alternative relief).
The grounds he cited are:
-massive and rampant vote-buying which affected all 61 barangays and 450 clustered precincts (money given ranged from P300 to P4,000); and
-vote-buying happened on the weekends prior to the elections, in the morning just before elections, during the elections itself, and even afterwards as voters would show up to local headquarters and show their ink-stained fingers as proof that they had voted for Benitez;
Numerous fake voters were allowed to vote despite their information not matching those in the Election Day Computerized Voters Lists (EDCVL), Sorongon said.
Lawyer Marcos Valfor reiterated that "our protest is grounded on strong evidence and we are looking forward nga ma reverse ang resulta kag ang nagdaug si Mayor Bing."
Vaflor said he personally filed the election protest on behalf of Leonardia.
He also said they have witnesses to present to support the protest.
He declined though to show to the media the copy of the election protest citing legal concerns on the case.
BASELESS, FRIVOLOUS
In a statement, Benitez said the election protest "is a baseless and frivolous complaint."
He said it is "another desperate move of one who refuses to accept the truth."
Benitez said the conduct of the 2022 elections was generally peaceful, credible and orderly.
"No documented and concrete evidence has been shown to prove any irregularities at the voting precincts," he said.
He further said that such electoral protest is therefore an exercise of futility, and will surely be dismissed.
"The people of Bacolod have spoken and it is time to move on and buckle down to work," he added.