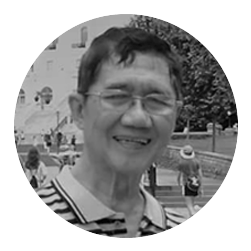 By Herbert Vego
WHILE I was writing this yesterday, TV and radio newscasts were awash with news reports on the exiting tropical storm Jolina and the incoming typhoon Kiko. Today's newspapers would update the devastation inflicted.
Typhoons amid the lingering and deadly Covid-19 pandemic? What have we done to deserve these misfortunes?
Some victims of these depressing "bad lucks" have already turned to suicide as the ultimate way to escape the pain or depression that they could no longer cope with. As a song goes, "Suicide is painless."
Records at the Philippine Statistics Authority show that suicide took the lives of 4,420 people in 2020, an increase of 57% over 2,810 in the previous year 2019.
As reported by the Daily Guardian (March 31, 2021), the province of Iloilo alone logged 94 suicide cases in 2020.
We can only hope and pray it would not be so bad this year.
If it's any consolation, we are not alone.  Millions of other people worldwide suffer from losses in lives and property wrought by the Covid-19 pandemic in the past one year and a half.
Based on reports from the World Health Organization (WHO), the pre-Covid suicide cases worldwide averaged an annual 800,000 victims. This could shoot up by the end of the current year.
No doubt many suicides happen impulsively in moments of crisis with a breakdown in the ability to deal with stresses, such as financial problems, relationship break-up or chronic pain and illness.
One recalls that Senator Risa Hontiveros responded to the problem by sponsoring a bill, now a law known as the Mental Health Act, "to integrate psychiatric and psychosocial and neurologic services in regional, provincial and tertiary hospitals, improve our mental healthcare facilities and promote mental health education in our schools and workplaces."
The law, in other words, is a tool to defeat depression.
The dictionary defines depression as "a mood disorder marked especially by sadness, inactivity, difficulty in thinking and concentration, a significant increase or decrease in appetite and time spent sleeping, feelings of dejection and hopelessness, and sometimes suicidal tendencies."
It behooves us who are more fortunate to listen to those who appear to be losing enthusiasm for life. For example, I did it years ago during a "beer binge" in a restaurant with my friend Castulo, depressed because his vast rice plantation had gone with the flood.
"I feel like committing suicide," he cried.
I begged of him not to. I asked him to learn a moral lesson from insects. I cited the spider that never gives up rebuilding a "home web" each time man destroys it.
I recited to him a memorized Bible verse (Proverbs 6:6): "Go to the ant, you sluggard; consider its ways and be wise."
The ants do not complain. They work hard for the common good, storing their food during times of plenty in order to eat in times of scarcity.
"When the going gets tough, the tough get going," I quoted a popular quotation.
I reminded my friend that fires, floods, earthquakes and many other natural disasters that are inappropriately called "acts of God' should be regarded as hurdles to overcome, not permanent obstruction. It's the only way to win the game of life.
I told him that I, too, had lost precious possessions – an old film camera, an old typewriter and rare books — to typhoon Frank in 2008.
I asked him to read the Bible and other inspirational books, just as I had done to defeat my own bouts with personal and family problems.
He listened and allowed me to drive him home.
Who knows? By hearing his woe and saying my advice, I might have saved my friend's life that night.
Castulo has more than regained his losses since then.
Indeed, as the late American inspirational writer Napoleon Hill has immortalized in his books, "What the human mind can conceive and believe, the human mind can achieve."
—0—
WHAT MAKES MORE POWER ATTRACTIVE?
We have asked friends from Pavia, Iloilo why they want MORE Power to replace ILECO-1 as their power-distribution utility.
Obviously, a big difference in rates tops the list. MORE Power charges only P7.99/kWh, hence cheaper by P3.80 against ILECO's P11.79.
The second reason is MORE Power's "quick response" to emergency situations.
Early yesterday morning, for instance, an 18-wheeler truck hit the electric wires at barangay Buntatala, Jaro, causing brownout.
MORE Power linemen rushed to the cite, restoring power at 6:00 a.m.
It is always possible for MORE linemen to detect faults even before affected residents complain. It is because of the automatic circuit reclosers (ACRs) that automatically shut off power during line disturbances. The ACRs isolate the problematic feeder line, thus preventing worse consequences.
Further modernization is expected from the company's three-year modernization program, which is budgeted at P1.9 billion. This would entail installation of new sub-stations, replacement of old poles, crossbars, wires, transformers and electric meters, among others.