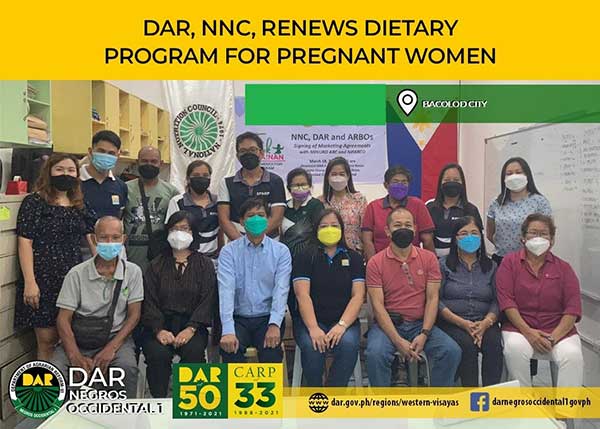 By Easter Anne Doza
BACOLOD City – The Department of Agrarian Reform (DAR) renewed its Memorandum of Agreement (MOA) with the National Nutrition Council (NNC) to provide a dietary program for pregnant women and children aged 6-23 months for five months.
In the MOA, DAR's agrarian reform beneficiary organizations (ARBOs) will provide a steady supply of quality food products such as chicken, pork, poultry products, vegetables and other food requirements to 60 children and pregnant women.
DAR 6 Director Atty. Sheila Enciso led the MOA and Marketing Agreement signing with NNC 6 regional nutrition program coordinator Reginaldo Guillen, NNC Provincial Nutrition Focal Point for Negros Occidental Joyce Faith Española amd Enhanced Partnership Against Hunger and Poverty (EPAHP) Regional Point Person Arni Sumaylo.
"This project will sustain the steady market supply of vegetables of our farmers while we provide nutritional aid to pregnant women in our communities," Enciso said.
Two ARBOs namely, Minuro Agrarian Reform Cooperative (Minuro ARC) of Victorias City and Negros Island Federation of Agrarian Reform Cooperative of Valladolid are the identified suppliers of these food products with Rodrigo Sumugat of Minuro ARC and Merle Guanco of NIFARCO representing their respective organizations.
NNC, as partner will be paying the ARBO for the price of the commodities which will be used to feed the identified beneficiaries.
The implementation of the project is geared towards the goal of building resiliency for agrarian communities on enhanced and sustained agricultural productivity of agrarian communities, a release from DAR said.
DAR thru its PBD develops and supports interventions through training programs, construction and rehabilitation of infrastructure facilities. (PIA)