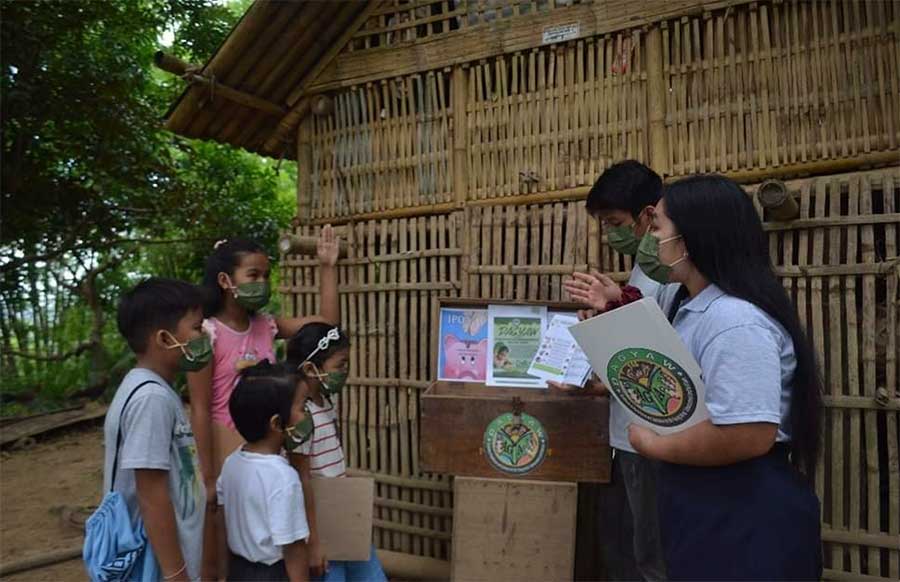 By Flory Ann Tacuban
To bridge the learning gaps amid the COVID-19 pandemic, an initiative was launched at Brgy. San Jose, Tubungan, Iloilo last April 24, 2020 dubbed Project DAGYAW (Delivery of Assistance and Guidance for Young Minds Advancement Welfare).
It is a community-based program which aims to help children and spearheaded by Darwin Tadifa, District ALS (Alternative Learning System) Coordinator.
Project DAGYAW is one of the components of Project DAL-ON TA (Delivery of Assistance Towards Literacy, New Techniques and Approaches), a literacy program of the municipality of Tubungan.
Dagyaw is the Hiligaynon word for bayanihan which refers to the spirit of communal unity, work and cooperation to achieve a particular goal.
It started with the town's dream of making education available for Tubunganons. It aimed to improve reading, writing, arithmetic and as well training of livelihood skills.
Project DAL-ON TA began in 1999 and was supported by DepEd (Department of Education) together with ALS and has been running for two decades.
Project DAGYAW emphasizes literacy integration amid the pandemic wherein kabataan volunteers together with the learners, parents, local officials and the Sangguniang Kabataan (SK) work together to deliver education to every home while following proper health protocols.
Its objectives are: buhayin ang literasiya at tulungan ang mga magulang, sanayin sa arithmetic ang mga bata, kabataan bolutaryong magtuturo at basang may pag-unawa tutukan para sa kinabukasan.
Tadifa collaborated with the SK to support the advocacy. It started with the training of 17 selected Kabataang Guro volunteers with 54 learners.
It later extended its services to Brgy. Teniente Benito, and Brgy. Buenavista.
As of now, Project DAGYAW has 42 volunteers who work and train to teach 113 learners.
Parents and guardians were also trained as parent-teachers for their children under the new normal learning.
Project DAGYAW was also presented as one of the innovations in the launching of the Circle of Innovators in the new normal of the Department of Education Central Office.
"Through this initiative, Project DAGYAW has won in the SK Province of Iloilo in the celebration of Linggo ng Kabataan 2020. The provincial government allocated an amount of P50,000 for the sustainability of the project," Municipal SK Federation President Mark Joshua Tacsagon said.
Dagyaw continues to improve its advocacy for literacy and recently launched the startup BAUL (Bumasa Ating Ugaliin Lagi) program.
BAUL was derived from the word baul, a wooden box wherein important and valuable items like heirlooms are kept.
Households with learners within Project DAGYAW areas were divided into groups with one baul each.
Found inside the BAUL are flashcards of CVC words and four fundamental operations, comics, booklets, and activity sheets.
The BAUL is transferred to a different household daily for six days. The Kabataang Guro Volunteers retrieves the box on the seventh day.
This allows learners to read, add, subtract, multiply, and divide with parents as their teachers.
"Makabulig gid ang Project DAGYAW sa mga nanay nga nabudlayan or indi capable magtudlo kay gina train nanda kami nga mangin teacher-nanay," according to mother Joan Tamonan.
DAGYAW also extended its program to the out-of-school youths and adults.
Since no one must be left behind, the Tubunganon out-of-school youths as well as adults are also taught the importance of education.
"I believe Tubunganons will later on gain knowledgeand contribute to the development of our municipality through Project DAL-ON TA and its Project DAGYAW education," Mayor Roquito Tacsagon said.
Project DAGYAW also qualified as one of the 23 National Finalists in the 2nd National Search for Outstanding SK Project Awards under the education category.