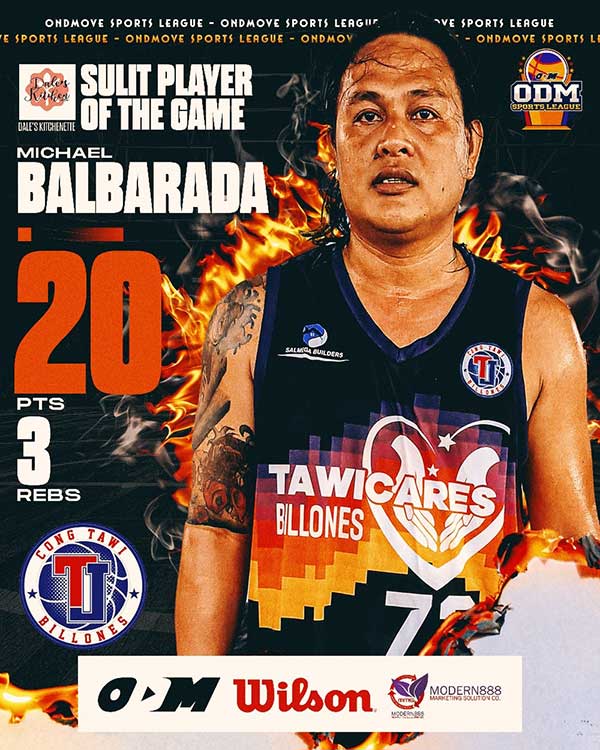 By Leobert Julian A. de la Peña
Team Dadivas Panit-an, AGANA Rookie Elite, and the Tawi Cares squad continued their winning streak in the ongoing 2022 On D' Move (ODM) Sports League Invitational Cup organized by ODM Sportswear.
The first organized basketball league in Roxas City, Capiz had a successful day II and featured huge wins from team Dadivas against Abante Panay, 121-117, AGANA against team Lakwatseros Pulahan, 74-73, and Tawi against Mambusao Fitness Gym, 88-73.
It was a nip-and-tuck affair between Panit-an and AGANA as both squads were able to answer each other's scoring runs and made crucial stops down the stretch.
However, four quarters weren't enough to separate both teams that extended up to overtime period with Panit-an showing the more patient offense.
AGANA had their chances in overtime but they became highly dependent on their three-point shooting, making their offense predictable.
Seville Geronimo was unstoppable for Panit-an and dropped 32 huge points and three rebounds to earn the Dale's Kitchenette Sulit Player of the Game.
The next showdown was one of the most intense games in the tournament so far with team AGANA escaping Lakwatseros by just one point.
AGANA was looking comfortable to go away with the victory after leading 74-69, with only 1:10 remaining in the final canto but Lakwatseros' resiliency and aggressiveness going to the hoop rewarded them with three free throws converted, cutting the lead to just two, 74-72.
With 11 seconds left in the ball game, Lakwatseros' Jayson Dela Cruz had the chance to force overtime but missed his last shot from the charity stripe.
The Lakwatseros' big men then did their thing and were able to collect three offensive rebounds but AGANA's tight paint defense helped them hold their ground and get away with the crucial win.
In the last game of the triple-header, the star-studded Tawi squad showed dominance and dispatched Mambusao with a double-digit win.
Experience came to play for the part of team Tawi as their seasoned veterans put on a show and displayed poise against the speed of Mambusao.
Renowned player Michael Balbarada led team Tawi with 20 points and three rebounds and was also awarded the Dale's Kitchenette Sulit Player of the Game.
The ODM Sports League Invitational Cup through their owner Mr. Jeremiah Obera would also like to thank their partners: Vincent Apelado of Modern88 Marketing Solution Co., Tanduay Athletics, and Wilson as the tournament's official game ball.